November 2020 has been a continuation of the trend since May 2020 for the Whistler Real Estate Market. Record number of sales surpassing anything we have seen in the past 10 years. This upward sales trend has been happening across BC and most parts of Canada. A surprising trend considering back in March 2020, even the Bank of Canada could not predict what was going to happen in the real estate market, or any other market for that matter.
The image of the breakdown in each segment shows that it is the townhouse market which is leading the way. So, let's explore this segment further. Look at the orange line which represents the townhome market in Whistler.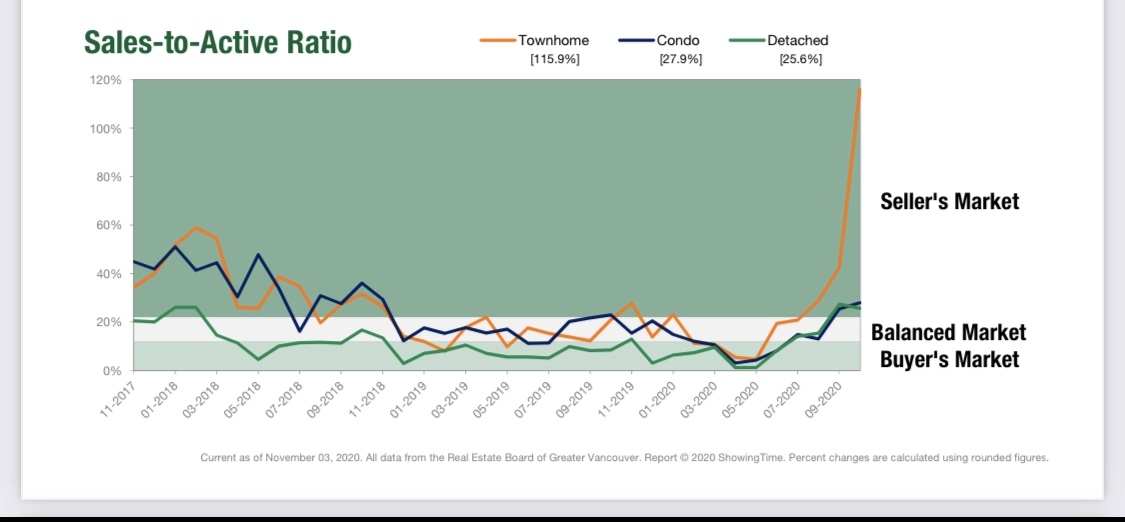 From the chart below we can see that in October the sales were up, and inventory was down. That was the perfect situation to drive the townhome segment into a stronger seller's market. The numbers show the decreased number of listings from October 2020 to the previous month. In addition, the chart shows the increase in the number of sales from September 2020 to October 2020. For more statistics please view the Market Update page for the current statistics which are provided by the Real Estate Board of Greater Vancouver, of which Whistler is a member.
Buying Real Estate in November 2020
Buying real estate in Whistler is an education process. It involves drilling down to find the desired location and then the floor plan which will work for you and your family. Then, staying informed on what is happening in the market, so that when your target appears, you are ready to pounce with an educated, informed offer. No panic necessary.
If you are not already working with a Whistler realtor, and you think I can help you, please call me.
It's a Good Life in Whistler!
Marion
marion@whistlerskiinskiout.com
604 938 3885
Marion Anderson Personal Real Estate Corporation
Sutton Group – West Coast Realty, 203-1080 Millar Creek Road, Whistler, BC V8E 0S7