Ski-in Ski-out Sunridge Plateau Whistler BC
Ski-in Ski-out Sunridge Plateau, Whistler, BC appears in many real estate listing descriptions of this development. Unfortunately, it may be true for some properties at the very top of the neighbourhood. Those are properties (which are not listed for sale, and may never be listed for sale) are ski-in ski-out. For the rest of the development it is strictly a ski-in or to be super clear, a ski-home to your house. However, don't let that put you off considering Sunridge Plateau. There is still a lot of merit to owning in that development. The location to Whistler Village is certainly a key factor, and the ski-home trail at each end of the development is also big plus.

Marion.

Video showing the ski-home trail to Sunridge Plateau
Some real estate listings advertise that Sunridge Plateau in Whistler, BC is a ski-in ski-out location. It doesn't look like it from Google Earth…what's the deal?"
Sunridge Plateau in beautiful Whistler, BC is a neighborhood of large, high-end, luxury homes situated on Whistler Mountain. The neighborhood is touted by several real estate agents as being in a ski-in ski-out location. Unfortunately, this is a stretch. No denying that there is access off Whistler Mountain leading into Sunridge Plateau. I have marked these trails on a Google Earth Map, and added the direction of the trail. I have walked these trails, and as a solid intermediate skier, take it from me, these are ski-in runs only for all the houses on the edge of Sunridge Drive, and Sunridge Place. There are no ski-in ski-out trails in Sunridge Court.
Ski-In to your Front Door from Whistler Mountain.
The best ski-in access is when you own a property close to these marked ski-in trails. It is not as convenient if you don't. Sunridge Plateau is built on the side of the mountain, so it would be tricky navigating the neighbourhood in ski boots. The development is wide so that if you are in the middle of the development and the ski-home trail is at either end, it is still a significant walk home. However, it is simple for someone to jump in the car and pick you up within minutes at these access locations.
Ski-Out to Whistler Mountain from Sunridge Plateau
This is another matter. Watch the first video above and you will see that I am not convinced that this is a ski-out trail. I have highlighted the map with the steep section, and it really is steep. Some people may be able to climb this un-groomed trail, but young children and those of an intermediate fitness level will not…simple as that.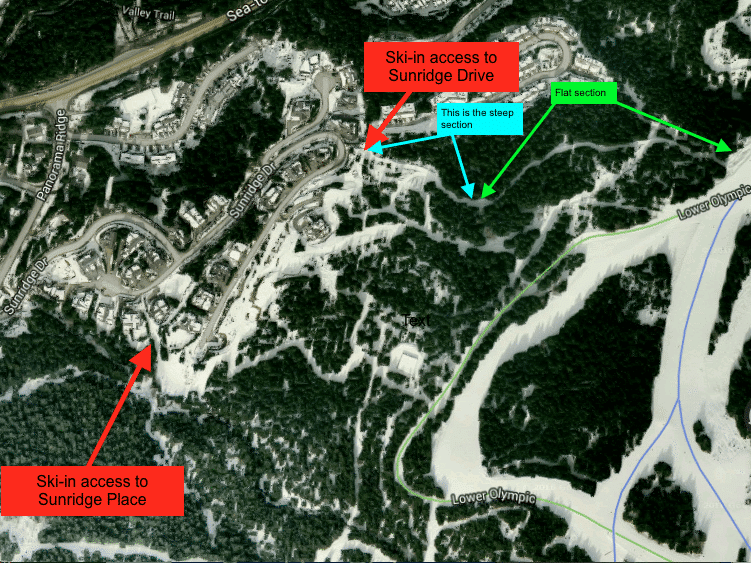 Do any Sunridge Plateau Properties Have True Ski-In & Ski-Out Access?
There are a few locations at the very top of Sunridge Plateau which could be called true ski-in ski-out property. Please note, the above Google Earth map was taken years ago, and Sunridge Plateau was approximately 80% built-out by the end of 2017.
"When you see the ad and it says ski-in ski-out in Sunridge, question the realtor about the access and ask them for details. If you are not working with a realtor,  contact me, Marion Anderson (604)938-3885. I will advise you on whether the house is a true ski-in ski out property.
It's a Good Life in Whistler!

Marion
[email protected]
(604)938-3885
Marion Anderson
Personal Real Estate Corporation
Sutton Group – West Coast Realty
203-1080 Millar Creek Road, Whistler, BC V0N 1B1 CANADA