Snowridge, 2544 Snowridge Circle, Whistler, BC
"The true address for Snowridge, is both 2544 Snowridge Circle, and 2548-56 Snowridge Crescent, Whistler, BC.  These townhomes offer a residential rather than an nightly rental zoning. The benefit of this zoning is that you have the opportunity to get to know your neighbours. In addition, hot tubs are not permitted.  The benefit of this by-law is no-on is "whispering" in the hot tub at 2 am, so you should get a good night's sleep at Snowridge. The ski-in/ski-out trail is closer depending on where you are in the development. The equalizer is early risers can schuss down to the Dave Murray Downhill before the snow plow arrives! You can rent out your property on a month to month basis. However, be careful of breaking this rule, as the local council will fine you. It would not be the first time a neighbour has called the council on illegal nightly rentals in Whistler.

"There are numerous floor plans in Snowridge, so if you like the development, you may just need to wait for the floor plan that suits you to come along.

"At the end of Snowridge Crescent, there is a path which leads down the side of Whistler Mountain to the shops and services of Whistler Creekside. This means that year round, you have easy access to everything you need at Whistler Creekside." – Marion.
About Snowridge Townhomes
Location is key to the quiet neighbourhood of Snowridge, 2544 Snowridge Circle, and 2548-56 Snowridge Crescent, Whistler, BC. Most units have great mountain views and plenty of storage along with large, covered, west-facing decks. Due to the location of Snowridge Circle and Crescent, only some townhouses have true ski-in/ski-out access. Other townhouses are a little further from the slopes, but no more than walking across a parking lot at Base II. This is a quiet location close to the Dave Murray Downhill. There is easy access to Whistler Creekside by walking down the ski-slope.   This complex is so spread out that some units are more ski-in/ski-out than others. Table of Contents
Active Listings in Snowridge
5-2552 Snowridge Crescent

: 3 bed/3 bath (1,250 sq. ft.) $1,494,000. Reduced from $1,599,000. Built 1987. Listed by Sutton West Coast Realty.
If you would like to view all the Whistler ski-in/ski-out listings, posted by all Whistler Brokerages, please click on Active Ski-in/Ski-out Listings.
Interested in an overview of the Whistler real estate market? Please click on the following Whistler Market Update. Table of Contents
Building Details
Built in 1988, the property has 2-4 bedroom suites, 56 units but is not zoned for nightly rental. Some units have garages while others have open parking. Some units have exterior storage closets. There is such a variety of floor plans in the Snowridge townhouse complex. I am always amazed to walk in and see yet another different layout. Table of Contents
Floor Plans
There are so many different floor plans in Snowridge that everytime I go into a townhouse in the complex I am amazed that yet again…a different floor plan. Sorry, no directory available, and the plans were taken from the developer's package. Table of Contents
Site Plan
This site plans doubles as a parking plan also. It shows the building number which can be crossed referenced against the strata plan on this page. Click this link for a clearer and printable version of the Snowridge Site Plan. Table of contents
Google Map Location of Snowridge, 2544 Snowridge Circle, and 2548-56 Snowridge Crescent, Whistler, BC
Location of Snowridge on Whistler Mountain and proximity of the Whistler Creekside Gondola:

Table of contents
Map of Creekside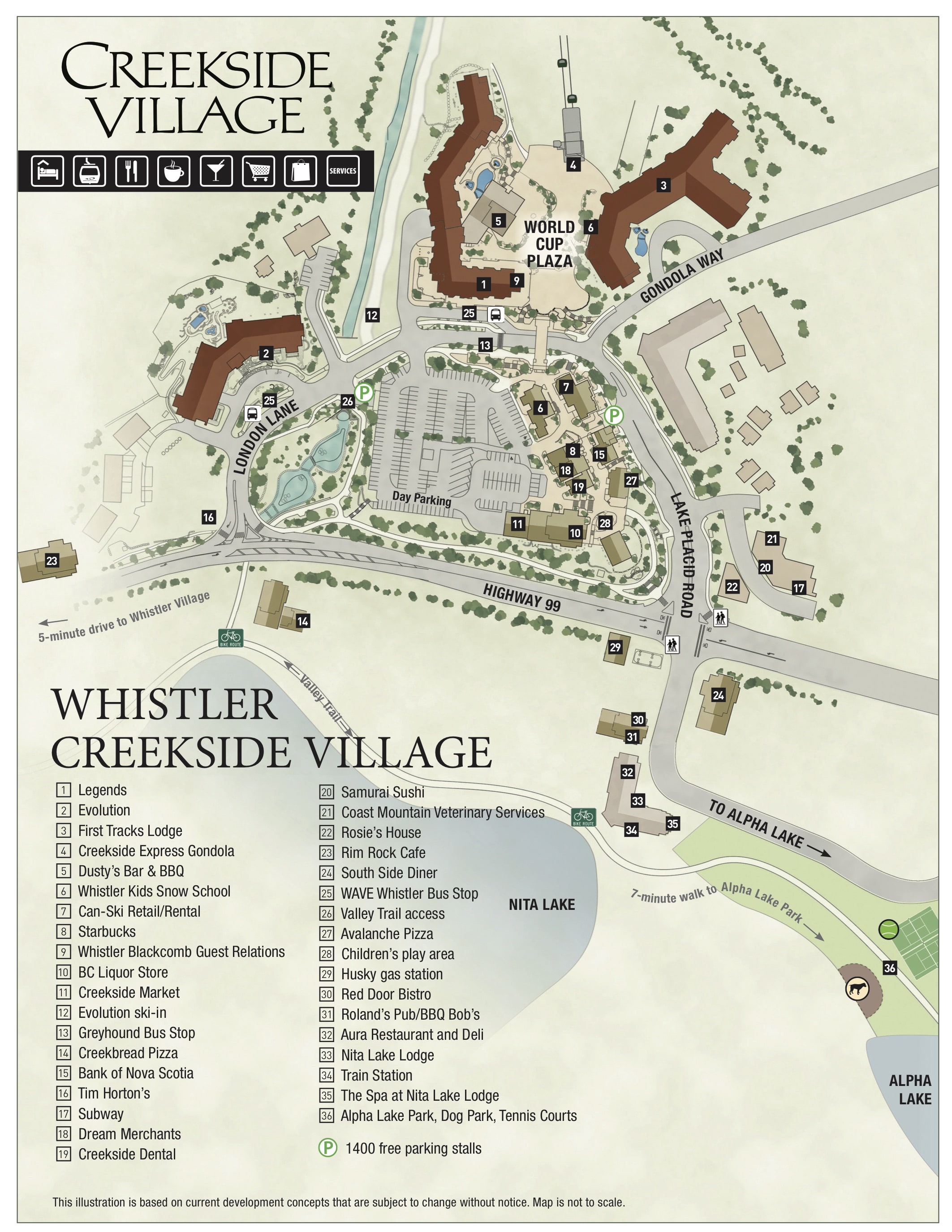 Photo Gallery of Snowridge
Revenue and Nightly Rates
Neither Snowridge Circle townhouses nor Snowridge Crescent townhouses are zoned for nightly rental.  You can rent these townhouses out on a month to month basis. That means that you can rent it out for a minimum of one month.  Careful not be bend the rules as the local council and your neighbours may not appreciate your efforts to generate some revenue for yourself. Table of Contents
Sales in Snowridge
Recent sales in Snowridge townhouses are shown below. To view the sales since 2013 click on Whistler Townhouse Sales Statistics.
| Unit | Bed/Bath | Sold Price | Date Sold |
| --- | --- | --- | --- |
| 5 | | | |
| 3 | | | |
Ski-in/Ski-out Access from Snowridge
There is a ski-in ski out access to/from Snowridge Circle at the end which is closest to the Dave Murray Downhill, at building 10, units 25-30 (see site plan on this page). If your townhouse is on Snowridge Crescent, then your ski-in ski-out access is probably best via the access at the end of Snowridge Crescent walking past the multi-million dollar homes. This enclave of houses has a bridge which you walk over and you are on the slopes! This route is also a great way for owners in any part of Snowridge to access the village at Creekside at other times of the year. There is a path which leads down, past the Legends and then you are minutes from the grocery store, liquor store, and other shops, restaurants and bars. Table of contents
Strata Fees, Highlights and Parking
Fees
The strata fees are for snow removal, garbage removal, landscaping and road repair and maintenance.
The strata fees for this complex are kept low because there are no amenities or underground parking.
Highights
Windows were replaced throughout the Snowridge strata in June 2017
Pets are allowed
Storage
There are no other storage areas except what you have in your townhouse. Some townhouses have a good sized storage closet outside the front door.
Parking
There should be no confusion regarding the parking at Snowridge, the unit numbers are clearly painted on the tarmac outside each building. This Snowridge parking plan shows how close each parking spot is to the actual townhouse.
Registered Strata Plan
Snowridge was built in two phases, so there are two registered strata plans.  Cross reference this with the Building site plan above (see table of contents).  Strata Plan VR 2055  Phase I Strata Lots 1-25; Strata Plan VR2055 Phase II Strata Lots 26-56. Table of Contents
Transit Bus Service for Snowridge
Check out the www.bctransit.com/whistler site to see the bus service close-by on Eva Lake Road, or down by Legends which will take you to/from Whistler Village. It is route 1 and 2 on the link.  There is not a bus which will take you up into Snowridge, but you really don't need one as you can walk to the bus stop, or take a taxi. Table of Contents
Questions About Buying or Selling in Snowridge?
Thinking or buying in Snowridge, 2544 Snowridge Circle or 2548-56 Snowridge Crescent? If you are not already working with a realtor, please call me. In the meantime, have a look at the Buying Process page for a step by step guide to buying real estate in Whistler. Table of Contents
marion@whistlerskiinskiout.com
(604)938-3885
Marion Anderson
Personal Real Estate Corporation
Sutton Group – West Coast Realty
203-1080 Millar Creek Road, Whistler, BC, V8E 0S7, Canada