Summit Lane, Glacier Drive, Whistler
Summit Lane on Blackcomb Mountain is a private enclave of seven houses and one duplex. Owning a house on the side of one of the most famous ski mountains in the world is a goal achieved by few.
For those scouting for a detached house with ski-in and ski-out access, Summit Lane is the only location that offers you: 1) a detached house, 2) ski-in ski-out access, and 3) close to Whistler Village. No other location in all of Whistler can offer you those three things. Therefore, those three items make Summit Lane the most sought-after location in Whistler with a price tag that reflects the supply and demand.
Active Listings
The last two sales on Summit Lane were exclusive sales, meaning neither property was listed for sale. I know this because I represented the Buyer on one of these sales.
Market Update
When starting your initial search for Whistler real estate, it is important to understand the current market conditions. I understand that you may not be ready to contact me. In the meantime, I encourage you to study the sales and listing statistics on the Market Update page on this site. The statistics are compiled by the Real Estate Board of Greater Vancouver (REBGV) In addition, the monthly Whistler Real Estate Market Update video is a great way to stay informed in less than 99 seconds.
Location
Out of all the comparable locations for detached houses on this site, Summit Lane is without question the best for ski-in and ski-out access. The location in the Benchlands accommodates beginner and basic intermediate skiers and boarders. The ease of this ski-in ski-out trail means that access to the slopes cannot be used as an excuse, by you know who in the family not to take a few turns.
Location on Blackcomb Mountain Video
This video will show you the location of Summit Lane on Blackcomb Mountain, recorded from the slow and steady, Magic Chair.
Google Map
This map shows you the almost unbelievable location of Summit Lane on the side of Blackcomb Mountain.
Drive from Whistler Village to Summit Lane: Video
For every location in Whistler, the buyer always asks how far is it to drive to/from Whistler Village. This video will show you the drive from Whistler Village to Summit Lane.
Civic Address Map
The civic address map was taken from the Resort Municipality of Whistler (RMOW). The RMOW is a great source of all sorts of information and you can sign-up for their newsletter.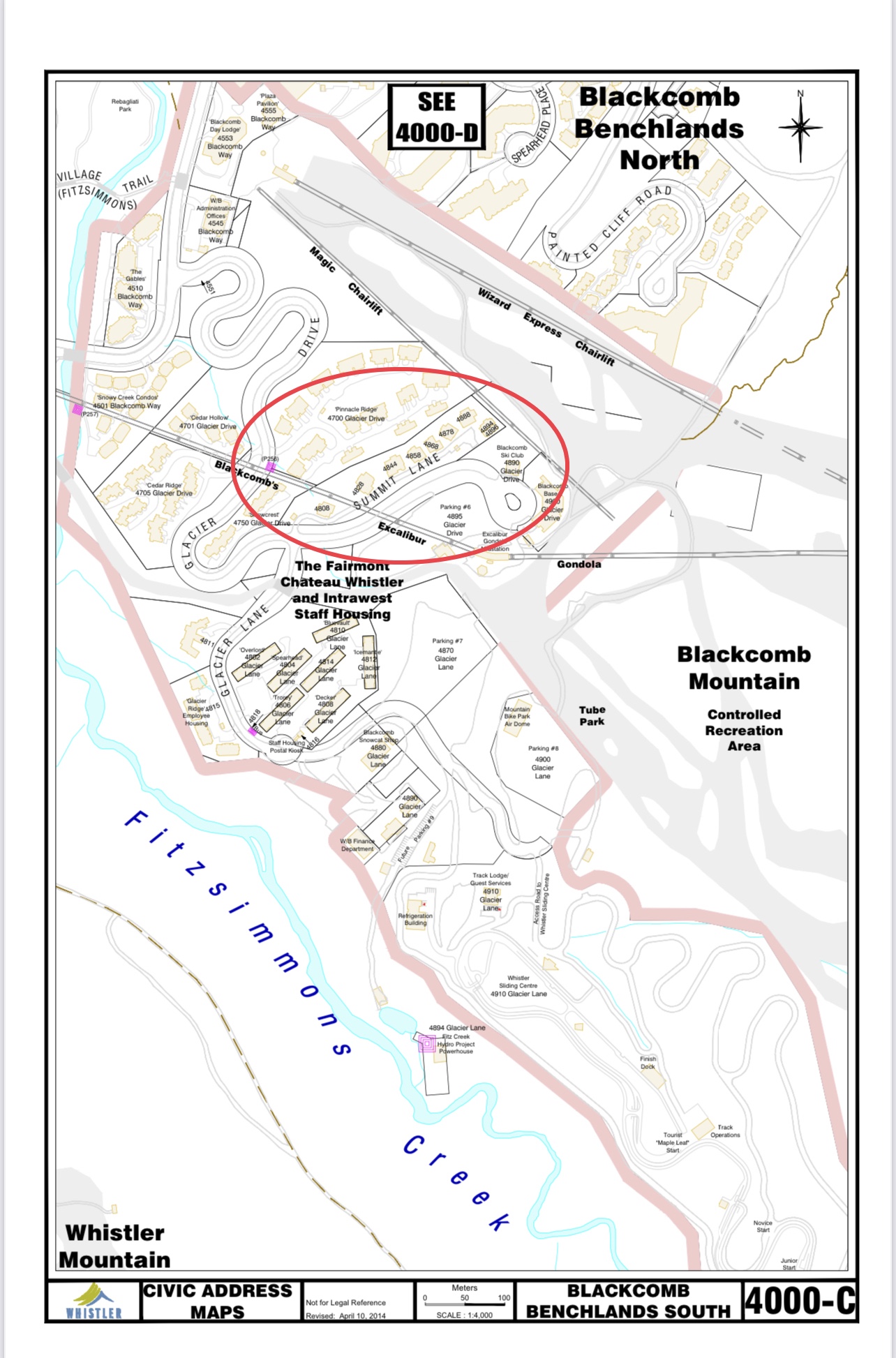 Transportation
This location has several ways to get to/from Whistler Village:
Ride the gondola from mid-station
Walk down the front of the Magic Run
Bus or taxi.
1) Ride the Gondola to Whistler Village: Video
The ideal, and fun way to get to and from the village is to use the Excalibur Gondola which runs in winter as long as Blackcomb Mountain is operating. The Excalibur Gondola services upload from Whistler Village. Blackcomb Mountain usually operates until the end of May which is a month or so after Whistler Mountain. To see how simple it is to get to and from Whistler Village, please watch this video. It is a 5-minute walk from the entrance of Summit Lane to the mid-station and from there a 3-minute ride down to the village. The best part is, you do not need a ticket or pass to download or upload on this stretch…watch the video, it should answer your questions.
This video demonstrates walking down The Magic Run to get to the Upper Village is a simple route outside of the ski season. There are lots of neat cafes, restaurants, shops, and services in the Upper Village. You may decide you need to walk no further for your needs.
2a) Walk to the Upper Village: Video
2b) Walk from Upper Village to Whistler Village: Video
This video starts outside Le Chamois which is close to the Blackcomb Gondola station. The video will show you the scenic route from the Upper Village through to Whistler Village. This route is pedestrian, well-lit, well-traveled, and quite lovely.
3) Bus and Taxi Service
There is a bus service that runs up and down Glacier Drive on a regular schedule and stops just past the entrance to Summit Lane on its way to and from Base 2. Check out route 7 on the transit schedule. It is a regular service as it provides transport for a lot of the employees of Whistler Blackcomb who live in staff accommodations. Whistler's taxi service is always available and probably costs you around $15.
Street View: video
I recorded a quick drive-through of Summit Lane so you could get a sense of this special location. I did not focus on the houses as I thought that was getting a bit too personal, time for that when you know that this is the location for you and your family.
Ski-in Ski-out Trail
One of the main selling features of Summit Lane is the super-easy access to and from the Magic Run. Summit Lane is in the A+ group for ski-in ski-out access, and believe me when I tell you, not all the ski-in ski-out trails are as simple as this one.
Google Map Ski Trail
The solid red line indicates the ski-in ski-out trail leading to/from the Magic Run.
Ski Trail: video
I recorded this video to show how wonderfully simple the ski-in ski-out access is for Summit Lane residents.
Sales
Scroll horizontally to view and sort the data: To sort by year sold, click on that heading for a chronological setting. To view the sold price, swipe to the left.
Owning in this development in 1999 was primarily offered to a select few. Since then there have been a few private and public sales. In addition, original owners who appreciate the incredible location with no intent to sell, make up this select group.
Sales of luxury detached houses on Summit Lane, Whistler. Data was imported from the Whistler Listing System.
| Number | Street | Bedrooms | Bathrooms | House sq. ft. | Land sq. ft. | Sold Price | Sold | Listing Broker |
| --- | --- | --- | --- | --- | --- | --- | --- | --- |
| 4868 | Summit Lane | 5 | 5.5 | 4,349 | common property | 11,500,000 | 2023 | WREC |
| 4878 | Summit Lane | 5 | 5.5 | 6,177 | common property | 14,300,000 | 2020 | Private sale |
| 4828 | Summit Lane | | | 7,412 | common property | 11,000,000 | 2014 | Private sale |
| 4868 | Summit Lane | 5 | 5.5 | 4297 | common property | 7,100,000 | 2009 | S to S |
| 4858 | Summit Lane | 4 | 4.5 | 4761 | common property | 4,000,000 | 2000 | WREC |
Comparable Sales
To view the sales of luxury homes in the other ski-in/ski-out locations in Whistler, click through to the Luxury House Sales (Sales: Houses). Please note, there are only five locations in Whistler that offer a detached house with ski-in/ski-out access to either Whistler or Blackcomb Mountain. All five locations are featured on this site.
Strata
Developed in 1999, Summit Lane was termed as stratified. This is the only ski-in ski-out strata with detached houses. To clarify, this is not a bare-land strata. The strata lot owner must repair and maintain the structure and exterior of the building. The strata lot owner is also responsible for their own property insurance. This location is prime real estate for the serious ski family. It really is not for those who want to own estate property.
Size of property and value
The size of each detached house ranges from 5,300 sq. ft. to 7,400 sq. ft. with the developer's house at close to 8,800 sq. ft. Owning a 6,000 sq. ft. house on the side of Blackcomb Mountain may be passed over for a 10,000 sq. ft. Kadenwood house. However, there are many 5,000 sq. ft. and 7,000 sq. ft. homes in Kadenwood that would be more size comparable. However, both locations offer different features and benefits and should be explored accordingly.
The land is classified as common property on Summit Lane but that does not affect the market value. When comparing the last sale on Summit Lane with a sale in Kadenwood pre-Covid, the Summit sold for 65% to 79% more per cost/sq. ft. of market value than the Kadenwood home.
Strata Plan
Have a look at the complete Registered Strata Plan LMS3809 which will explain more about the size of each house and position within the development.
Fees
This is a simple strata corporation and the fees are mostly for common areas. Since there is no underground parking, swimming pool, or communal hot tub the strata fees are minimal. The strata fees cover:
landscaping
snow removal
road maintenance,
garbage and recycling removal
common area hydro
insurance
Parking
Like all developments in Whistler, the parking is limited and really not conducive to the number of cars per family in today's world. That said, the owners in Summit Lane have the common area space to assign more visitor spots, and have chosen not to. Therefore, there must be enough visitor parking. There are almost 10 visitor parking spots, and each house has a double car garage plus a double parking pad. There are no parking bylaws just an owner's understanding not to park in front of the neighbor's house.
Zoning for Nightly Rental
All of Summit Lane is zoned as Tourist Accommodation (TA) which means that nightly rentals are permitted. However, although the location is deemed TA, I seriously doubt anyone is renting out their $15M home on Airbnb. In other words, if there are any rentals they will be scrutinized by the rental property manager who will be watching that house like a hawk, and I know just the hawk if you need a referral. For more information on the zoning please click on the link to read the Zoning RT8.
Questions
FAQ
Is buying a house on Summit Lane a good investment?
Yes. Currently, there are only 8 people in the world who own a house on the side of one of the most famous ski mountains in the world…Blackcomb Mountain.
Is Summit Lane ski-in ski-out?
Yes. The ski-in and ski-out access is the same sweet trail. It is a short, flat path to and from the Magic Run on Blackcomb Mountain.
Is the Summit Lane ski-in ski-out trail suitable for all levels?
Absolutely. This trail is suitable for beginners. It connects with the Magic Run which is the slope for learning to ski and board.
Why are the lots on Summit Lane smaller than other comparable developments?
This is a stratified development. Each strata lot owner also owns a portion of the common property. Therefore, the owner does own a large amount of land, it is just not around the house, but throughout the development.
Is Summit Lane a bare land strata?
No. Summit Lane is not a bare land strata. However, it is a stratified development.
Is a Summit Lane strata lot similar to a Kadenwood bare land strata lot?
No, it is different. Summit Lane strata corporation has a different set-up, different rules, and responsibilities than the bare land strata corporations of Horstman Estates, Sunridge Plateau, Snowridge, or Kadenwood.
Why was Summit Lane not bare land strata at conception?
Usually because of the dimensions of the land and the best way to maximize its development. Any developer is aiming to maximize the layout.
Can I walk to Whistler Village from Summit Lane?
Yes and No. In theory, a person could walk down Glacier Drive. This is a switch-back style of road and a road without a sidewalk which is dangerous. You can take the bus whenever, or walk down the slopes at the end of the day. You can ride (without charge or a ticket) the Excalibur Gondola in winter which takes 3 minutes and it is a fun ride.
Who is responsible for the upkeep and maintenance of the owner's strata lot?
Each owner is responsible for the exterior structure and everything associated with that: rook, doors, windows, stairs, balconies, etc.
Are pets allowed on Summit Lane?
Yes. There are no restrictions noted in the bylaws however, there are notes about owner responsibilities.
Can a non-resident of Canada buy real estate in Whistler?
Yes. Whistler is exempt from the 2-year ban on non-residents buying real estate.
Buying Process
There is no ban on foreign investment in Whistler. Therefore, the process is basically the same for residents and non-residents of Canada. If you are starting out and want to understand what the process is for buying a property in Whistler, have a look at the Buying Process page on this site.
Representation
Explaining Representation to a Buyer or Seller at the first introduction is a mandatory requirement. Since there is no dual agency in BC the Disclosure of Representation in Trading Services Form (DORTS) is essential for the Buyer or Seller to understand what their designated agent's obligation is to them. DORTS binds the agent to the client but does not bind the client to the agent. In addition, Home Buyer Recission Period (HBRP) would be discussed at that time.
If you think I would be a good fit to work with you and your family, and you are not working with a Whistler realtor, please contact me. I look forward to hearing from you.
It's a Good Life in Whistler!
Marion
Marion Anderson Personal Real Estate Corporation
manderson@sutton.com (604) 938-3885