Sunridge Plateau, Sunridge Drive, Whistler
Sunridge Plateau is another area of exclusive, luxury homes most of which have some form of ski-in/ski-out access to Whistler Mountain. Due to the lot size and the layout of the development, each detached house was built over 5,000 sq. ft. and up to around 10,000 sq. ft. There are a few half-duplexes around 3,000 sq. ft. Each house was positioned to have mountain views to the west. Sunridge is high above the valley so the sun shines a little longer in Sunridge.
Unfortunately, not all the houses in Sunridge can be called ski-in/ski-out. The reason for this is due to the width of the development. At the very top, and on the north and south-side of Sunridge Plateau, there are ski trails. However, the proximity to Whistler Village may be as appealing for some buyers, as access to the slopes.
Active Listings
The listings in Sunridge stay on the market for a comparable time to other luxury locations in Whistler. The main comparable locations are featured on this site. That is understandable as Sunridge is in a location that is not a Whistler locals' residential area. Best not to read too much into the days on the market (DOM) associated with this exclusive neighbourhood.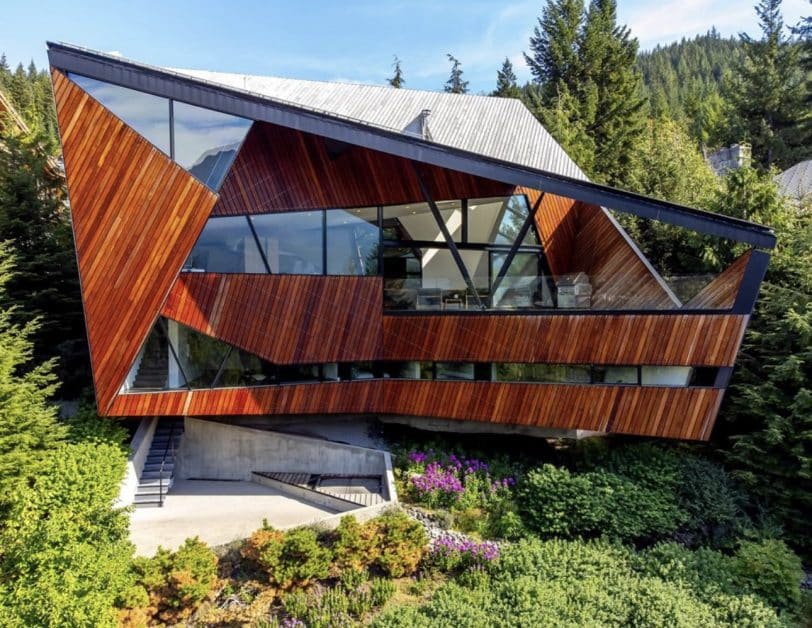 3 bedrooms
4.5 bathrooms
House 4,497 sq. ft.
Built 2013
Land 11,249 sq. ft.
$12,500,000 CAD
MLS
Listed by Whistler Real Estate Company
***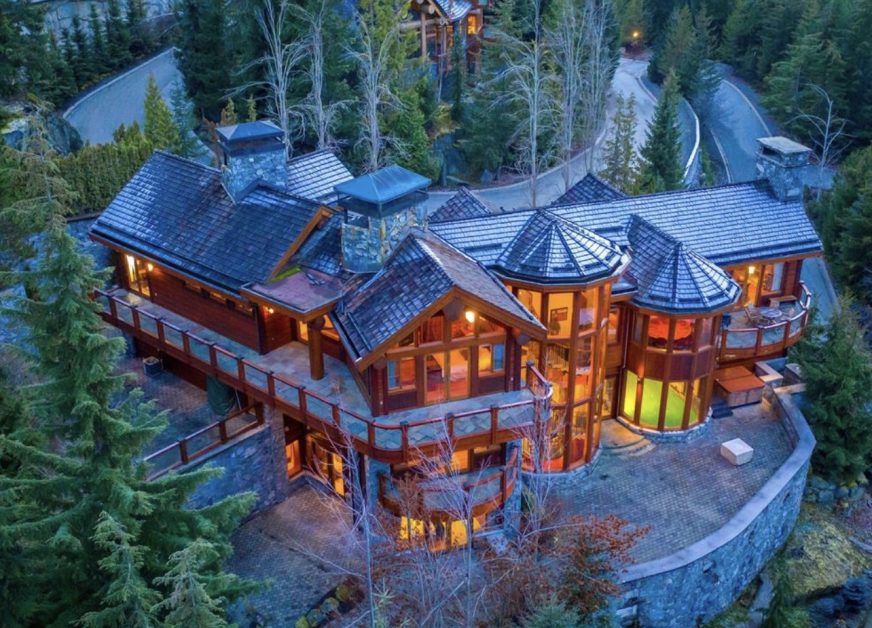 6.5 bedrooms/8.5 bathrooms
House 7,925 sq. ft.
Built 2002
Land 12,724 sq. ft.
$14,990,000 CAD
MLS R2674973
Listed by Engel & Völkers
***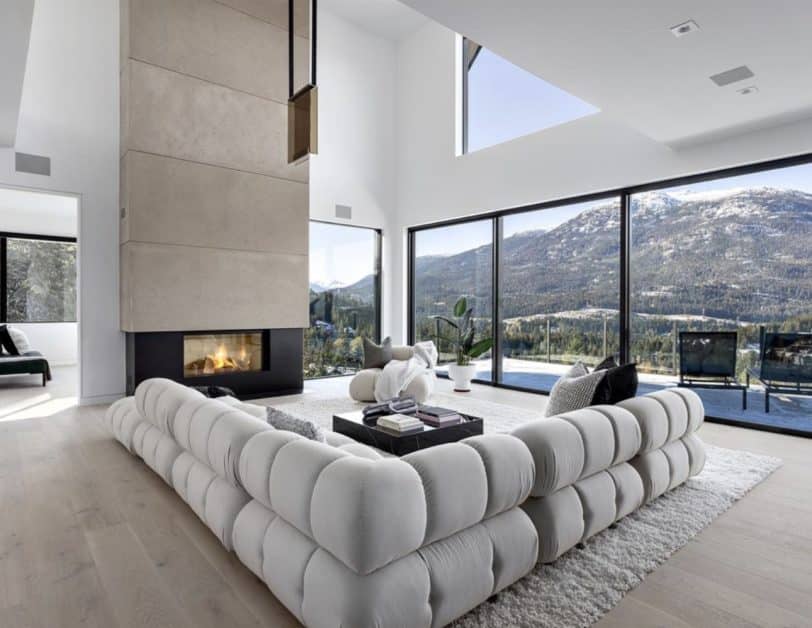 6.5 bedrooms
7 bathrooms
House 7,492 sq. ft.
Built 2022
Land 12,831 sq. ft.
$18,950,000 CAD
MLS R2784823
Listed by Whistler Real Estate Company
If there is no link on the active listing above, please search for the property on WhistlerListings.com. This is the principal website for all Whistler Real Estate Agents and their listings. Click on this link to view the Ski-in/Ski-out Active Listings.
Market Update
When starting your initial search for Whistler real estate, it is important to understand the current market conditions. I understand that you may not be ready to contact me. In the meantime, I encourage you to study the sales and listing statistics on the Market Update page on this site. The statistics are compiled by the Real Estate Board of Greater Vancouver (REBGV) In addition, the monthly Whistler Real Estate Market Update video is a great way to stay informed in less than 99 seconds.
Location
The primary appeal of Sunridge Plateau is an exclusive neighbourhood of multi-million dollar mansions built above the neighbourhood of Brio. The appeal of Brio is its close proximity to Whistler Village. It is a relatively short distance, so it appeals to those who like the convenience of being close to the action.
This residential neighbourhood is located within walking distance of Whistler Village. The walking distance is ideal for a recreational walk, bike or e-bike ride. With Sunridge, whether you walk or take the car to the village will depend on your motivation, fitness level and how much you are planning to carry home.
Taking the car every time a Sunridge resident goes to the village is usually sweetened by owning a parking stall under one of the hotels. It can be as simple as joining the Mountain Club at the Westin, to secure a parking spot, or purchasing or renting a spot in Whistler Village. Parking in Whistler is at a premium during the winter and summer seasons.
Google Map
Sunridge Plateau is almost fully built so this Google Map is out of date. However, this map should still give you a sense of the location of the property in Whistler. E-bikes are everywhere in Whistler, and they really answer the question about being able to commute to the Village without a car…take your e-bike.
Civic Address Map
This map was taken from the Resort Municipality of Whistler (RMOW) website. Their site is a wealth of information. The purpose of this map is to show the location of Sunridge in relation to the neighbourhood of Brio. The map also shows the density of the neighbourhoods giving you an indication of potential traffic.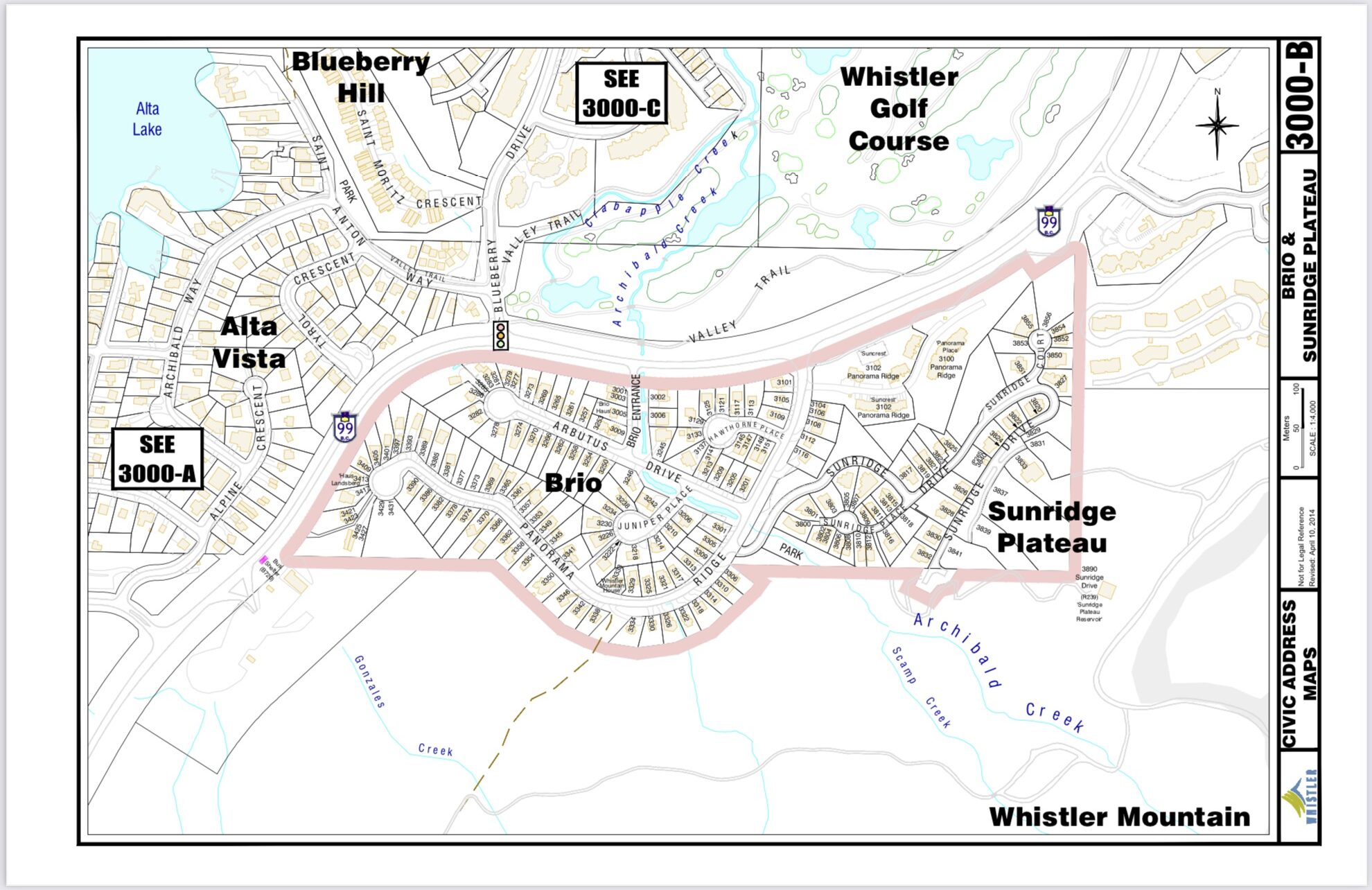 Transportation
When Buyers are considering Sunridge, they always ask how far it is from Whistler Village. It is less than 5 minutes away by car. If you were on a bike you can take a couple of shortcuts along the front of the driving range to get to the village. With an e-bike, you will be zipping in and out of the village at will. The bus service runs along Highway 99 but doesn't go anywhere near Sunridge Plateau. I doubt a taxi would cost more than $20 to take a car-load to the slopes…or back from dining in the village. The video below will answer that question for you so you can decide for yourself.
Village to Sunridge Drive: Video
Street View Video
By the end of viewing the Street View video, you should have a better understanding of the layout of Sunridge. Understanding the layout should help in understanding the ski-in/ski-out access from the house you are interested in.
Photo Gallery
I have attached the million-dollar view shots of Sunridge Plateau. In addition, there are photographs of the exterior of houses in Sunridge Plateau to show you the quality of build of your future neighbours. These photos combined with the Street View video above will certainly help increase your knowledge of this fine neighbourhood.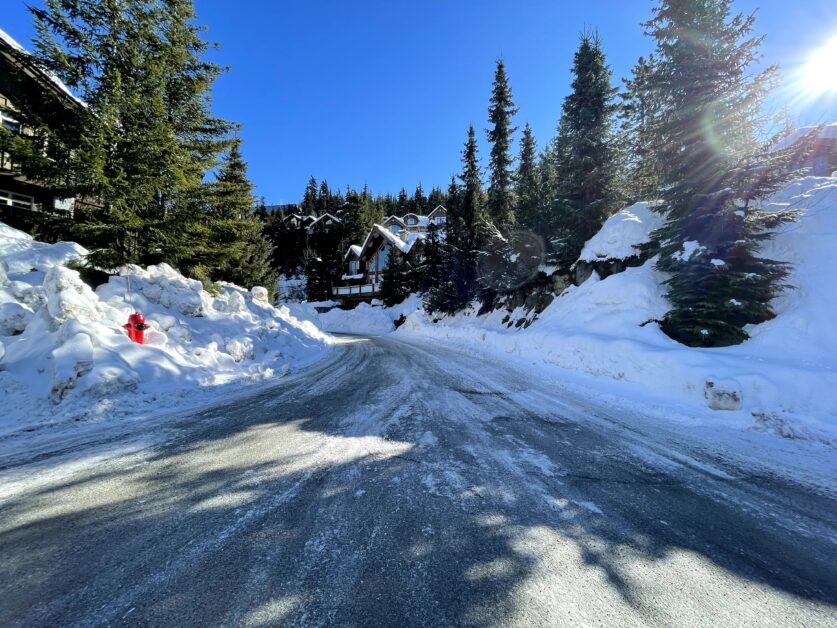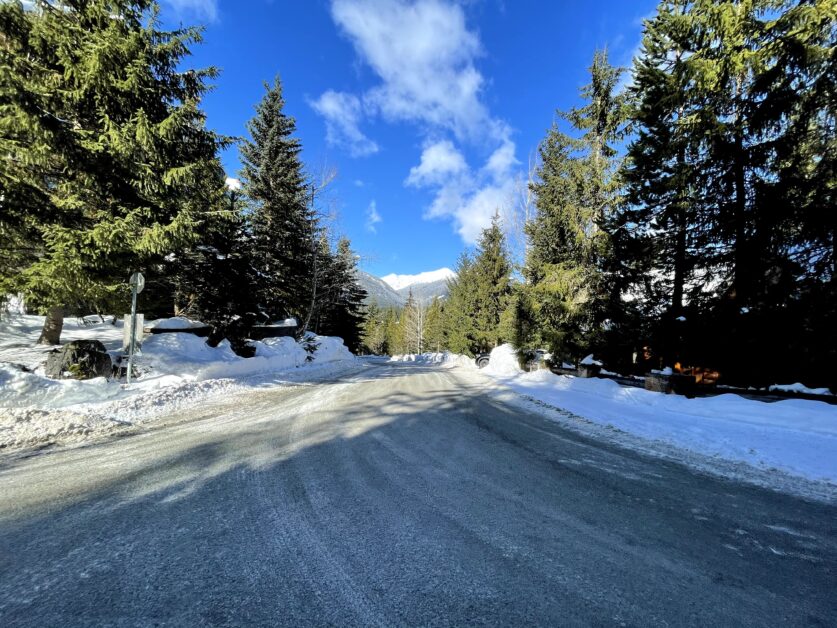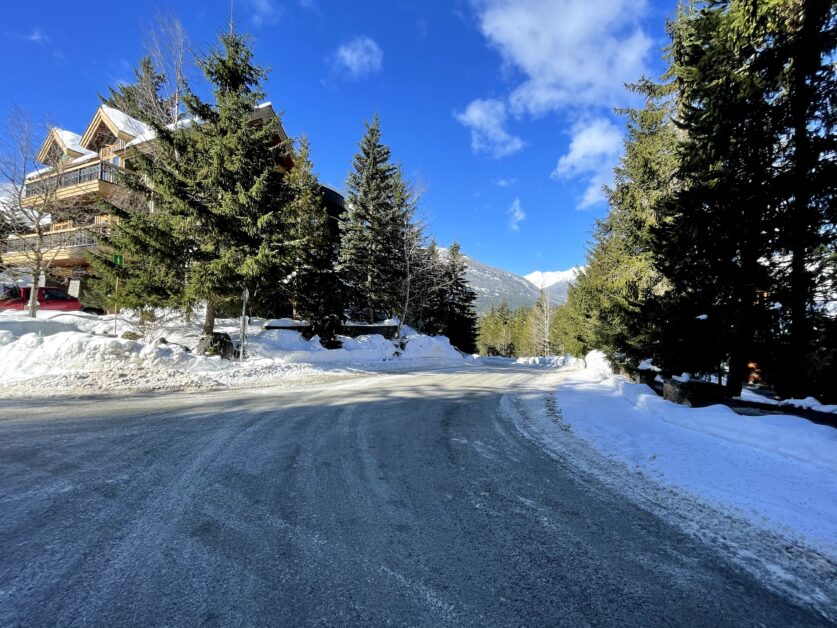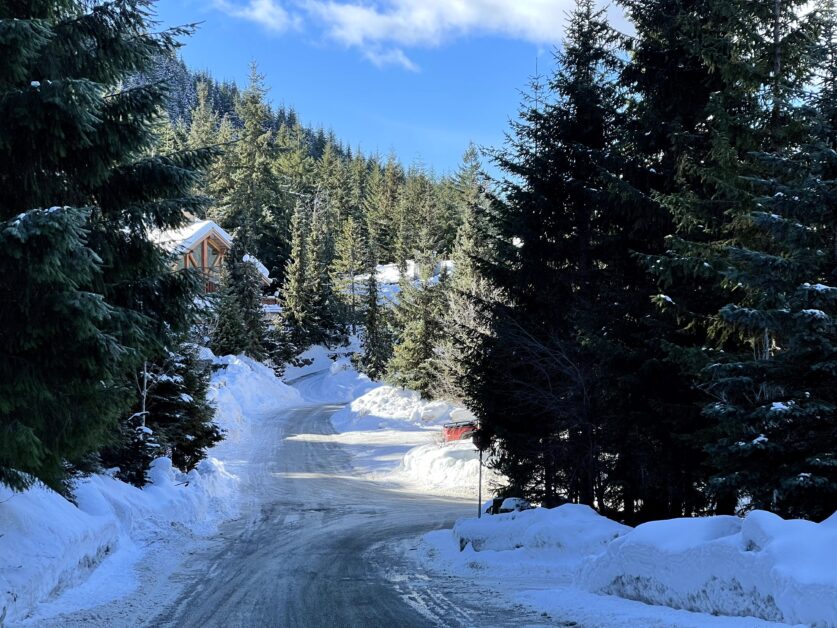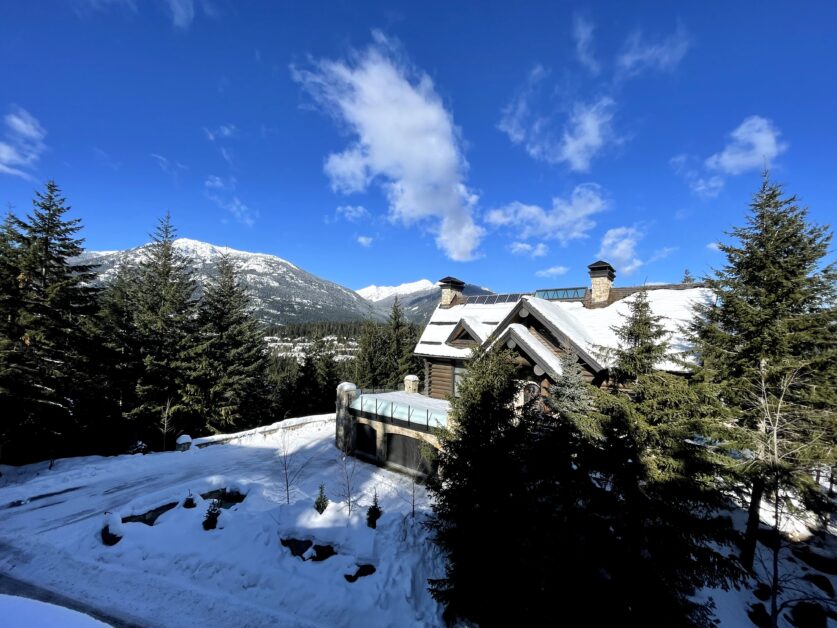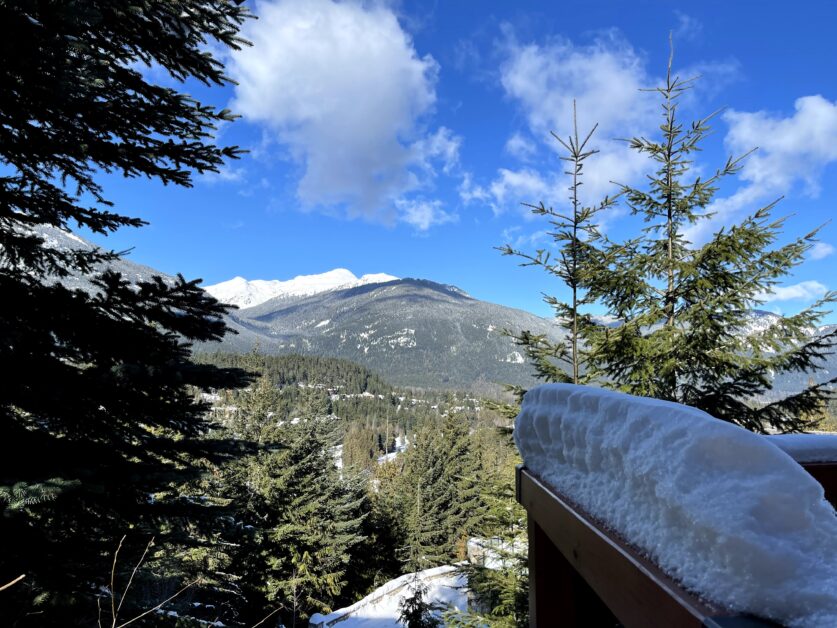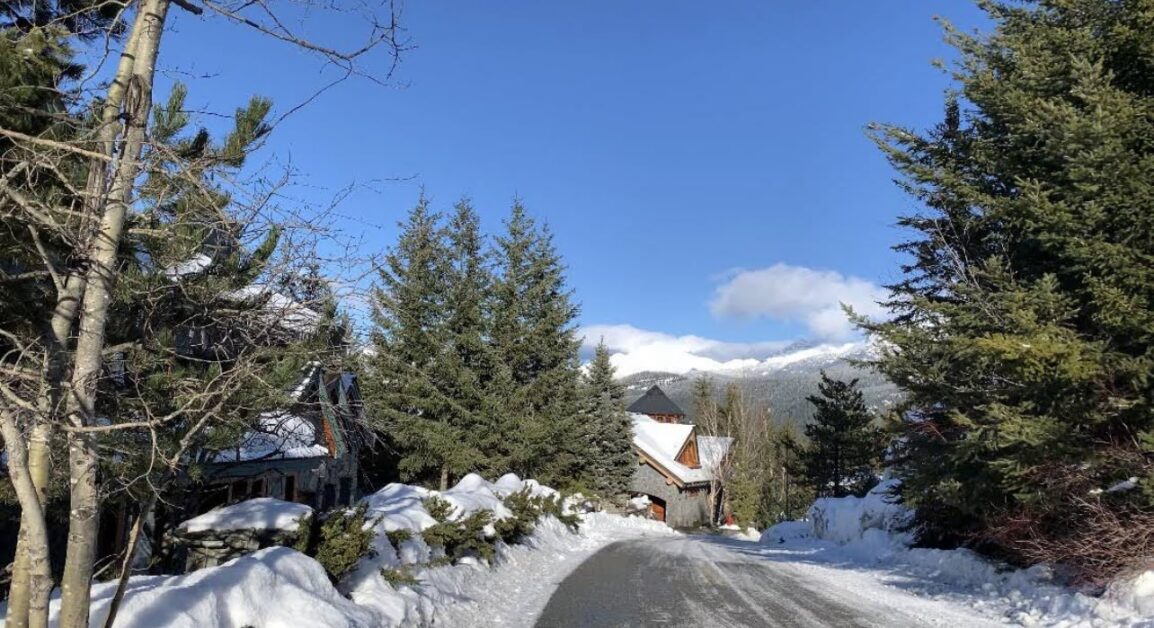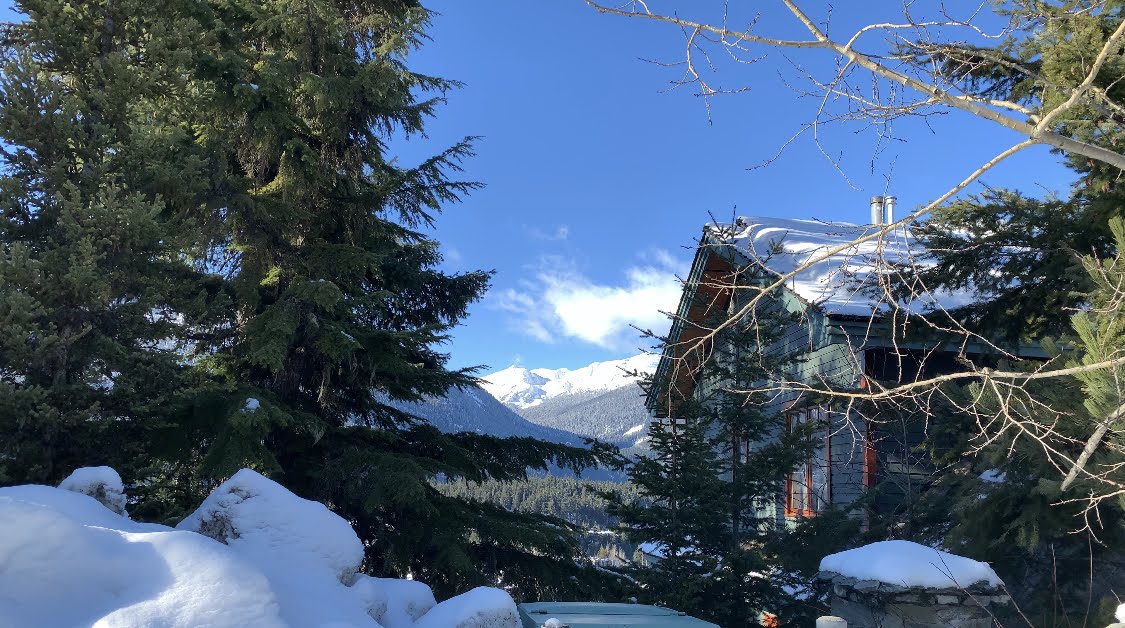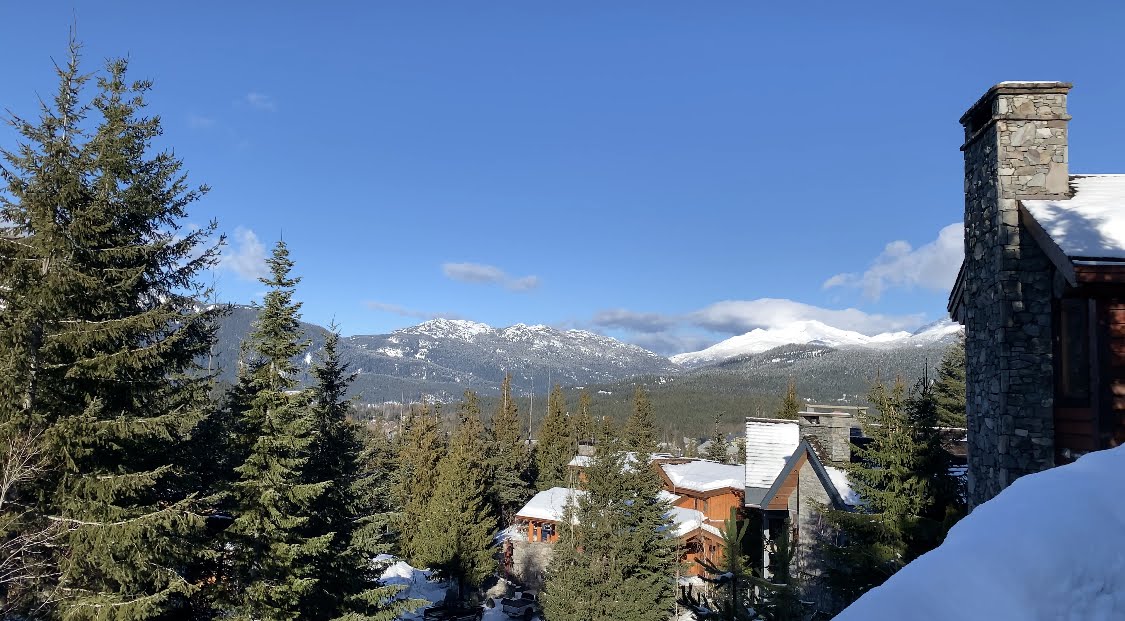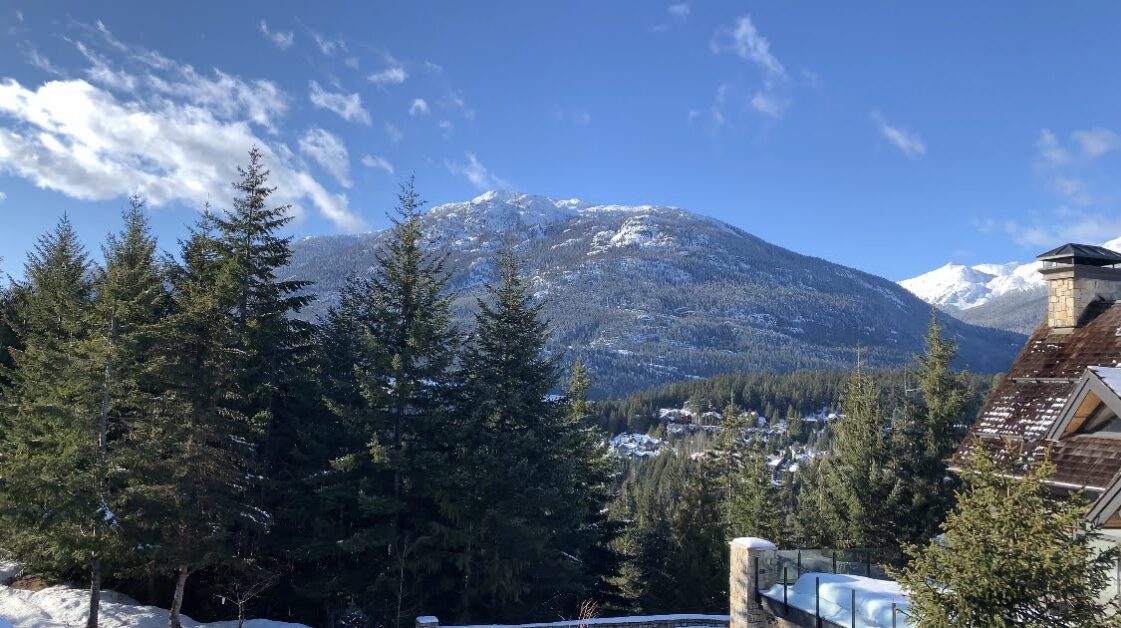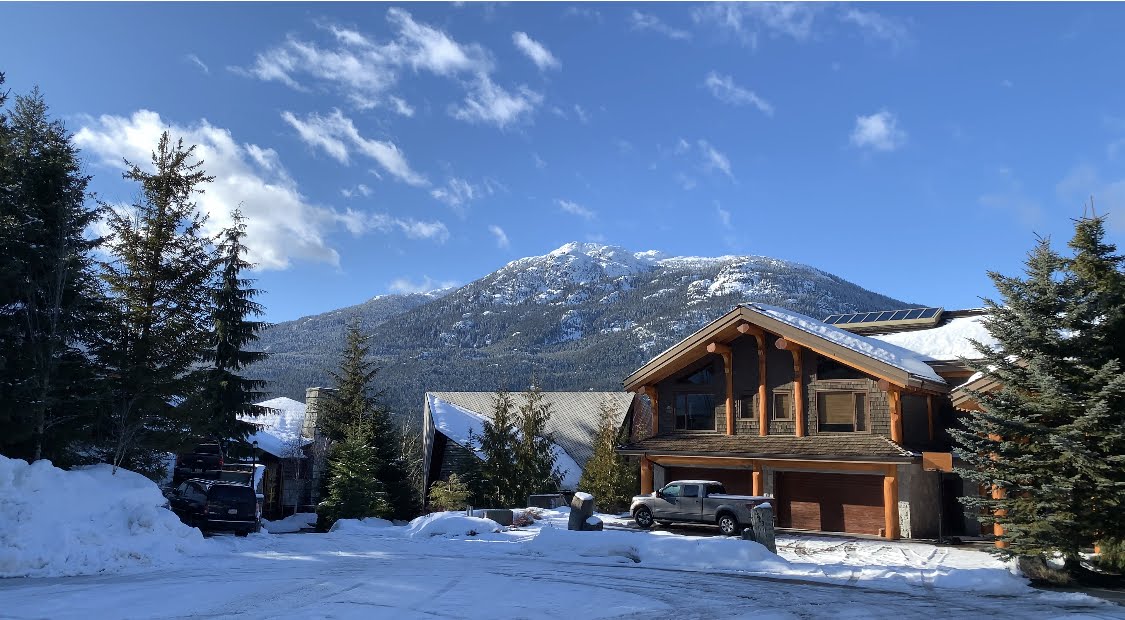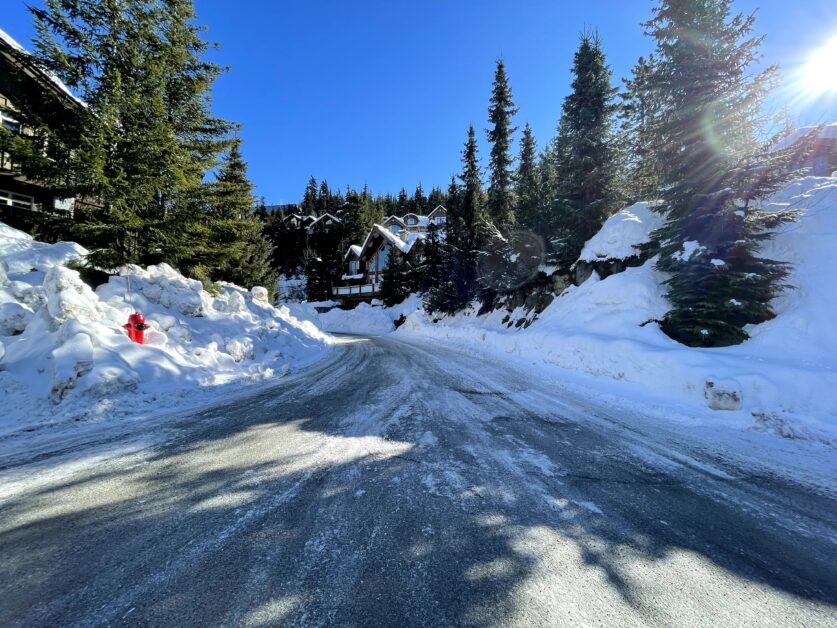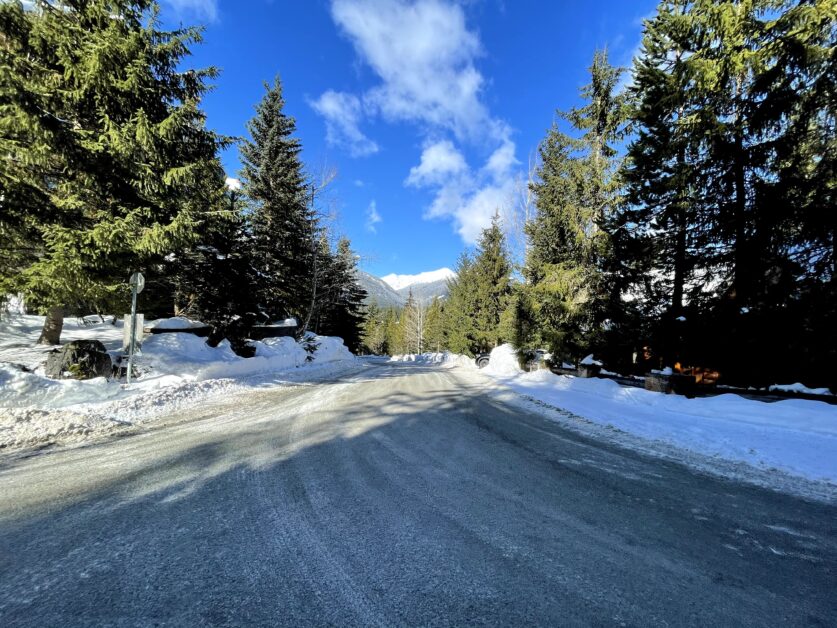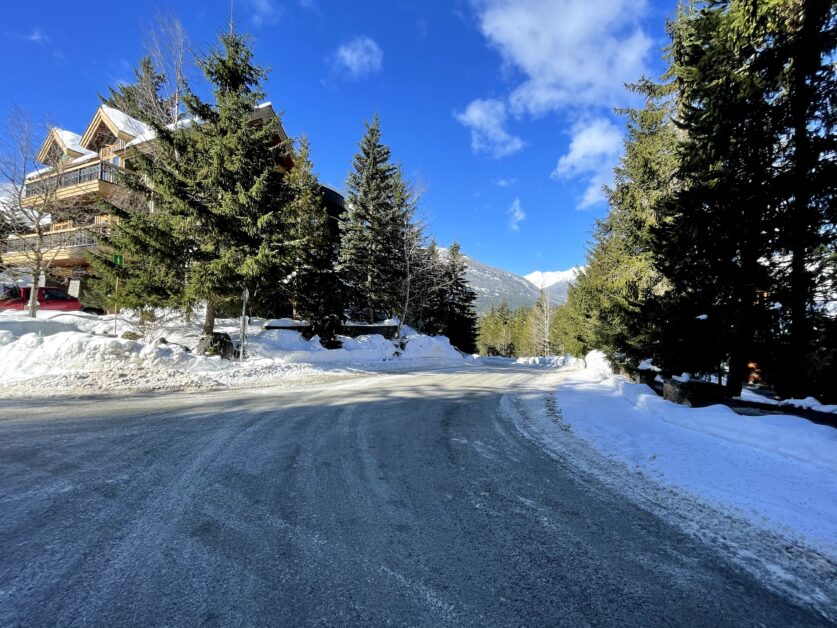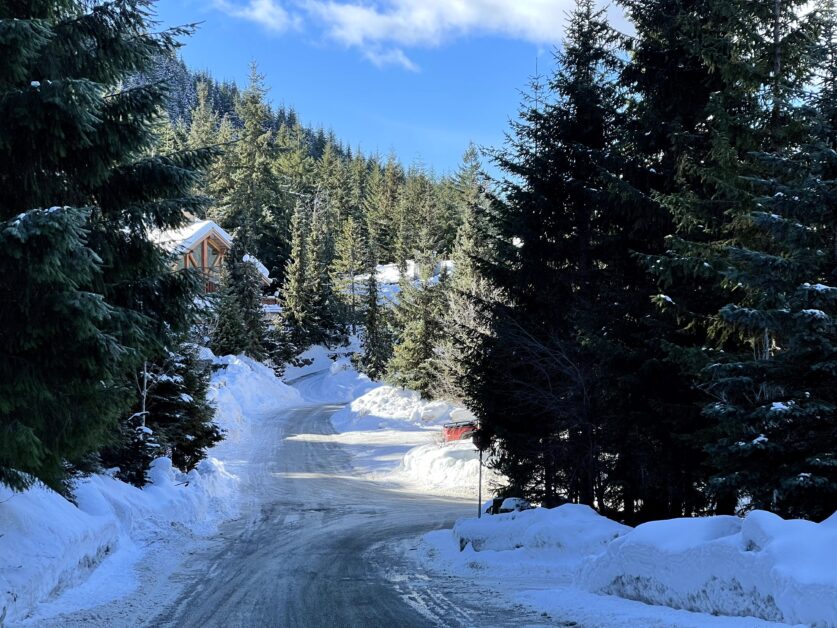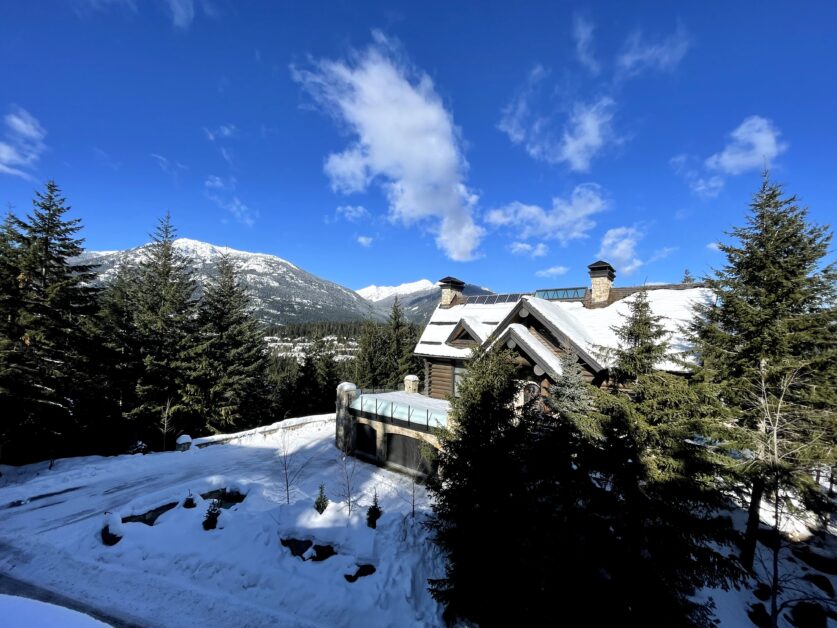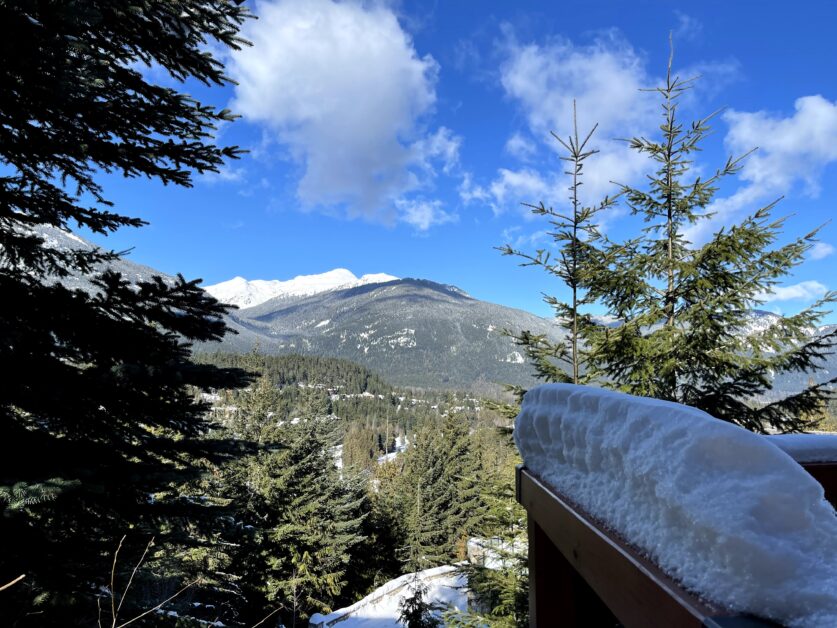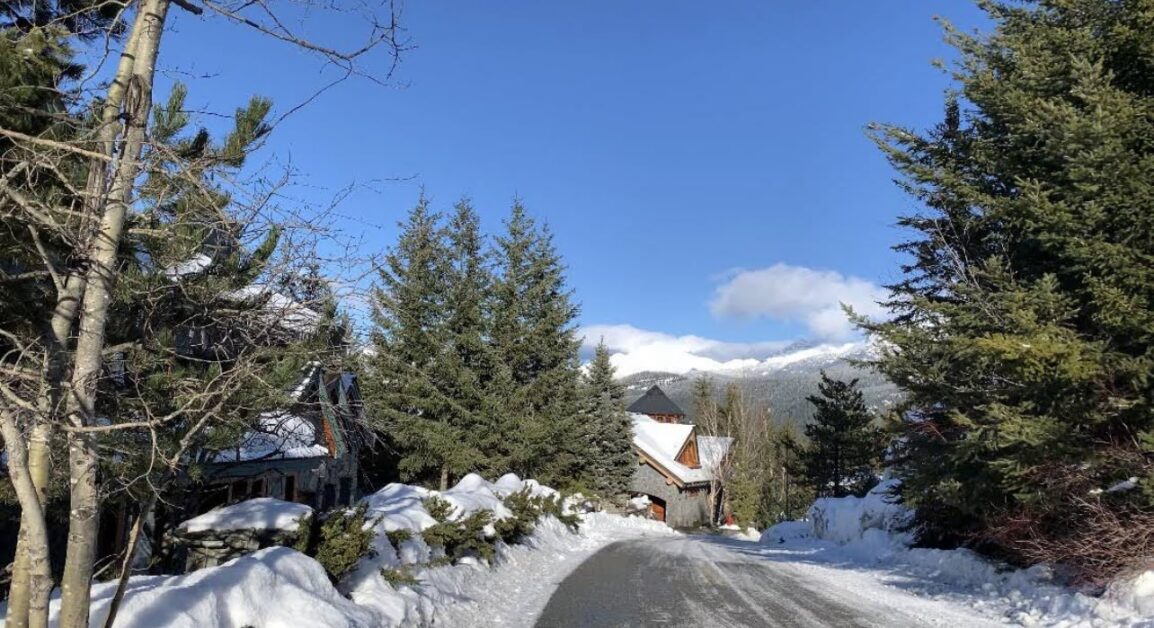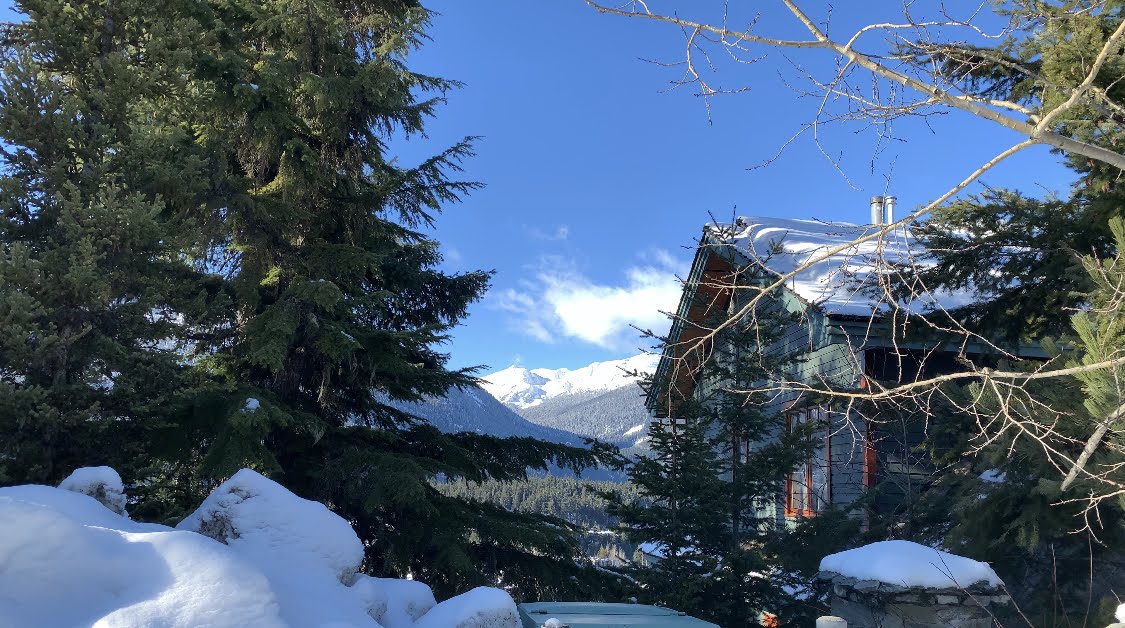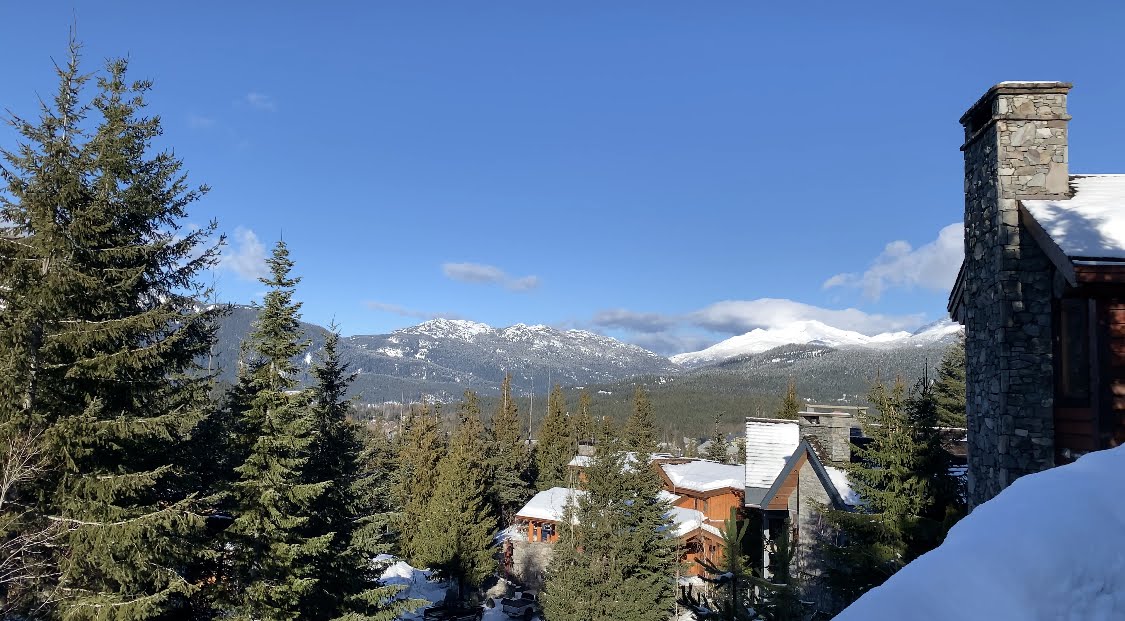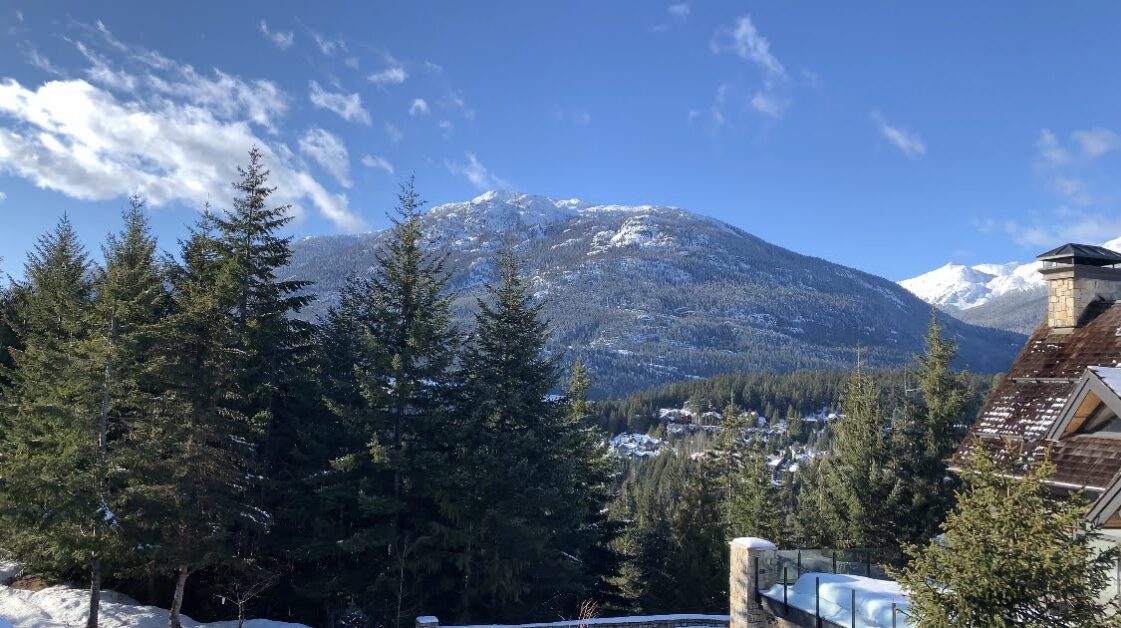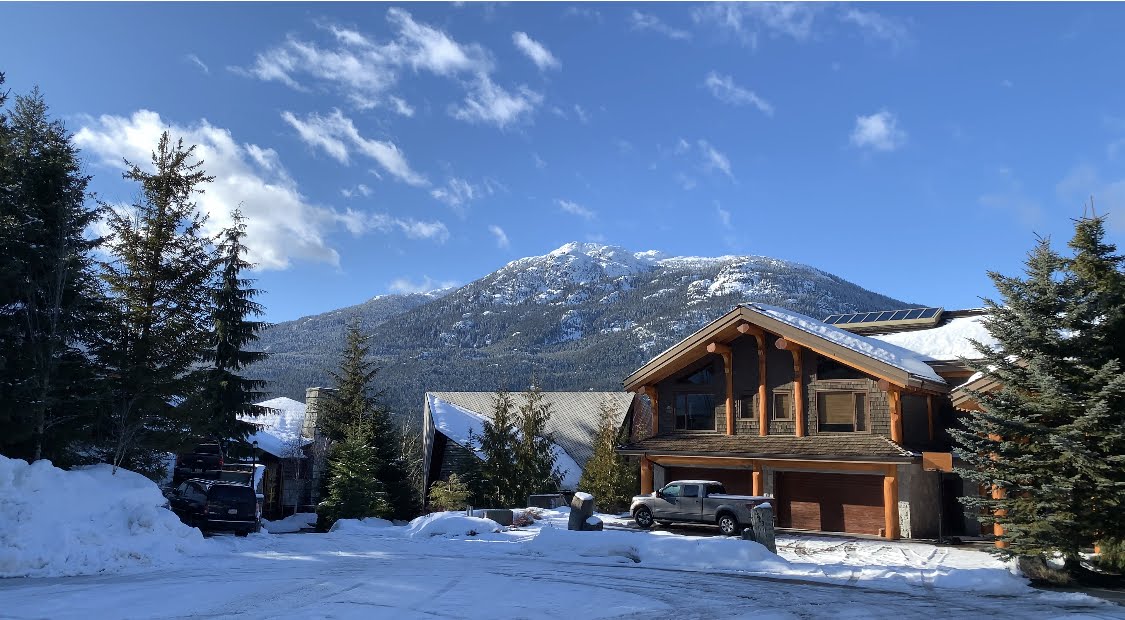 Ski-in/Ski-out Trails
These trails come off Lower Olympic Run on Whistler Mountain. However, the ski-in (ski-home) trail at the south end of the development is for the fearless, double black diamond crowd.
Before you view the ski-in ski-out access video below, have a look at the highlighted Google map below. In essence, this map indicates the location of the ski-in meaning ski-home trails to the north and south of Sunridge. Dependent on the location within Sunridge the property will have one of the following:
ski-in and ski-out trail
ski-in but not, ski-out trail
neither a ski-in nor a ski-out trail
Google Map Ski Trail
Ski-in Ski-out Trail North: Video
This video will answer your question as to whether the property of interest to you, at the north end of Sunridge has ski-in and or ski-out access. The running theme with Sunridge is that access to the slopes will depend on your motivation and athletic ability. However, if you have family members that need to be "encouraged" to get out and ski…the Sunridge location may be their first excuse for inaction.
Sales
Scroll horizontally to view and sort the data: To sort by year sold, click on that heading for a chronological setting. To view the sold price, swipe to the left.
Sales of luxury detached houses and vacant land in Sunridge Plateau. Data was imported from the Whistler Listing Systems. Days on Market (DOM) has been recorded since 2010.
Number
Street
Bedrooms
Bathrooms
House
sq. ft.
Land
sq. ft
Sold
Price
Sold
DOM
Listing
Broker
3822
Sunridge Drive
6
7.5
6083
10,355
12,175,000
2023
94
WREC
3820
Sunridge Drive
6.5
6
6345
9,785
12,300,000
2022
176
E&V
3828
Sunridge Drive
6
9
6700
19,290
13,000,000
2022
117
WREC
3852
Sunridge Court
4
3.5
2750
5,750,000
2022
22
E&V
3853
Sunridge Court
13,720
3,200,000
2022
21
E&V
3855
Sunridge Court
5
6.5
5400
22,713
7,700,000
2021
484
E&V
3801
Sunridge Place
3
4.5
4497
11,249
9,825,000
2021
20
WREC
3831
Sunridge Drive
23,000
5,825,000
2021
0
E&V
3807
Sunridge Place
5
5.5
5941
13,186
4,900,000
2020
344
E&V
3850
Sunridge Court
6
7.5
5565
10,215
6,800,000
2020
336
WREC
3824
Sunridge Drive
7
6.5
7105
12,831
7,075,000
2020
198
E&V
3818
Sunridge Place
12,000
2,250,000
2020
142
E&V
3800
Sunridge Place
5
5.5
5850
12,250
6,975,000
2020
59
RE/MAX
3828
Sunridge Drive
6
9
7415
19,290
11,000,000
2019
22
E&V
3832
Sunridge Drive
5.5
4.5
5000
15,263
5,500,000
2017
139
WREC
3802
Sunridge Place
6
7
5372
5,500
4,408,000
2017
18
Thorn
3851
Sunridge Court
4
4.5
4705
15,468
3,950,000
2016
279
Thorn
3822
Sunridge Drive
5.5
7
6050
10,355
6,000,000
2016
145
WREC
3807
Sunridge Place
5.5
5.5
5000
13,186
3,999,999
2016
80
WREC
3853
Sunridge Court
13,720
1,570,000
2016
21
Thorn
3828
Sunridge Drive
6
7
7500
18,041
5,600,000
2015
111
Thorn
3808
Sunridge Place
4
4.5
2500
5,510
1,632,500
2014
307
Thorn
3824
Sunridge Drive
7
6.5
7093
12,831
5,100,000
2014
242
WREC
3806
Sunridge Place
4.5
5.5
3050
5,113
1,850,999
2014
30
MacD
3831
Sunridge Drive
23,043
3,200,000
2013
447
Thorn
3816
Sunridge Place
5
8
5500
11,585
3,399,000
2013
434
Thorn
3829
Sunridge Drive
2,000,000
2013
0
WREC
3803
Sunridge Place
6
9
5000
12,504
4,400,000
2012
1147
Thorn
3805
Sunridge Place
5
5
4400
11,772
3,550,000
2012
172
Thorn
3823
Sunridge Drive
5
4.5
2750
2,000,000
2011
33
Thorn
3815
Sunridge Place
5
6.5
5500
10,815
4,475,000
2011
8
Thorn
3818
Sunridge Place
0
0
12,000
1,250,000
2008
WREC
3810
Sunridge Place
3
4
2750
7,384
3,000,000
2007
Thorn
3837
Sunridge Drive
86,800
3,800,000
2007
SOTHEBYS
3827
Sunridge Drive
6
7.5
7500
12,508
13,625,000
2007
S to S
3808
Sunridge Place
4
4.5
2500
5,511
1,819,000
2007
RE/MAX
3821
Sunridge Drive
4
4.5
2750
8,514
2,100,000
2007
S to S
3851
Sunridge Court
4.5
4.5
4950
15,465
5,300,000
2007
WREC
3841
Sunridge Drive
0
0
24,251
1,710,000
2006
RE/MAX
3805
Sunridge Place
5
5
4400
12,476
5,250,000
2006
S to S
3823
Sunridge Drive
4
3.5
2750
2,530,000
2005
WREC
3801
Sunridge Place
0
0
11,654
1,250,000
2005
RE/MAX
3823
Sunridge Drive
4
3.5
2750
2,530,000
2005
WREC
3817
Sunridge Drive
5
6.5
5000
12,508
4,000,000
2005
S to S
3815
Sunridge Place
5
6.5
5500
10,815
5,400,000
2005
S to S
3821
Sunridge Drive
4
4.5
2750
2,250,000
2003
RE/MAX
3826
Sunridge Drive
5.5
9
5000
13,024
5,000,000
2003
WREC
3828
Sunridge Drive
6
7
7500
18,000
5,150,000
2003
RE/MAX
3800
Sunridge Place
0
0
12,250
1,950,000
2002
WREC
3825
Sunridge Drive
3
3.5
2750
2,050,000
2002
RE/MAX
3816
Sunridge Place
0
0
5,500
4,205,600
2001
WREC
3830
Sunridge Drive
8
8.5
5000
9,662
4,100,000
2000
RE/MAX
3824
Sunridge Drive
5
6.5
7075
12,875
4,800,000
2000
RE/MAX
3807
Sunridge Place
5
5.5
5600
13,180
3,775,000
2000
RE/MAX
3816
Sunridge Place
0
0
5,500
1,000,000
2000
RE/MAX
3820
Sunridge Drive
4.5
6.5
10,640
7,900,000
2000
RE/MAX
3821
Sunridge Drive
4
4.5
2750
1,700,000
2000
WREC
3811
Sunridge Place
4.5
4.5
2700
823,900
1999
RE/MAX
3854
Sunridge Court
0
0
1,875,000
1999
RE/MAX
3824
Sunridge Drive
5
6.5
7075
12,875
3,480,000
1999
RE/MAX
3830
Sunridge Drive
8
8.5
5000
9,662
2,400,000
1999
WREC
3802
Sunridge Place
6
6.5
6000
9,795
642,500
1999
RE/MAX
3828
Sunridge Drive
6
7
7500
18,000
925,000
1999
RE/MAX
3851
Sunridge Court
4
4.5
4950
15,465
915,000
1999
RE/MAX
3824
Sunridge Drive
5
6.5
7075
12,875
2,550,000
1998
RE/MAX
Comparable Sales
To view the sales of luxury homes in the other ski-in/ski-out locations in Whistler, click through to the Luxury House Sales (Sales: Houses). Please note, there are only five locations in Whistler that offer a detached house with ski-in/ski-out access to either Whistler or Blackcomb Mountain. All five locations are featured on this site.
Strata
Sunridge is a "bare-land" strata. That means that the strata corporation's responsibilities stop at your lot line. There were originally 35 lots on the original registered strata plan. After registration, some lots were re-configured and re-registered to accommodate a duplex where each half of the duplex had its own strata lot.
The strata corporation is basically the same as the Homeowners Association in America. The Sunridge strata owners which make up the strata corporation pay a nominal strata fee to cover the cost of snow removal, road repair and landscaping. The road which runs through this neighbourhood is the largest expense for the strata.
Strata Plan
Sunridge Registered Strata Plan LMS2202 provides information about the size and shape of each strata lot. Keep in mind that the strata plan does not show the topography. Please remember that Sunridge was developed on a mountainside.
Strata Parking
Like most strata developments, the developer did not allocate common property for extra parking. In fact, there is no overflow visitor parking in Sunridge. All cars associated with a property must be parked on said property.
In addition, Sunridge Drive is not as wide as a municipal road, and as such, parking is prohibited on the side of the road. Predatory towing is in effect, so unless there is a team of tradespeople parking is enforced. The benefit of this bylaw is that the neighbourhood's curb appeal is low-density, and even though the road is narrow, it is unobstructed. It is always important to ensure that the property you are considering has adequate parking for your family's needs.
Zoning-residential
Sunridge Plateau was zoned RT6 as a residential neighbourhood. This means that as an owner, you are only allowed to legally rent out your property on a month-to-month basis. To clarify, nightly rentals are not permitted under this zoning. However, there won't be much competition in Sunridge. The higher the sale price of houses the less likely the owner will be renting out the property. Please note, there will be some owners who rent out their property for a month at a time. This is particularly apparent at Christmas and New Year. It is important to remember that Whistler is a world-class ski destination and there is a demand to rent luxury homes.
Questions
FAQ
Is Sunridge Plateau ski-in ski-out?
Yes and No. Due to the width of the development and the topography some houses are ski-in and ski-out, some are ski-in and some are neither.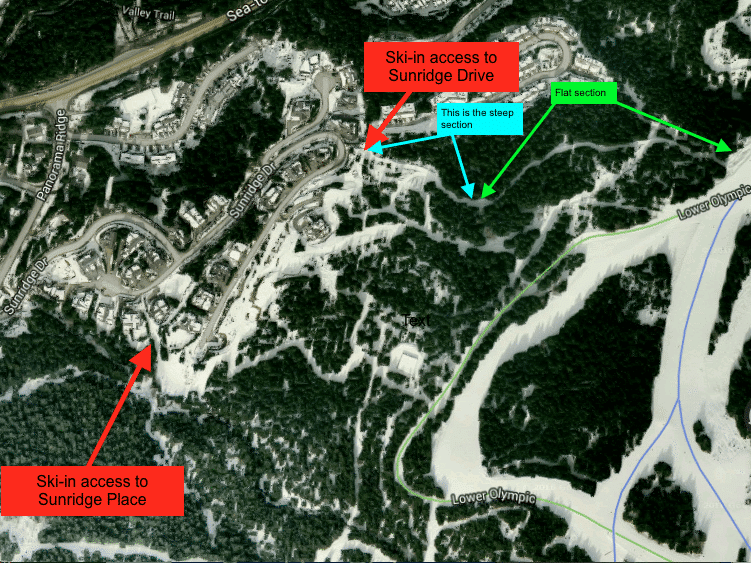 Where are the ski-in and ski-out trails in Sunridge?
There is one at the top, one at the north end, and the other at the south end of the development. The one at the south end is ski-in only due to the topography.
Are the ski-in trails in Sunridge suitable for beginners?
These ungroomed trails are gnarly, and only for confident beginners and intermediate skiers and boarders.
What is the ski-out trail at the north end of Sunridge like?
The challenge is the climb up from Sunridge Drive to the flat trail that leads out to Whistler Mountain. That climb depends on the athletic ability to carry skis/board and walk up the incline. Absolutely possible, but not everyone will be enthused about starting their day with this climb.
Are the ski-in trails in Sunridge groomed?
No. None of the trails are groomed. Therefore, they get rutted and the steep portion gets hard-packed and skied off with skiers and boarders sliding. Not for the faint of heart.
Is Sunridge Plateau zoned for nightly rental?
No. It is residential zoning only.
Can an owner rent out their Sunridge home?
Not on a nightly basis, only monthly.
Why do people buy in Sunridge Plateau?
Sunridge houses are over 5,000 sq. ft., have magnificent mountain views, located close to Whistler Village, and there is a ski-in/out trail to Whistler Mountain which is accessible year-round. This is a winning combination for resale.
Can a non-resident buy real estate in Whistler?
Yes. Whistler is exempt from the Federal Government's 2 year ban on non-residents buying real estate.
Buying Process
There is no ban on foreign investment in Whistler. Therefore, the process is basically the same for residents and non-residents of Canada. If you are starting out and want to understand what the process is for buying a property in Whistler, have a look at the Buying Process page on this site.
Representation
Explaining Representation to a Buyer or Seller at the first introduction is a mandatory requirement. Since there is no dual agency in BC the Disclosure of Representation in Trading Services Form (DORTS) is essential for the Buyer or Seller to understand what their designated agent's obligation is to them. DORTS binds the agent to the client but does not bind the client to the agent. In addition, Home Buyer Recission Period (HBRP) would be discussed at that time.
If you think I would be a good fit to work with you and your family, and you are not working with a Whistler realtor, please contact me. I look forward to hearing from you.
It's a Good Life in Whistler!
Marion
Marion Anderson Personal Real Estate Corporation
manderson@sutton.com (604) 938-3885