Snowy Creek, Half-Duplexes and Townhomes Close to Whistler Village
Snowy Creek, 4501 Blackcomb Way offers both half-duplex and townhomes close to Whistler Village. This location is classified by real estate agents as being in the Benchlands. However, the proximity to the Whistler Village is undeniably close, and less than a 5 minute walk to all that it offers. In fact, the location is far more convenient to the Village than any other property in the Benchlands. Making it prime for earning rental income throughout the year.
In Spring, Blackcomb Mountain's, world-class groomers do what they can to keep the ski-in and ski-out operational by rearranging the snow to accommodate skiers. Mountain Square, home of the Whistler Village Gondola, the Blackcomb Excalibur Gondola and the Fitzsimmons Chair, are all within easy walking distance. Therefore, this location has a great, plan B for access to the slopes which is important for spring skiing. Coming off the slopes, it is a quick walk home, but only if you can resist the lure of the patios, calling out your name for aprés.
Table of contents:
Active Listings
With the increase in ski-in/ski-out property values, plus the ability to garner revenue through nightly rentals, or seasonal rentals, Snowy Creek is a prized investment.
View the Active Ski-in/Ski-out Listings posted by all Whistler brokerages. You will also see everything else posted for Whistler ski-in/ski-out real estate on that page. If there is no link, best to check out the property on WhistlerListings.com
When starting your initial search for Whistler real estate, it is important to understand the current market conditions. I understand that you may not be ready to contact me. In the meantime, I encourage you to study the sales and listing statistics on the Market Update page on this site. The statistics are compiled by the Real Estate Board of Greater Vancouver (REBGV) In addition, the monthly Whistler Real Estate Market Update video is a great way to stay informed in less than 99 seconds.
Location
Snowy Creek has the best ski-in ski-out location in proximity to Whistler Village. The good news is that it is far enough away to avoid the 2 am revelers. However, it is enough to walk to and from Whistler Village without overthinking it. Therefore, Snowy Creek is top of the list for location, location, location.
Location on Blackcomb Way
The video below is the drive from the entrance to Whistler Village off highway 99, then along Blackcomb Way to Lorimer Road. The purpose of the video is to show you the location of Snowy Creek on Blackcomb Way.
Distance From Whistler Village Video
The video below is about 90 seconds long. That should give you a clue about the length of time it takes from the intersection of Village Gate Boulevard and Highway 99. The video was recorded so that you could get your bearings the centrally located development of Snowy Creek.
Google Map
Civic Address Map
This map was taken from the Resort Municipality of Whistler (RMOW) website. It shows you what surrounds Snowy Creek and that the Blackcomb Excalibur Gondola runs above part of the development. However, this gondola usually operates from early morning to 6.30 pm, and only in the winter season. Therefore, for upload in summer to Blackcomb Mountain the Gondola from the Blackcomb Base is operational. Please note, on the map below it has not been updated to show the Blackcomb Gondola which replaced the Wizard Express Chairlift in December 2019.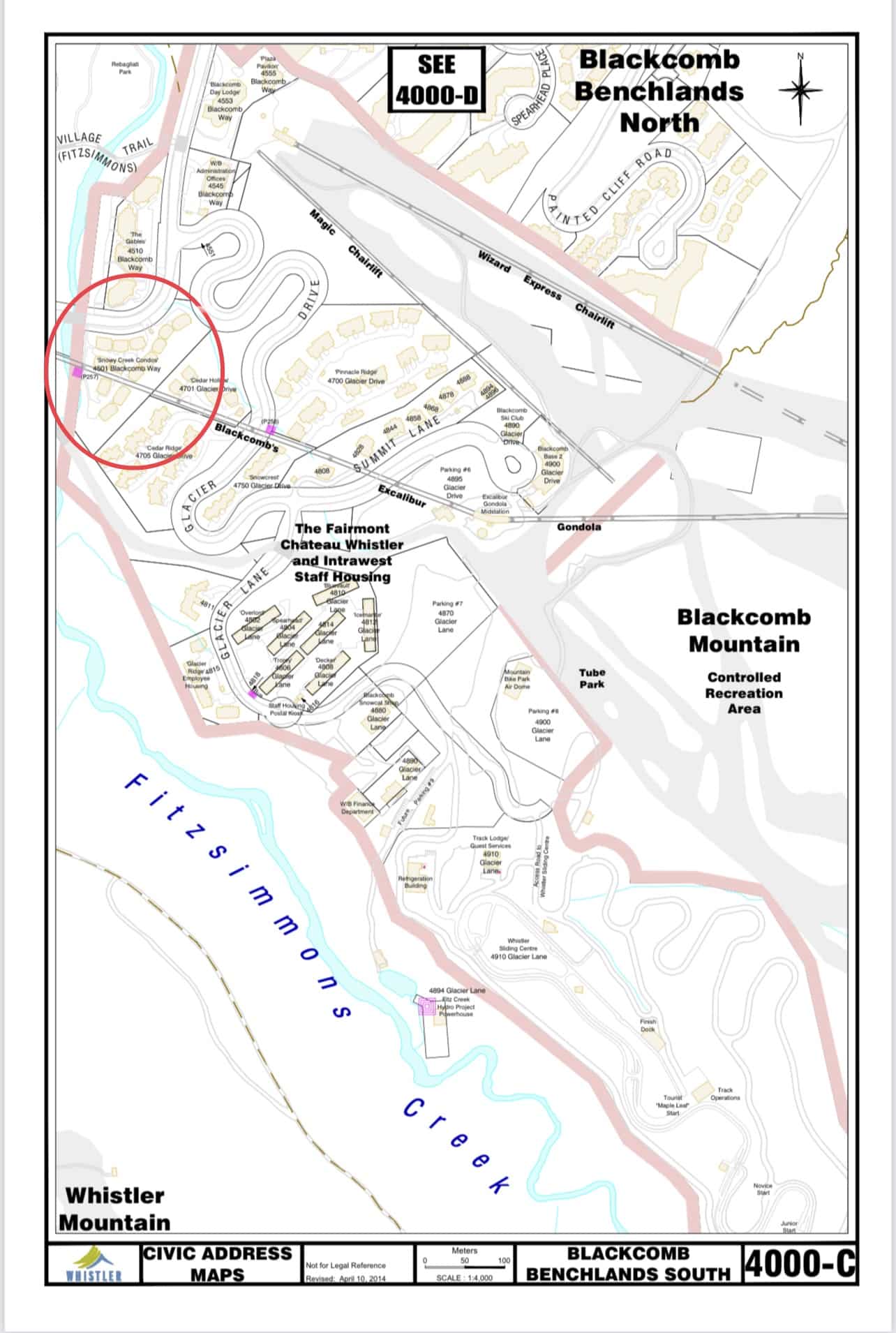 +
Bus Service
With the location of Snowy Creek, you are within walking distance of what you will need. Should you venture from all that Snowy Creek offers and need the Whistler bus service to get home, the bus terminal is next to Snowy Creek. This could easily happen should you decide to partake of apres at Dusty's in Creekside and decide to take the bus home.
Street View
This street view video should help you get a sense of the size of the development. In addition, it should help you with the distance, and length of time it would take to walk to the ski-in access or the access to the shortcut to Whistler Village.
Photo Gallery
In the photos below, pause when you see the ski-in ski-out access which is shown just before the bridge.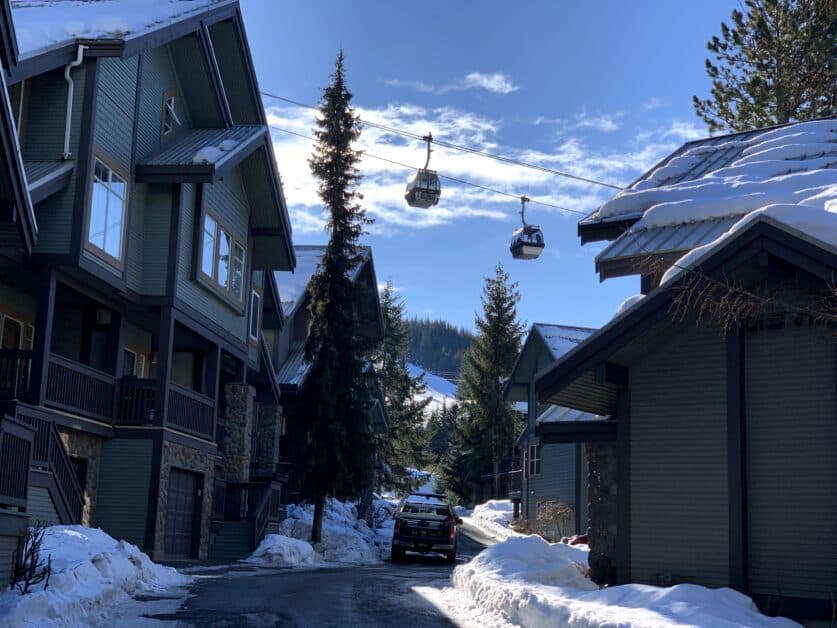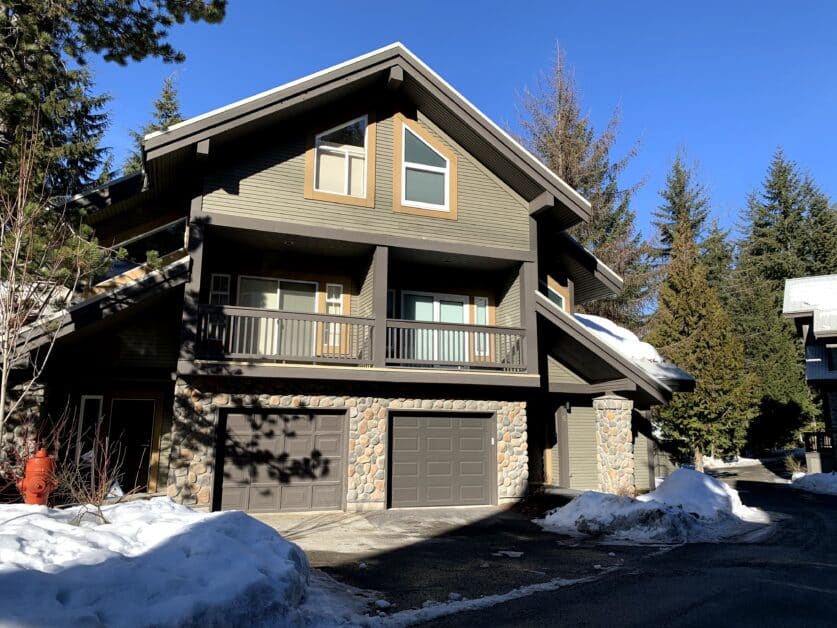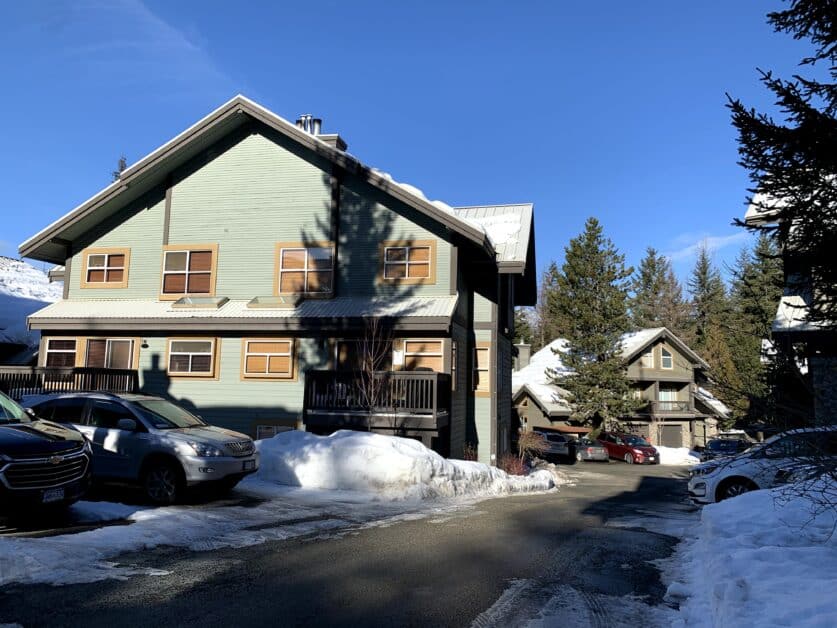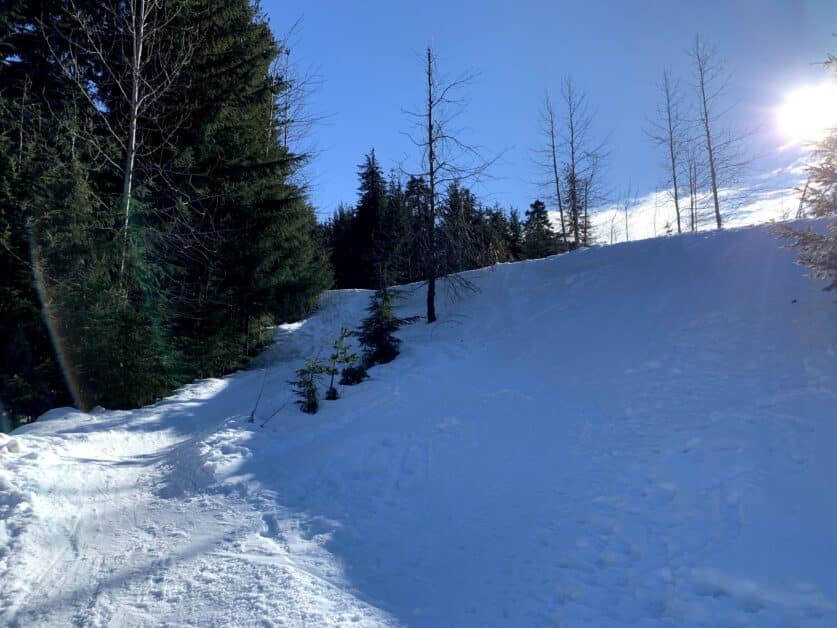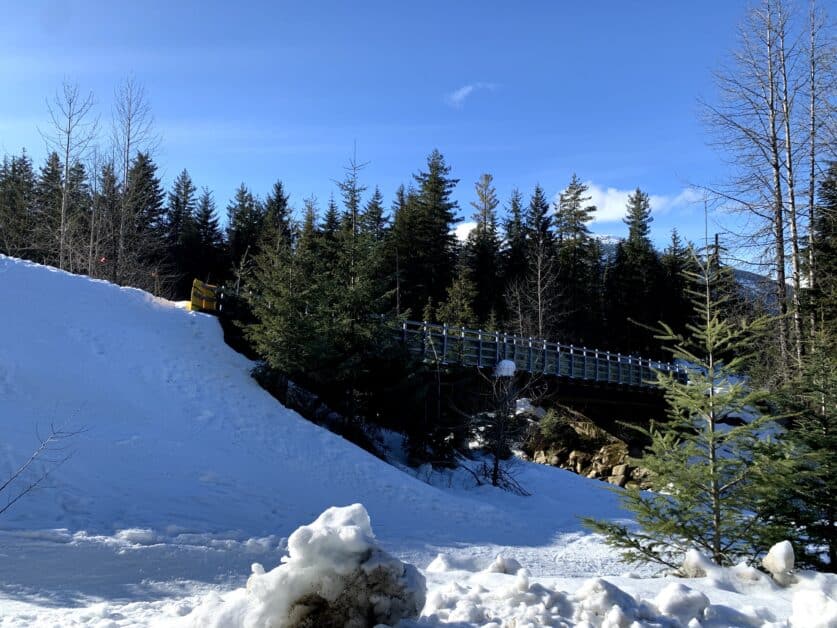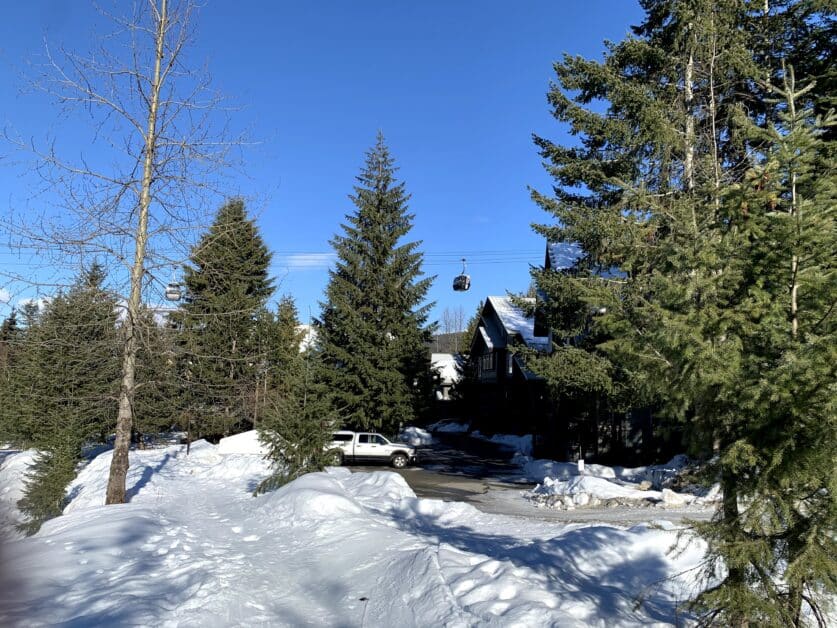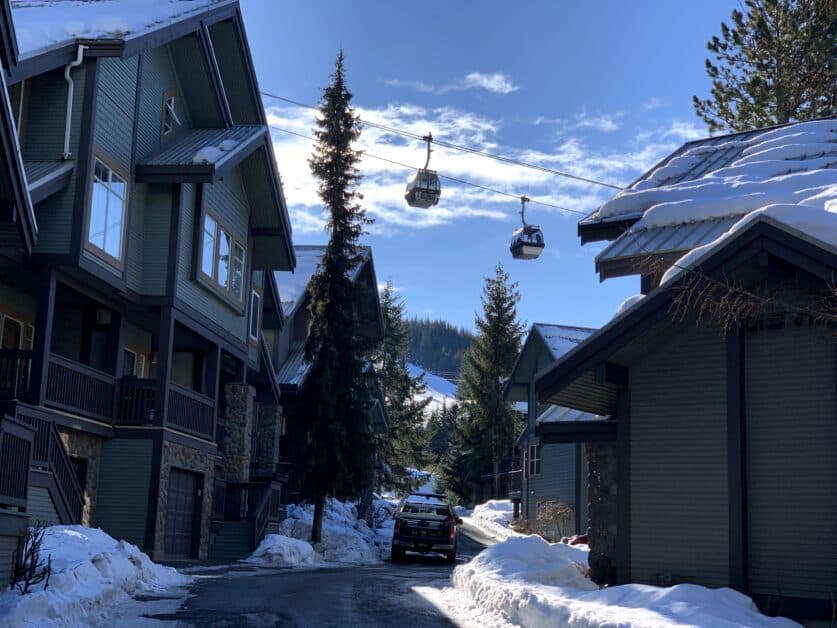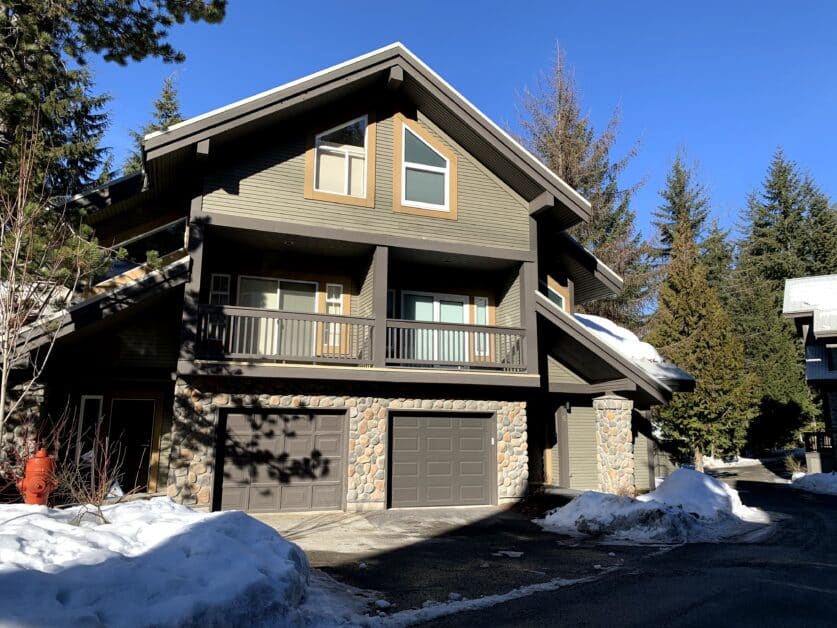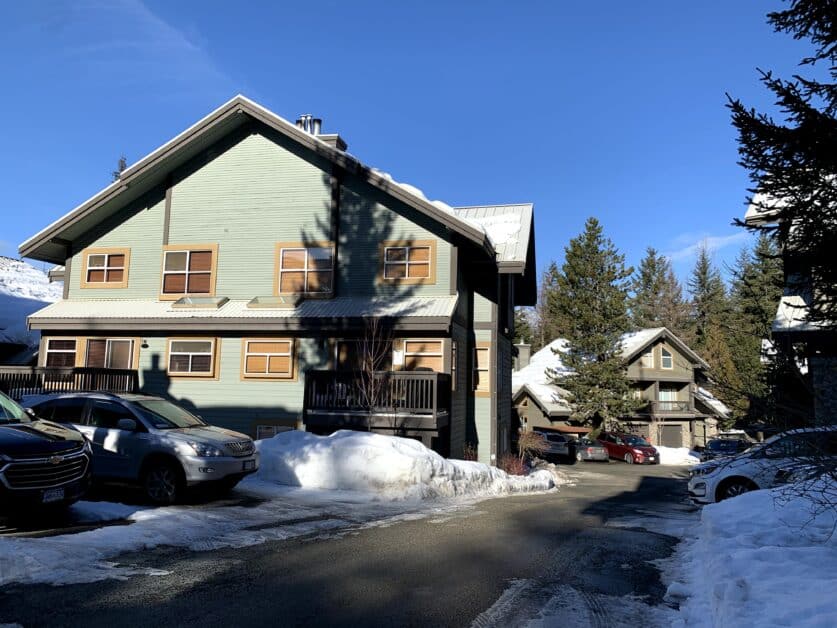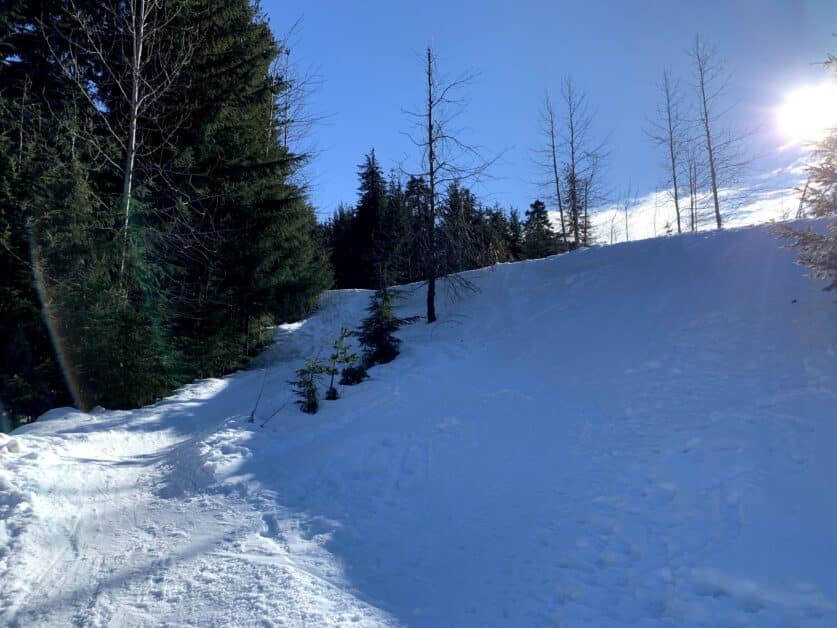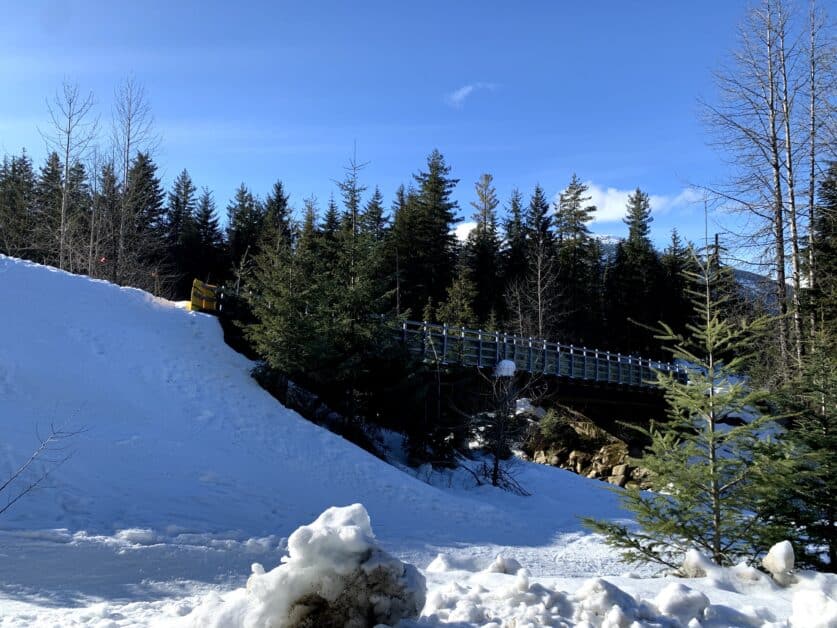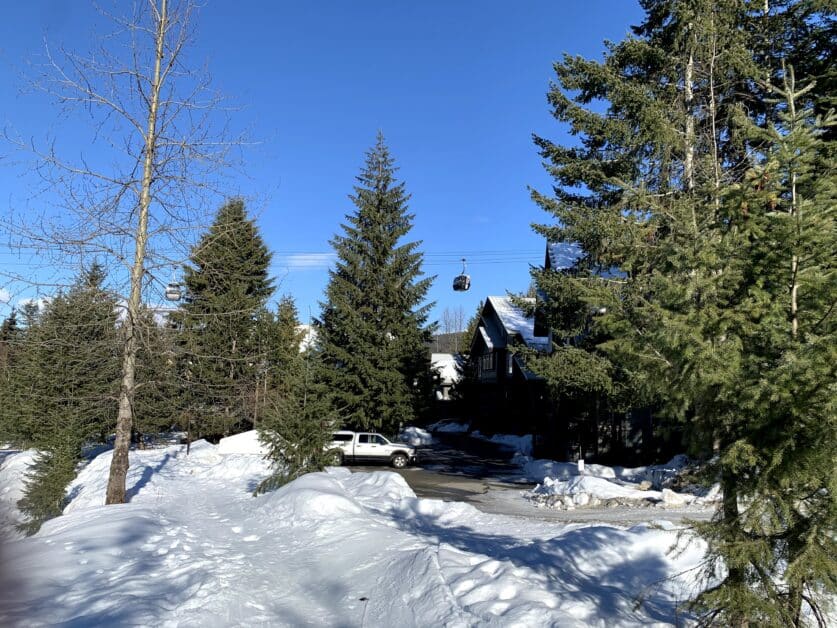 Ski-in Ski-out Trails
The ski-in ski-out access for Snowy Creek involves some effort to climb up the incline to get to Village Run. However, it is a great way to warm up the muscles with a short burst of activity. In addition, like most things, it would get easier every time. Another alternative is to walk along Blackcomb Way to the bus terminal and walk up the slope to get on to Village Run. I point out both of these options in my ski-in ski-out video below.
Site Plan Showing Ski-in/out Trail
The following site plan was taken from the developer's original plan. It shows you the number of each half duplex and townhome, in addition to the location of the ski-access onto Village Run.
Ski-in Ski-out Access Trails
The ski-in ski-out access to/from Village Run is within steps of any of the townhomes of Snowy Creek. The climb up to reach Village Run changes with each snowfall, as the snow plow pushes the snow close to the access of the run. I would expect that once you have mastered this climb, it would be easy peasy. In addition, as the snow melts the climb to get to Village Run will be shorter. It is worth the effort because Village Run leads into Mountain Square. That is where you will have the choice of uploading via Whistler Mountain Village Gondola, Whistler Mountain's Fitzsimmons Chair, or Blackcomb Mountain's Excalibur Gondola.
This location is also convenient if you mountain bike, or if you are renting to mountain bikers because it is so close to the Whistler Village Gondola for uploading. Plus, the Blackcomb Base is very close, but in the other direction.
Sales
Scroll horizontally to view and sort the data: To sort by year sold, click on that heading for a chronological setting. To view the sold price, swipe to the left.
Scroll horizontally to view and sort the data: To sort by year sold, click on that heading for a chronological setting. To view the sold price, swipe to the left.
The sales of luxury half-duplex/townhomes in Snowy Creek, 4501 Blackcomb Way, Whistler. Data was imported from the Whistler Listing System. Days on Market (DOM) has been recorded since 2010.
| Number | Bedrooms | Bathrooms | Size sq. ft. | Sold Price | Year Sold | DOM | Listing Broker |
| --- | --- | --- | --- | --- | --- | --- | --- |
| 16 | 4.5 | 4.5 | 2130 | 5,300,000 | 2020 | 15 | WREC |
| 26 | 5.5 | 4 | 2400 | 4,250,000 | 2018 | 119 | WREC |
| 15 | 4.5 | 3.5 | 2424 | 3,450,000 | 2018 | 57 | SWCR |
| 16 | 3 | 3 | 1956 | 3,650,000 | 2018 | 178 | SWCR |
| 20 | 3.5 | 3.5 | 2711 | 4,500,000 | 2017 | 25 | SWCR |
| 4 | 4.5 | 4 | 2150 | 2,200,000 | 2015 | 124 | WREC |
| 3 | 4.5 | 4 | 2115 | 2,000,000 | 2011 | 1128 | SWCR |
| 4 | 4.5 | 4 | 2150 | 2,000,000 | 2010 | 961 | RE/MAX |
| 7 | 3 | 4 | 2408 | 3,100,000 | 2008 | 0 | SWCR |
| 18 | 4 | 3.5 | 2200 | 2,500,000 | 2007 | | S to S |
| 30 | 5.5 | 5 | 2250 | 2,658,334 | 2007 | | RE/MAX |
| 26 | 4.5 | 3.5 | 2400 | 3,550,000 | 2007 | | SOTHEBYS |
| 10 | 3.5 | 3 | 1931 | 2,550,000 | 2005 | | WREC |
| 28 | 4 | 4 | 2054 | 3,050,000 | 2004 | | RE/MAX |
| 4 | 4.5 | 4 | 2150 | 2,675,000 | 2004 | | SUSSEX |
| 1 | 5.5 | 4 | 2300 | 2,750,000 | 2003 | | SUSSEX |
| 13 | 6 | 4 | 1900 | 2,225,000 | 2003 | | SUSSEX |
| 26 | 4.5 | 3.5 | 2400 | 3,289,000 | 2003 | | SUSSEX |
| 13 | 6 | 4 | 1900 | 1,750,000 | 2002 | | SUSSEX |
| 10 | 3.5 | 3 | 1931 | 1,650,000 | 2002 | | SUSSEX |
| 24 | 3 | 3 | 1940 | 1,885,000 | 2002 | | RE/MAX |
| 25 | 4 | 3.5 | 2100 | 2,500,000 | 2002 | | WREC |
| 16 | 4.5 | 3 | 1926 | 1,100,000 | 2001 | | RE/MAX |
| 17 | 3 | 3 | 1948 | 873,000 | 1999 | | RE/MAX |
| 14 | 3.5 | 3 | 1917 | 820,000 | 1999 | | WREC |
| 5 | 4.5 | 3.5 | 2038 | 880,000 | 1999 | | WREC |
| 21 | 3 | 3 | 1805 | 800,000 | 1998 | | WREC |
Comparable Sales
The sales for other comparable developments are recorded for your convenience on the Luxury Townhouse/Duplex Sales (Sales: Townhouse/Duplex) page on this site. The featured properties are the competitive set. In other words, a buyer would consider any of these developments when looking at similar criteria.
Revenue
Snowy Creek has a big advantage over other ski-in ski-out rental properties…it has been zoned for 4 bedrooms and a loft. For rental properties in Whistler, it is like a pyramid, with a vast number of studios on the bottom and then at the top are the exclusive 4-bedroom plus properties. When you add into this equation that not all 4-bedroom properties are available for rent, this makes your 4-bedroom (and loft) even more in demand. Limited supply means higher demand which means a higher nightly rental rate.
The proximity to the Village means that the renters don't have to rent a vehicle, so that is another plus for them. There are no restrictions on your choice of rental management company therefore, you can make your own selection.
Strata
Built in 1988, there are 30 units in the development which were zoned for nightly rental. and whether you rent nightly or not is up to you. When the development was built, a room within each townhouse was dedicated as a hot tub room. Therefore, fortunately, or unfortunately depending on how light a sleeper you are, there were no exterior outdoor hot tubs permitted in Snowy Creek. Some owners have kept the indoor hot-tub room, while others have converted the hot tub room into a den.
Site Plan
This site plan will show you the location of the civic address in Snowy Creek.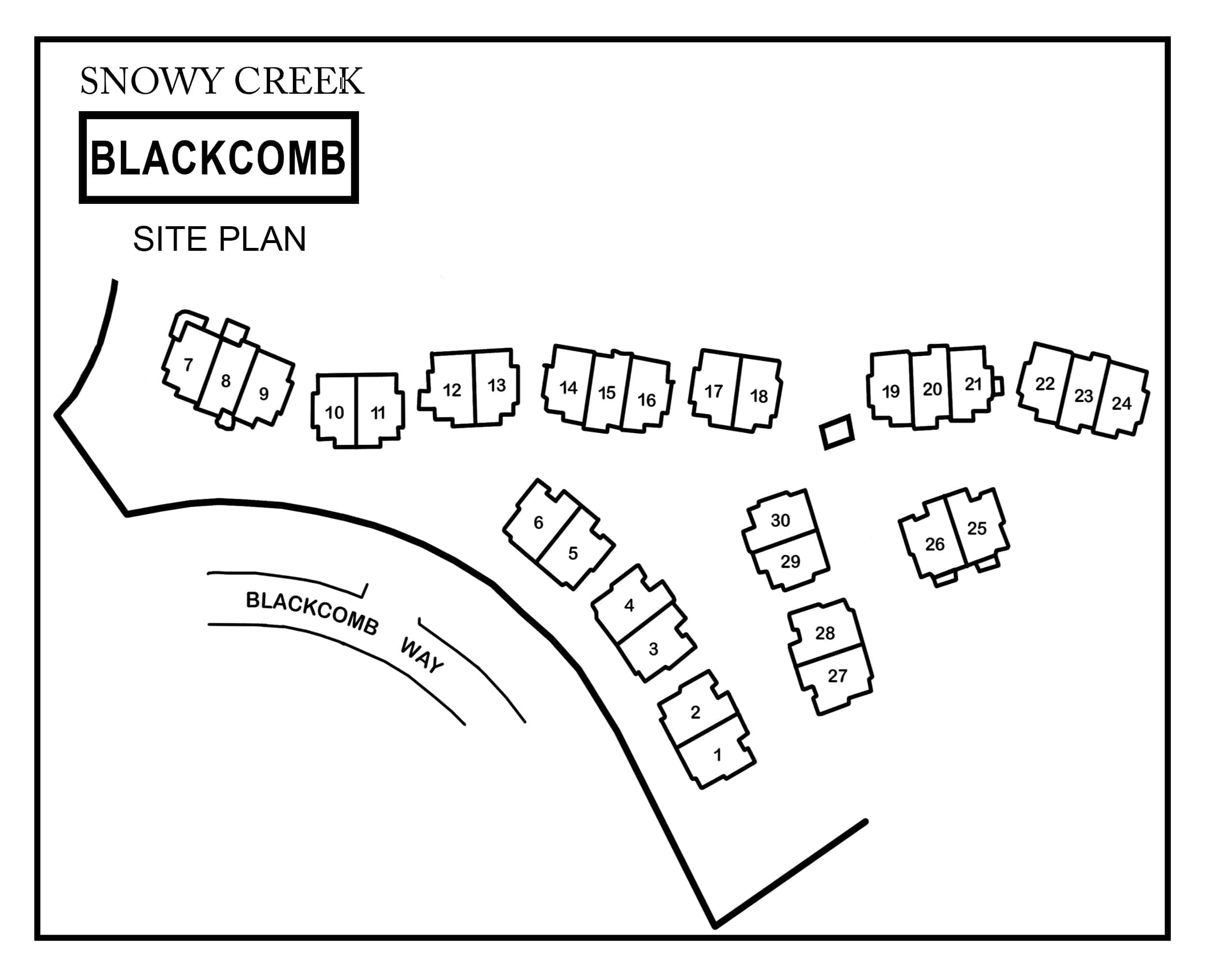 Site Plan/floor plan type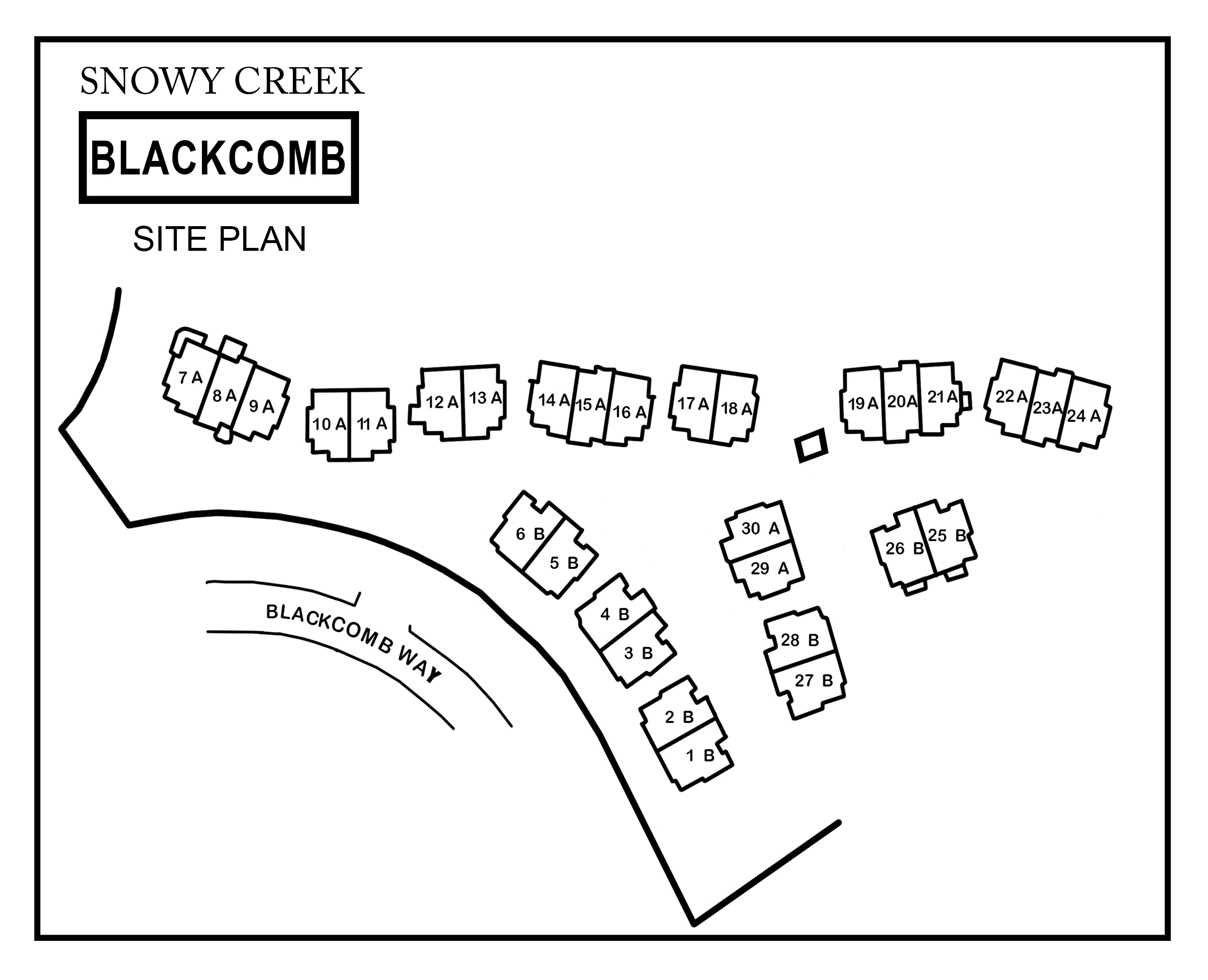 Floor plans
There were three different plans in the developer package for Snowy Creek. Some townhomes have an additional space in the attic above the loft as shown on the Unit B floor plan. The following link will provide a Snowy Creek site and floor plan pdf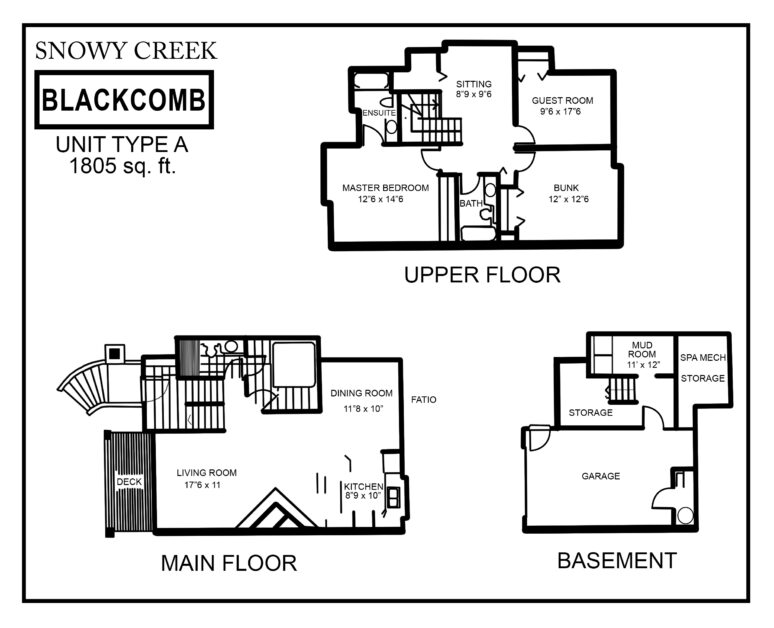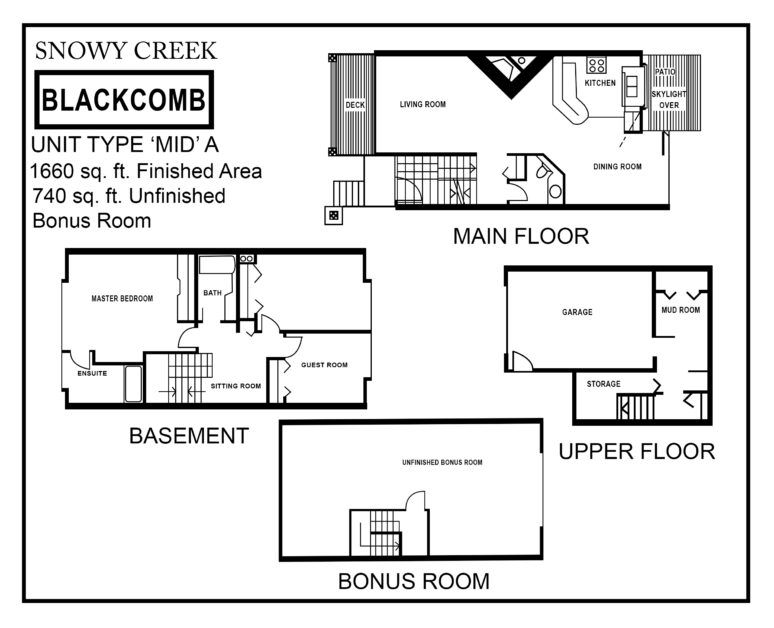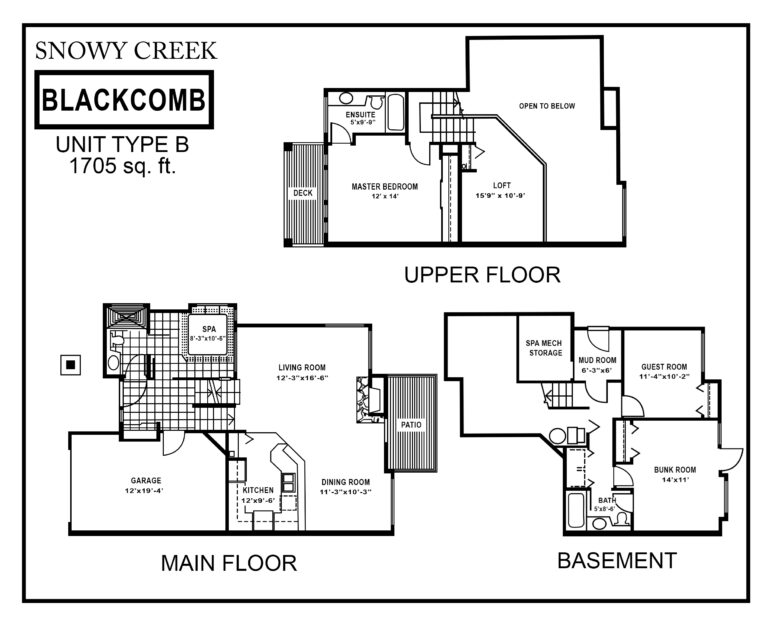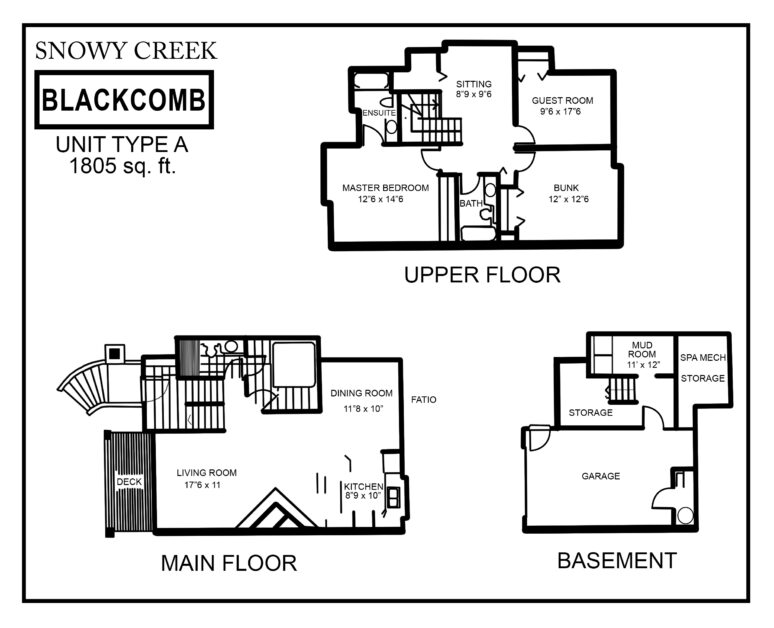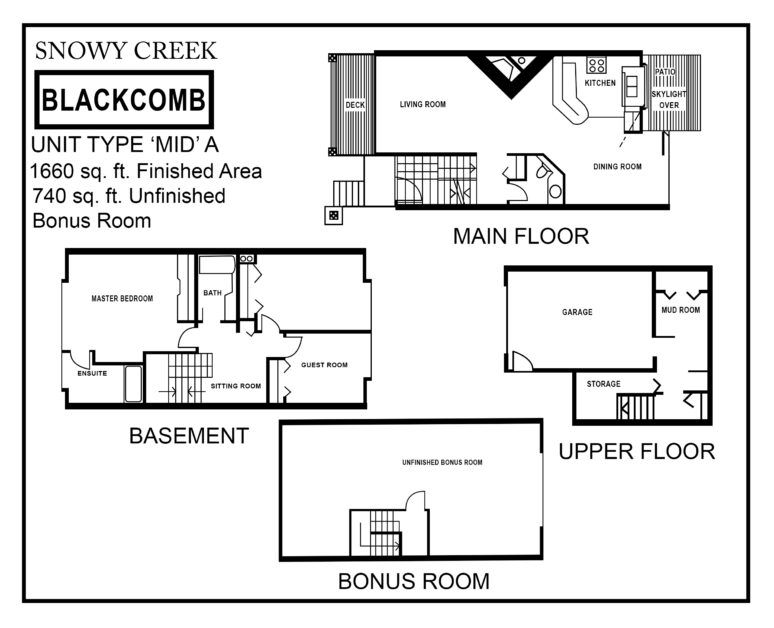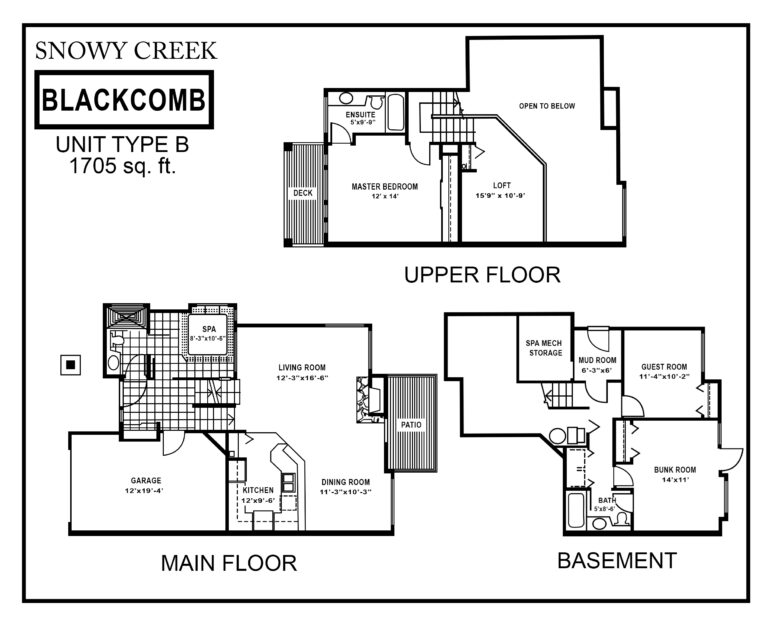 Strata Plan
Snowy Creek was developed in two phases as shown on the first page of each strata plan. It may be best to cross-reference the site plan against the strata plan for more information.
1. Strata-Plan-VR-2083-Phase-1-SL-1-22
2. Strata-Plan-VR-2083-Phase-2-SL-23-30
Amenities
single car garage
visitor parking
private indoor hot tub only
Pets
Dogs are allowed with restrictions. Check the bylaws before starting your search if having dogs in your property is important to you.
Fees
With no underground parking, and no communal hot tub or swimming pool, the monthly strata fee is kept to a minimum. In addition, access to each of the buildings is relatively simple, so it is easy for the strata council to identify areas of concern. The monthly strata fees include but are not limited to:
snow removal
landscaping
garbage removal
road maintenance and repair
common property insurance
contingency fund contribution
Parking
Each townhome or half-duplex has a single-car garage, and some, but not all properties have a parking pad outside their garage. The development was built in 1988 which means that unfortunately, a lot of vehicles are now too large to fit into the single-car garage. Therefore, a lot of owners now use the garage as an equipment room. There are several additional parking spots for owners and guests. I would suggest that anyone renting in Snowy Creek did not hire a car as the location would be chosen because it is within walking distance to Whistler Village, and all that offers. However, for residents and second homeowners, determining parking trends based on the time of year would be a natural process.
Storage
The only storage available at Snowy Creek is what is on your property. This is where the single-car garage becomes valuable, especially when you have expensive bikes.
Zoning
The Resort Municipality of Whistler zoning for Snowy Creek is RM56 which permits Tourist Accommodation. That means you can rent out your property on a nightly basis.
Questions
FAQ
There is no ban on foreign investment in Whistler. Therefore, the process is basically the same for residents and non-residents of Canada. If you are starting out and want to understand what the process is for buying a property in Whistler, have a look at the Buying Process page on this site.
Explaining Representation to a Buyer or Seller at the first introduction is a mandatory requirement. Since there is no dual agency in BC the Disclosure of Representation in Trading Services Form (DORTS) is essential for the Buyer or Seller to understand what their designated agent's obligation is to them. DORTS binds the agent to the client but does not bind the client to the agent. In addition, Home Buyer Recission Period (HBRP) would be discussed at that time.
If you think I would be a good fit to work with you and your family, and you are not already working with a Whistler realtor, please contact me.
It's a Good Life in Whistler!
Marion