Horstman Estates, Painted Cliff Road, Whistler, BC
The purpose of owning in Horstman Estates may principally be to have a large, detached house within walking distance of Whistler Village. Thus, enjoying close proximity to all the action, and convenience associated with this locale. Having a groomed ski-in trail from Blackcomb Mountain into the development may be the other reason for buying in Horstman Estates. The owners in Horstman acknowledge they have a 6-minute warm-up walk or a 3-minute bus ride to access one of the most famous ski mountains in the world…Blackcomb Mountain.
Horstman Estates attracts buyers who intend to use their house outside of the winter season. Therefore, access to everything Whistler offers is of greater appeal than just access to winter sports.
Active Listings
Sales in Horstman Estates are not described as rare. However, there are only 33 lots, so if one house is listed on the market every three years…is that rare? The following is the listing of luxury houses in Horstman Estates posted by all Whistler Brokerages: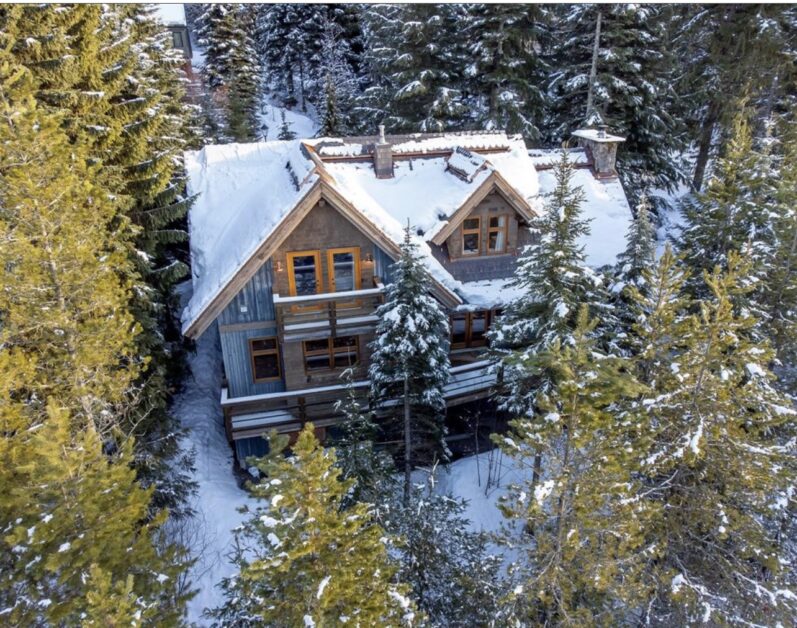 5 bedrooms/5.5 bathrooms
House 3,270 sq. ft.
Built 1994
Land 7,270 sq. ft.
$6,990,000
MLS R2743003
Listed by Engel & Völkers
***
Market Update
When starting your initial search for Whistler real estate, it is important to understand the current market conditions. I understand that you may not be ready to contact me. In the meantime, I encourage you to study the sales and listing statistics on the Market Update page on this site. The statistics are compiled by the Real Estate Board of Greater Vancouver (REBGV) In addition, the monthly Whistler Real Estate Market Update video is a great way to stay informed in less than 99 seconds.
Location
The Benchlands is an area in Whistler, developed in the eighties. Due to its proximity to Whistler Village, and the slopes of Blackcomb Mountain, the Benchlands were designated as prime real estate. The intent of the Benchlands was for tourists to have the option of renting a condo or townhouse rather than staying in a hotel. Remember, this was back in the early eighties, when that would have been a novel concept.
The layout of Horstman Estates can be seen on the civic map below. The homes were built to capture the afternoon and evening sunlight. There is one entrance to/from the development, and although the strata plan shows that the developer was astute to add several points of access to Painted Cliff Road, none of these access points are in place.
Even the houses on the north side of the development whose properties run parallel to Painted Cliff Road, do not have any access to Painted Cliff Road. From the sidewalk of Painted Cliff Road the ditch and the barrier of mature trees do not allow for any access into or out of Horstman Estates.
This means that if you are on the upper or lower side of Horstman Lane you are walking to the entrance to catch the bus or to start your walk to Whistler Village. I would say having only one access to/from Horstman Estates bodes well for the homeowners' desire to keep Horstman Estates as private a location as possible.
That said, there are five lots whose backyard does exit onto the path at Snow Goose. These owners do have access to that trail and in addition, it may be closer for them to ski home via the Snow Goose trail and end up closer to their back gate. However, getting from the back gate to the back door would be something that would need to be maintained.
Distance From Village: video
When Buyers are seriously considering Horstman Estates they have two immediate questions. The first is about the ski-in/ski-out access and the second is the distance from Whistler Village. The video below will take you on a drive from Village Gate Boulevard up to Horstman Estates then back to Lorimer Road. Please see further down for the ski access video.
Google Map
Civic Address Map
This map is courtesy of the Resort Municipality of Whistler (RMOW). It was posted to show you what surrounds Horstman Estates, and the civic addresses in Horstman Estates. The map does not show you the ski access off Blackcomb Mountain therefore, this map should not be relied upon for ski access information. The Benchlands area is identified by the pink border.
Transit to Whistler Village
Most people who buy in the Benchlands, want to walk rather than drive. They park the car at their house the minute they arrive. From then on, they rely on the free bus service, walk or bike. With e-bikes, cycling up to Horstman Estates, or beyond, is now manageable for all levels. There is a free, village bus service that has a route through the Benchlands running past the entrance to Horstman Estates on the way up Painted Cliff Road, and again on its way down to the village via Spearhead Drive. Click this link bctransit.com/whistler and look for route 5, the Whistler Upper Village/Benchlands shuttle.
Walk to Whistler Village: video
For those who enjoy walking, the walk to Whistler Village from Horstman Estates would never be described as a quick walk. However, for those with time and looking for some exercise then the walk from Horstman Estates to Whistler Village may be described as ideal. In other words, it is an easy 15-20 minute walk. The route would be down Spearhead Drive then take the shortcut above the Fairmont Chateau Whistler Hotel to the Blackcomb Day Lodge. Watch the video below for the 5-minute walk to Whistler Village starting at the Day Lodge and taking the scenic route. You might find that you enjoy it enough to walk home from the Village.
Street View: video
This video will show you the layout and privacy of Horstman Estates. In addition, I point out the location of the ski-home trail coming in off Blackcomb Mountain.
Ski Trail
The ski-in trail video should give you a sense of whether your family can safely make it home at the end of the ski day via this route. Some listing agents claim that the ski-in trail comes to the back of the property line for each strata lot. That is debatable and should be investigated further on a house-by-house basis. The image shows you the trail I take on the video.
Trail Map
The best trail map is this image from Google Maps. Remember, you can only ski-in to Horstman Estates.
Ski-in Trail: video
Horstman Estates has a ski-in trail off Lower Cruiser on Blackcomb Mountain which leads into the designated access to Horstman Estates (see photo above). While there may look like more access points, the terrain has not been specifically cleared for that purpose. In addition, this is an old image, as Google seems to have forgotten about passing over Whistler.
Walk to the Slopes: video
The 6-minute walk was timed, wearing ski boots and carrying skis and poles. The route started at the entrance to Horstman Estates. Then I walked down Spearhead Drive and turned left at the public path leading to the slopes. The flat public path was located between the side of the Aspens and the back of the Greystone Lodge. In summary, the walk was slow and steady. Now that I have done this walk, I would encourage potential buyers who are considering Horstman Estates, to do the same. For some, walking would be preferable to loading the car and coping with parking the car. In addition, the walk is a great way to warm up your muscles.
Bus to Slopes: video
There is a free bus service that runs through the Benchlands every 15 minutes in winter. This service runs the rest of the year, but not as regularly. There is a bus stop opposite the entrance to Horstman Estates on the corner of Painted Cliff Road and Spearhead Drive. Without exaggeration, this is a 2-minute bus ride from this bus stop to the top of Painted Cliff Road. Once you disembark it is about 200 feet to the ski-out trail which leads you onto Lower Merlin's run. From there, it is off to the Base of Blackcomb for upload on the ten-passenger, Blackcomb Gondola.
The same bus turns around at the top of Painted Cliff Road, and at the entrance to Horstman, it turns left onto Spearhead Drive. If you wanted to take the bus to the Base of Blackcomb for upload, or Snow School drop-off, you just need to walk to the bus stop on Spearhead Drive. That is about 200 feet from the entrance to Horstman Estates.
If you decided to stay on the bus past the Base of Blackcomb, your next point of interest is the bus terminal. At that location, you disembark and walk towards the Pan Pacific Mountainside. In Mountainside Square, you will have access to upload via the Whistler Mountain Gondola, the Whistler Mountain Fitzsimmons quad chair, or the Blackcomb Mountain Excalibur Gondola. Spoiled for choice!
Sales
Scroll horizontally to view and sort the data: To sort by year sold, click on that heading for a chronological setting. To view the sold price, swipe to the left.
Sales of luxury detached houses in the Horstman Estates, Whistler. Data was imported from the Whistler Listing System. Days on Market (DOM) has been recorded since 2010.
| Number | Street | Bedrooms | Bathrooms | House sq. ft. | Land sq. ft. | Sold Price | Sold | DOM | Listing Broker |
| --- | --- | --- | --- | --- | --- | --- | --- | --- | --- |
| 4933 | Horstman Lane | 5.5 | 6.5 | 5080 | 14,715 | 9,000,000 | 2023 | 83 | E&V |
| 4942 | Horstman Lane | 4.5 | 5.5 | 4049 | 11,614 | 7,450,000 | 2022 | 91 | WREC |
| 4901 | Horstman Place | | | | 29,934 | 8,000,000 | 2022 | 193 | WREC |
| 4914 | Horstman Lane | 5 | 5.5 | 3270 | 7270 | 5,800,000 | 2021 | 0 | E&V |
| 4937 | Horstman Lane | 4.5 | 4.5 | 4102 | 11,819 | 5,400,000 | 2020 | 259 | WREC |
| 4941 | Horstman Lane | 7 | 5.5 | 4700 | 12,895 | 4,950,000 | 2019 | 161 | E&V |
| 4961 | Horstman Lane | 5 | 7 | 5090 | 9015 | 9,000,000 | 2019 | 146 | WREC |
| 4945 | Horstman Lane | 4 | 3.5 | 4644 | 16415 | 3,888,000 | 2017 | 32 | WREC |
| 4958 | Horstman Lane | 7 | 6 | 5428 | 17,136 | 6,500,000 | 2017 | 114 | Thorn |
| 4949 | Horstman Lane | 3 | 3.5 | 3997 | 15,641 | 3,700,000 | 2017 | 45 | SWCR |
| 4934 | Horstman Lane | 5 | 5.5 | 4495 | | 4,500,000 | 2015 | 8 | WREC |
| 4953 | Horstman Lane | 7.5 | 5.5 | 4908 | 14,954 | 3,000,000 | 2013 | 122 | Thorn |
| 4934 | Horstman Lane | 5 | 4.5 | 4495 | 17,800 | 4,000,000 | 2010 | 88 | Thorn |
| 4917 | Horstman Lane | 4.5 | 3 | 4200 | 11,485 | 3,100,000 | 2010 | | WREC |
| 4957 | Horstman Lane | 4.5 | 6 | 4011 | 11,463 | 4,000,000 | 2010 | | Thorn |
| 4922 | Horstman Lane | 4.5 | 3.5 | 2535 | 7625 | 3,800,000 | 2008 | | SWCR |
| 4937 | Horstman Lane | 4 | 4.5 | 4135 | | 4,400,000 | 2007 | | WREC |
| 4926 | Horstman Lane | 4 | 4.5 | 3000 | 8070 | 3,557,000 | 2007 | | S to S |
| 4918 | Horstman Lane | 5 | 4 | 2650 | | 2,610,000 | 2006 | | SWCR |
| 4965 | Horstman Lane | 4.5 | 3 | 3000 | 8126 | 2,400,000 | 2004 | | RE/MAX |
| 4926 | Horstman Lane | 4.5 | 4.5 | 3000 | 8070 | 3,300,000 | 2004 | | RE/MAX |
| 4942 | Horstman Lane | 4.5 | 5.5 | 4060 | 11,615 | 4,209,378 | 2001 | | WREC |
| 4942 | Horstman Lane | 4.5 | 5.5 | 4060 | 11,615 | 1,900,000 | 2000 | | WREC |
| 4934 | Horstman Lane | 4 | 4.5 | 4495 | 17,800 | 3,350,000 | 2000 | | RE/MAX |
| 4917 | Horstman Lane | 4.5 | 3 | 4200 | | 1,300,000 | 1999 | | WREC |
| 4918 | Horstman Lane | 5 | 4 | 2650 | | 1,375,000 | 1999 | | WREC |
| 4958 | Horstman Lane | 6 | 4.5 | 5400 | | 2,700,000 | 1999 | | WREC |
| 4926 | Horstman Lane | 4.5 | 4.5 | 3000 | 8070 | 1,465,000 | 1999 | | WREC |
| 4953 | Horstman Lane | 7 | 5 | 5500 | | 2,750,000 | 1998 | | RE/MAX |
| 4941 | Horstman Lane | 5 | 3.5 | 4451 | | 1,325,000 | 1998 | | WREC |
Comparable Sales
To view the sales of luxury homes in the other ski-in/ski-out locations in Whistler, click through to the Luxury House Sales (Sales: Houses). Please note, there are only five locations in Whistler that offer a detached house with ski-in/ski-out access to either Whistler or Blackcomb Mountain. All five locations are featured on this site.
Strata
Horstman Estates is a bare land strata with 33 strata lots. That means that each strata lot owner pays a small, monthly strata fee. In bare land strata, the strata corporation, meaning the homeowners, is only responsible for the items covered by the strata fee. The responsibility of the strata corporation stops at the lot line of each strata lot.
Site Plan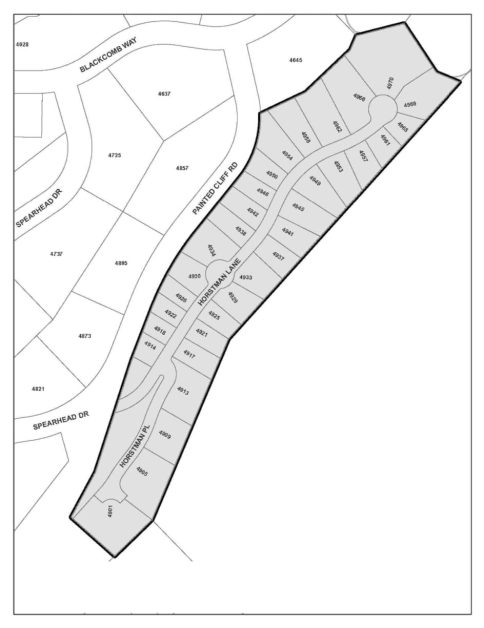 Strata Plan
View the Registered strata plan VAS2482 to understand the bare land strata lots and to identify the common property.
Fees
A bare land strata typically have the lowest strata fees as the strata fees cover the common property which includes:
snow removal
landscaping
road maintenance
ski-home trail grooming and maintenance
common area hydro
common area insurance
Parking
Parking is not encouraged on either Horstman Lane or Horstman Place, each house has been built with a number of parking spots which is meant to accommodate you and your visitors. The reality is that when a major renovation is underway, there will be vehicles belonging to the tradespeople parked on the road.
Zoning
If you have started looking at Horstman Estates then consider the zoning as residential, as per the third reading and adoption of the Land Use Contract Termination on May 10, 2022.
There is a history with the Horstman Estates development pertaining to the interpretation of the zoning prior to May 10, 2022. There was initially one section of land then additional land was added. Each section of land was registered with different zoning. In addition, the land was registered before there were any restrictions on its use. Therefore, those who refer back to the original development see their intent of use was wide open. In addition, Horstman Estates is in the Benchlands, an area designated for rental accommodation. It is a complex scenario, too complex for this site which is run by a real estate agent, not a lawyer.
For the few owners of Horstman Estates who have continued to rent out their property from the day they bought the land and built their house, they are not happy. These owners continue to do nightly rentals without a business license from the RMOW. Nightly rentals in a property zoned as residential are a problem for the property owner.
At the third and final reading on May 10, the RMOW staff presented valid reasons for their support to add Tourist Accommodation (TA) zoning as a permitted use. In essence, the Horstman Estates Strata Corporation (Home Owners Association) was invited to appeal to the RMOW to change the residential zoning for Horstman Estates to provide for TA. This passes the buck nicely from the RMOW to the Horstman Estates' strata corporation. In order to achieve that appeal, it would presently take 75% of the strata lot owners agreeing to apply for a change in zoning…and that's not going to happen.
Questions
FAQ
Is Horstman Estates ski-in and ski-out?
No. Horstman Estates is ski-in only. There is a groomed trail that leads into Horstman Estates.
How far to walk from Horstman Estates to the slopes?
It is an easy 6-minute walk from the entrance of Horstman Estates to the Lower Merlin's Run on Blackcomb Mountain.
Is there a bus service to/from Horstman Estates?
Yes, there is a FREE service and it is a two-minute ride from Horstman Estates to the top of Painted Cliff Road and the ski-out to Lower Merlin's on Blackcomb Mountain. The bus also goes to Whistler Village via the Base of Blackcomb.
Is Horstman Estates residential or zoned for Tourist Accommodation?
Residential, as of May 2023 third reading and adoption of residential zoning application.
Can non-residents buy real estate in Whistler?
Yes, Whistler is exempt from any restrictions on non-residents buying real estate.
Are pets allowed on Horstman Estates?
Yes. There are no pet restrictions noted in the bylaws. However, there is a section on owner responsibilities.
Buying Process
Representation
Explaining Representation to a Buyer or Seller at the first introduction is a mandatory requirement. Since there is no dual agency in BC the Disclosure of Representation in Trading Services Form (DORTS) is essential for the Buyer or Seller to understand what their designated agent's obligation is to them. DORTS binds the agent to the client but does not bind the client to the agent. In addition, Home Buyer Recission Period (HBRP) would be discussed at that time.
If you think I would be a good fit to work with you and your family, and you are not already working with a Whistler realtor, please contact me.
It's a Good Life in Whistler!
Marion
Marion Anderson Personal Real Estate Corporation
manderson@sutton.com (604) 938-3885