Greystone Lodge, 4905 Spearhead Place, Whistler, BC
The Greystone Lodge, 4905 Spearhead Place, Whistler, BC, is tucked away off Spearhead Drive. It is positioned in the cul de sac which is Spearhead Place and as such little traffic passes by. Therefore, the option of owning a condo in any part of the building is increased because of the lack of vehicle noise around the property.
The Lodge has a lot going for it. It is one of Whistler's smallest, condo properties which is zoned for nightly rentals. If you are looking for a property in the Benchlands that gets a lot of sunlight, then consider the Greystone Lodge.
Table of Contents
Active Listings
Listings for Greystone Lodge condo apartments are posted throughout the year. If you are interested in a slopeside condo it would be prudent to research the strata minutes and learn about the property. That way, you are prepared when the location of choice comes to market.
View the Active Ski-in/Ski-out Listings posted by all Whistler brokerages. You will also see everything else posted for Whistler ski-in/ski-out real estate on that page. If there is no link, best to check out the property on WhistlerListings.com
Market Update
When starting your initial search for Whistler real estate, it is important to understand the current market conditions. I understand that you may not be ready to contact me. In the meantime, I encourage you to study the sales and listing statistics on the Market Update page on this site. The statistics are compiled by the Real Estate Board of Greater Vancouver (REBGV) In addition, the monthly Whistler Real Estate Market Update video is a great way to stay informed in less than 99 seconds.
Location
The location of the Greystone Lodge is in the Benchlands. Greystone Lodge is in a cul-de-sac off Spearhead Drive. It is an easy walk between the Greystone Lodge and the Base of Blackcomb in the Upper Village. From there it is a 5-minute scenic walk to Whistler Village. The Greystone is located on the edge of Lower Merlins' run on Blackcomb Mountain.
Location on Blackcomb Mountain: video
The Fairmont Chateau Whistler is a prominent building in the Upper Village. Have a look at this video to see the ski-in/ski-out trail for the Greystone Lodge which is just above the Aspens. In addition, the location is within easy walking distance to the Upper Village and all that it offers.
Drive from Whistler Village: video
It is a short drive from Whistler Village along Blackcomb Way to Spearhead Drive. The entrance to the Greystone Lodge is on Spearhead Place, which is off Spearhead Drive.
Google Map
The ten-passenger Blackcomb Gondola replaced the Wizard Chair for the 2018/19 season but at the time of posting, that had not changed on the Google Map below.
Civic Address Map
The Benchlands is basically the area that is surrounded by the pink border. The whole area, excluding Horstman Estates, was developed in the eighties to service the tourists who were coming for a ski vacation. The Greystone Lodge is circled in red. The map is courtesy of the Resort Municipality of Whistler (RMOW).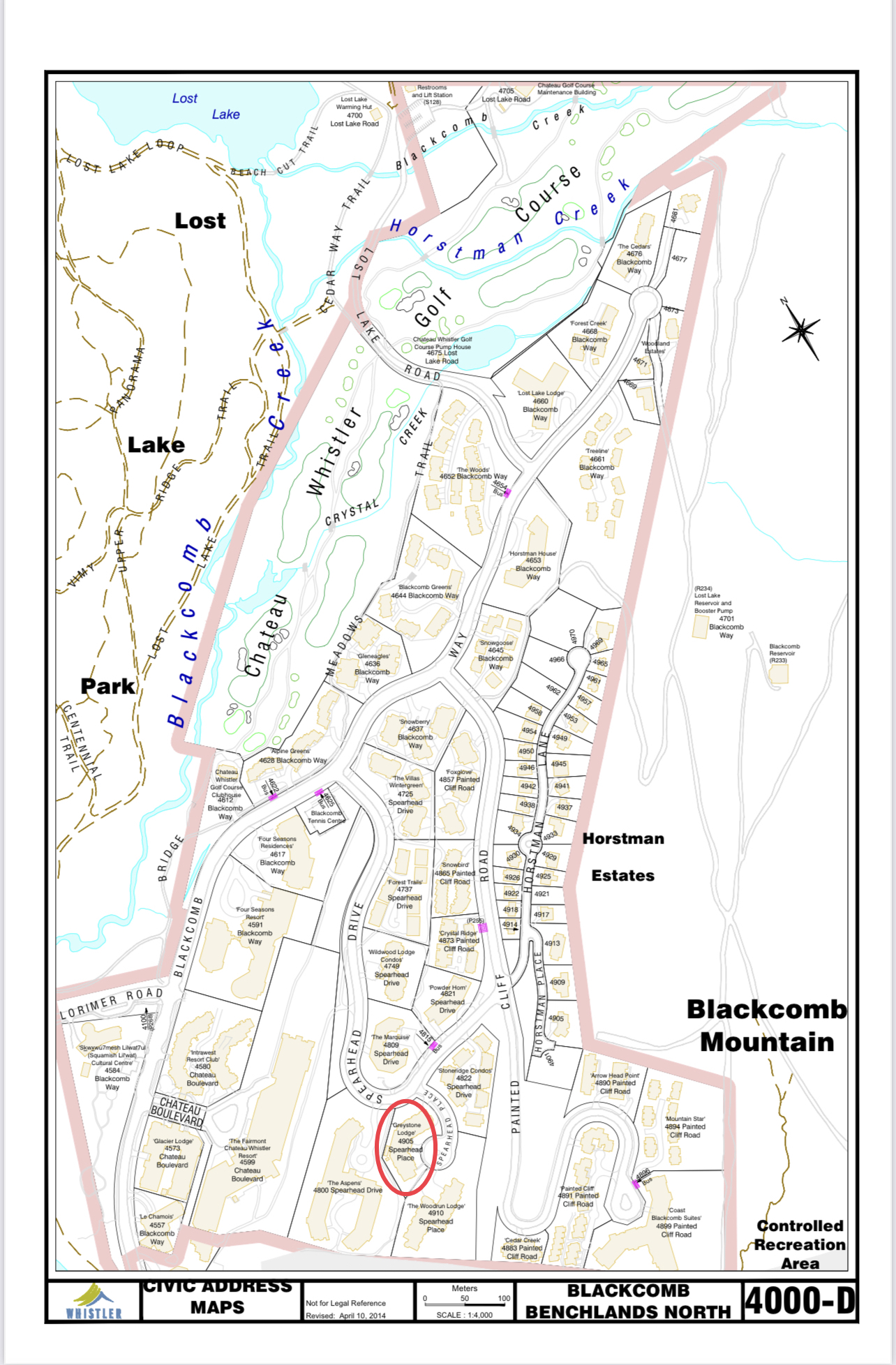 Bus Service
On Spearhead Drive there is a bus stop that services the Greystone Lodge. The journey to/from the Village will take about 5 minutes. This is a great service, especially after a long day on the slopes.
For transport, there is a free, village bus service that has a route through the Benchlands. The bus travels along Blackcomb Way, up to the top of Painted Cliff Road, and then back to the village via Spearhead Drive. This free bus service runs about 8 times an hour in winter and just slightly less the rest of the year.
Walk to Whistler Village: Video
One of the advantages of the Greystone Lodge is the short walk down Spearhead Drive or Lower Merlin's run to get to the Upper Village. From outside the Blackcomb Day Lodge, it is a 5-minute walk along the scenic trail to Whistler Village. Have a look at the video below which starts across the road from the Base of Blackcomb.
Photo Gallery
Like most of the Benchland properties, the sun is selective about shining on the whole building at once. These photos were taken in February and the sun is still low in the sky.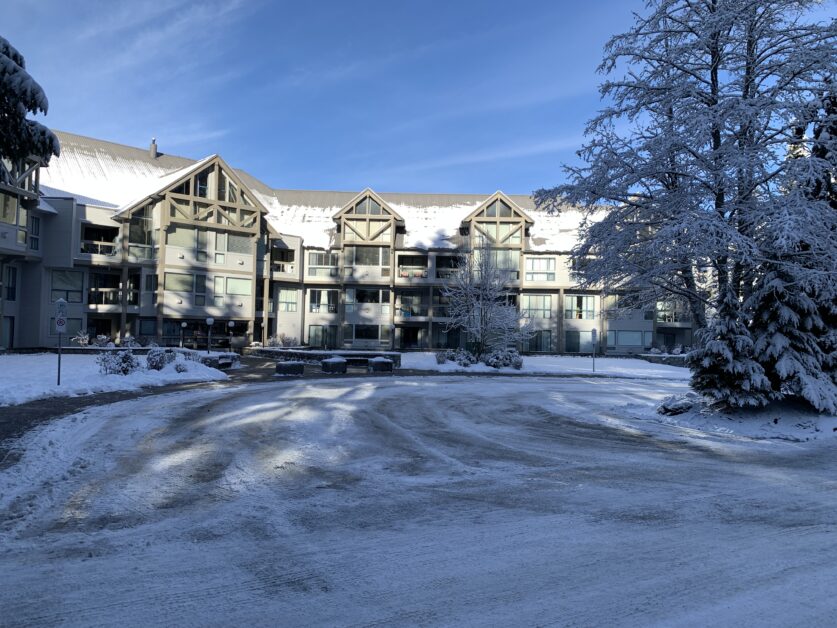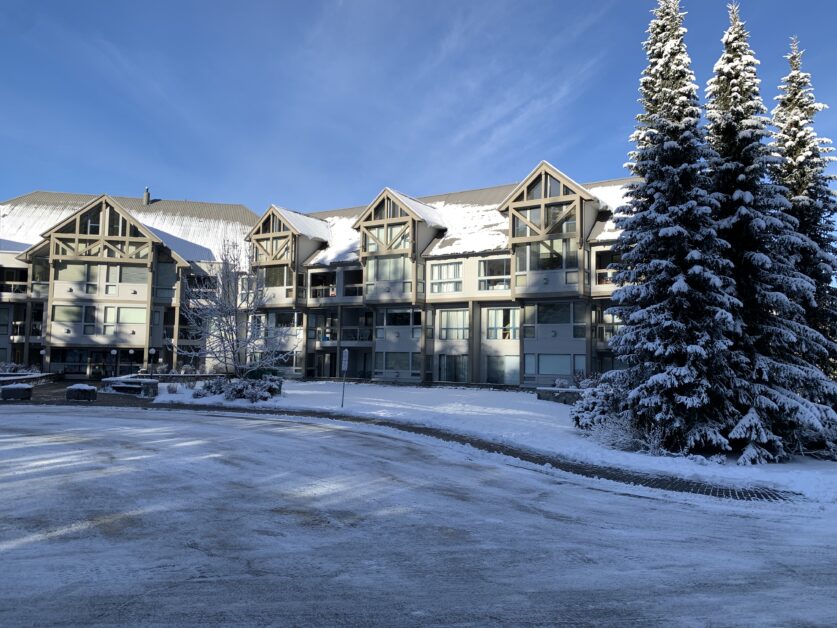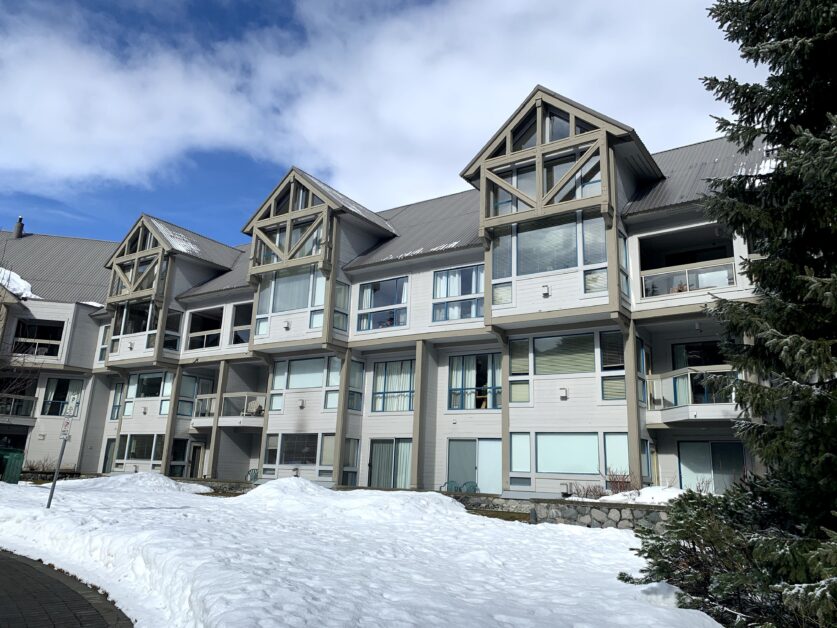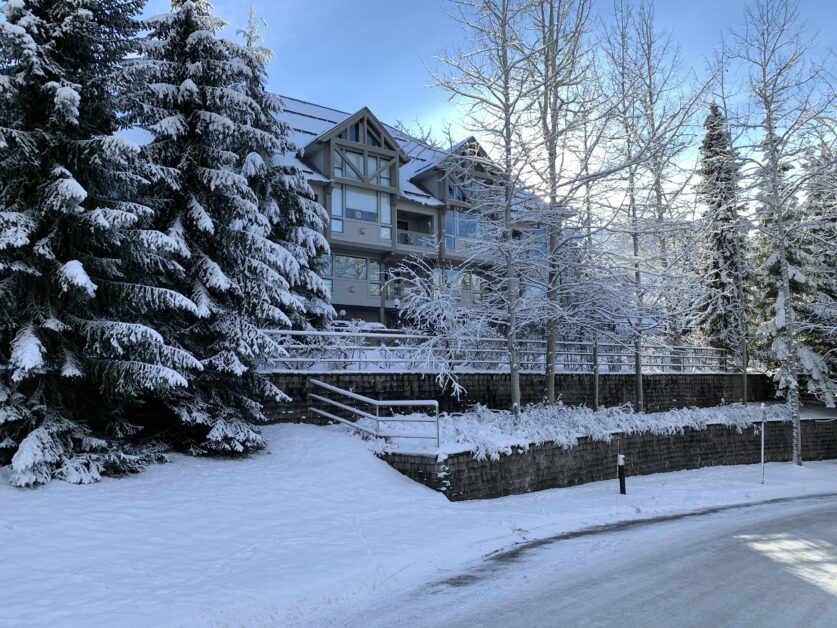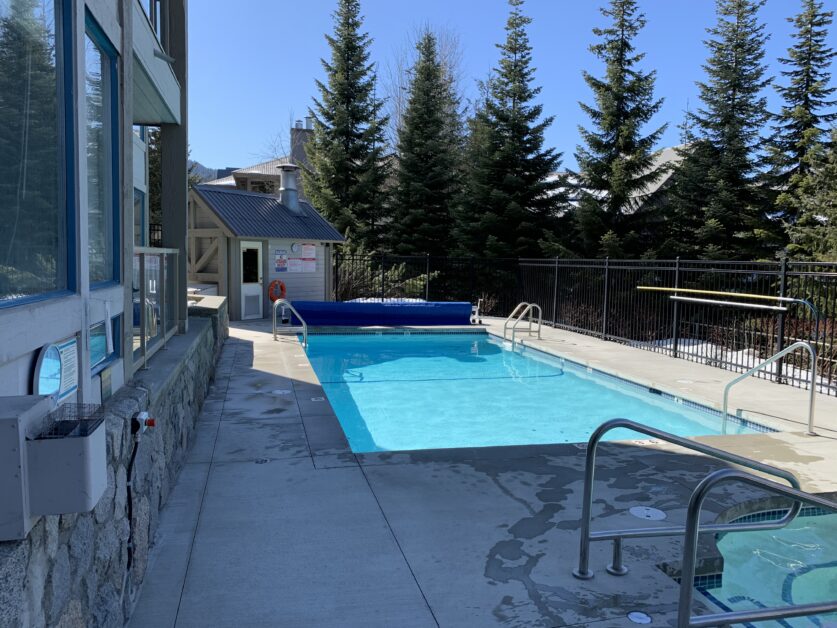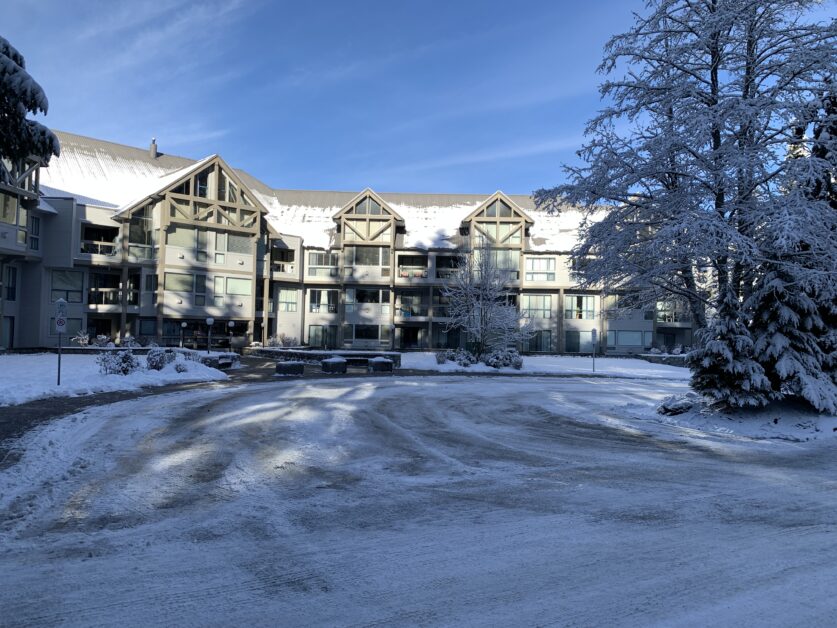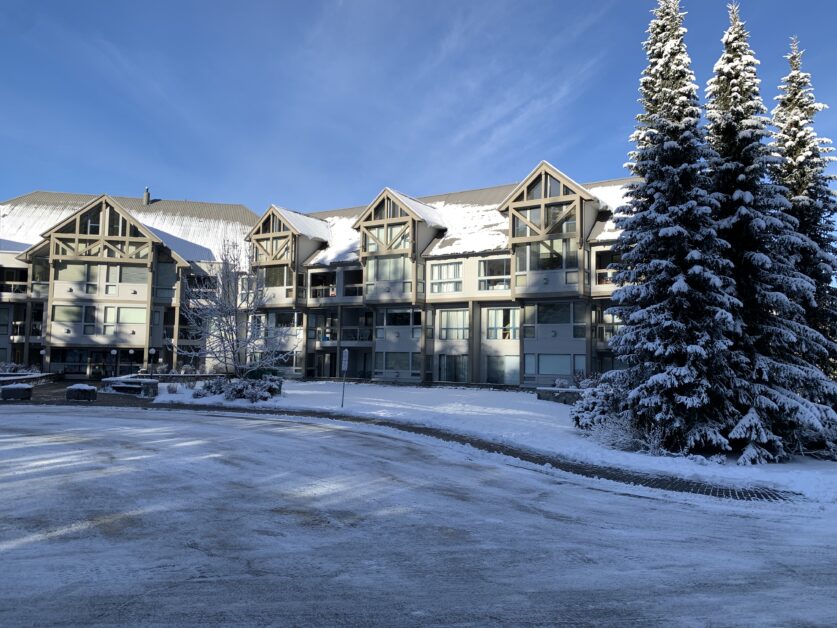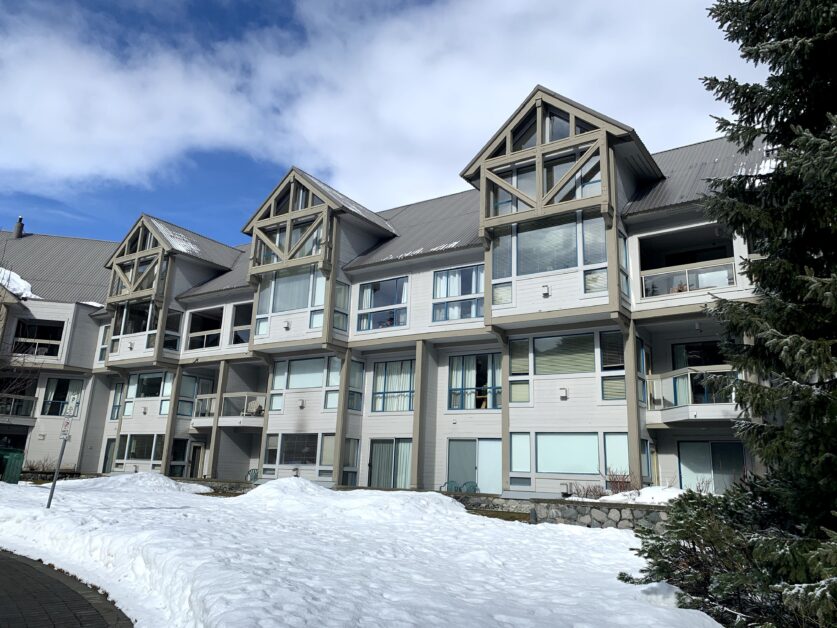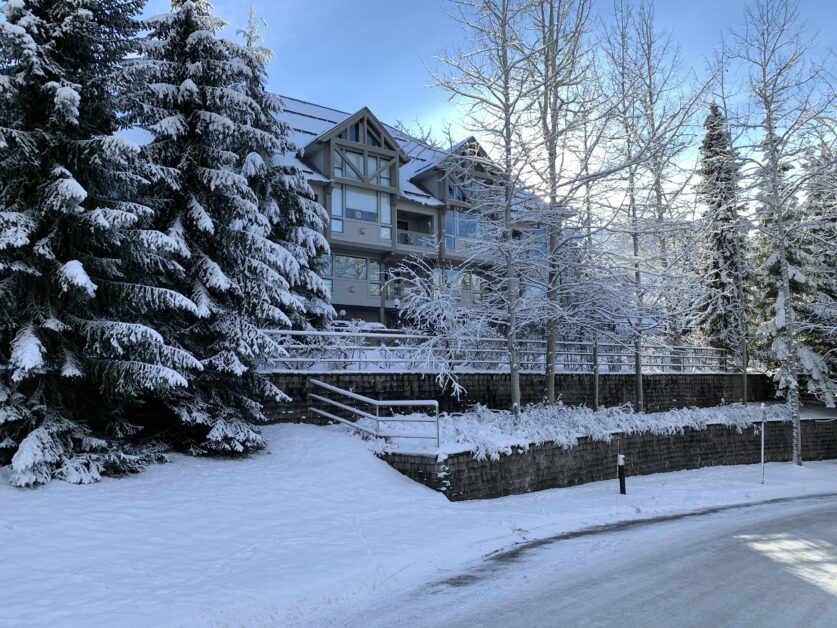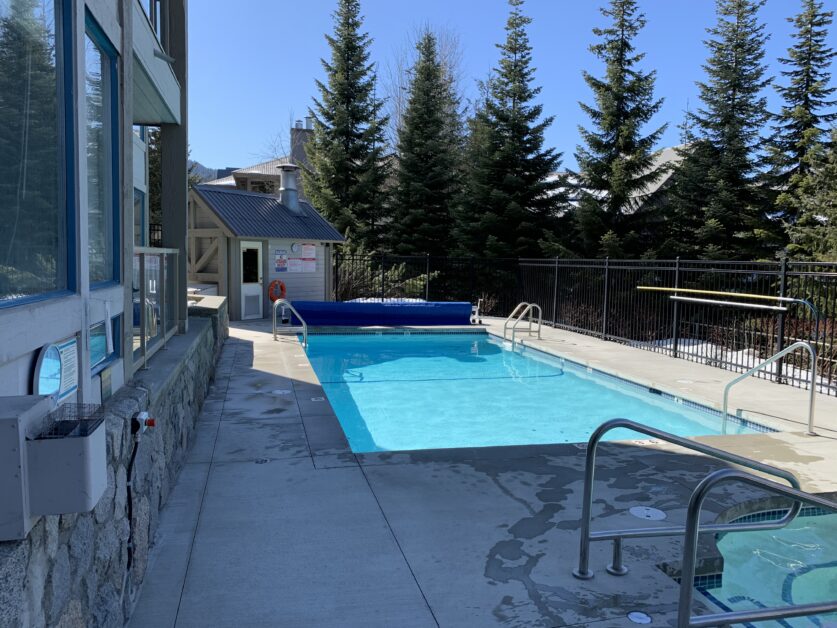 Ski-in/Ski-out Trail
It is easy to get speed up and schuss right to the back door of the Greystone Lodge. The ski/board lockers are on the ground floor at the back door. At the start of your day on the slopes, collect your skis and walk back along the ski-in trail to get to the slopes. The incline of the ski-out trail is slight, but it is quite tricky to schuss up the incline wearing skis. It may be different with a snowboard.
Lower Merlin's run leads down to the ten-passenger gondola. The Blackcomb Mountain world-class groomers do a great job of moving snow around on these lower slopes. This means that the properties located on Blackcomb Mountain remain a true ski-in and ski-out even if the snow has started to disappear from the lower slopes in spring.
Trail Map
The ski-in ski-out trail is just outside the back of the building next to the swimming pool and outdoor hot tub.
Sales in the Greystone Lodge
To sort the data, click on the blue heading of choice. For example, to sort all the 2 bedrooms click on the "bedrooms" heading a couple of times until the data is sorted for you.
The sales of condo apartments in the Greystone Lodge, 4905 Spearhead Place, Whistler. Data was imported from the Whistler Listing System. Days on Market (DOM) has been recorded since 2010.
Number
Bedrooms
Bathrooms
Size
sq. ft.
Sold
Price
Sold
DOM
Listing
Broker
107
2
2
900
1,600,000
2022
97
EV
217
1
1
739
1,310,000
2022
10
SWCR
329/330
2
2
946
1,545,000
2021
9
WREC
112/113
2
2
985
1,539,000
2021
23
RE/MAX
333
2
2
1114
1,575,000
2021
49
RE/MAX
229
1
2
737
950,000
2021
7
RE/MAX
108/109
2
2
950
1,600,000
2021
20
WREC
327/328
2
2
952
1,300,000
2020
3
E&V
301/302
2
2
944
1,230,000
2020
101
E&V
327/328
2
2
952
1,150,000
2020
63
Five Sails
307/ 308
2.5
2
1226
1,400,000
2019
148
WREC
313
2.5
2
1099
1,640,000
2019
61
WREC
221
2
2
938
1,400,000
2018
19
WREC
219/220
2
2
938
1,270,000
2018
16
WREC
329
2
2
946
919,000
2017
69
Thorn
301/302
2
2
944
962,000
2017
80
WREC
107
2
2
948
850,000
2017
137
WREC
201/202
2
2
940
825,000
2016
14
SOTHEBYS
203/204
2
2
940
840,000
2016
14
SOTHEBYS
106
1
1
736
590,000
2016
39
WREC
409
2.5
2
1367
949,000
2016
13
WREC
229
1
2
737
411,000
2015
29
MacD
209/210
2
2
936
618,000
2015
53
RE/MAX
301/302
2
2
944
605,000
2015
156
RE/MAX
211
2
2
942
590,000
2014
26
WREC
411/412
2.5
2
1187
820,000
2015
195
RE/MAX
327/328
2
2
952
592,000
2014
176
WREC
311/312
2.5
2
1175
820,000
2014
146
RE/MAX
112/113
2
2
985
570,000
2014
27
WREC
225/226
2
2
946
552,000
2014
112
WREC
413
3
2
1239
840,000
2014
272
MacD
405/406
2.5
2
1182
842,000
2013
168
RE/MAX
215/216
2
2
1018
587,000
2013
58
WREC
211&212
2
2
942
560,000
2013
165
WREC
101/102
2
2
936
510,000
2013
140
WREC
107
2
2
948
535,000
2010
135
RE/MAX
223/224
2
2
991
596,000
2009
RE/MAX
327/328
2
2
952
586,000
2009
SWCR
225/226
2
2
1000
505,000
2009
RE/MAX
333/334
2
2
1114
643,000
2008
Thorn
203/204
2
2
940
750,000
2008
SWCR
106
1
1
736
525,000
2008
SWCR
215/216
2
2
1020
750,000
2008
RE/MAX
217
1
1
740
505,000
2008
WREC
323/324
2.5
2
1173
987,000
2007
RE/MAX
309/310
2.5
2
1173
949,000
2007
WREC
201/202
2
2
940
735,000
2007
SWCR
331/332
2
2
1172
930,000
2004
SWCR
405
2.5
2
1181
1,150,000
2004
SWCR
108/109
2
2
950
765,000
2004
RE/MAX
217
1
1
742
495,000
2004
RE/MAX
211/212
2
2
942
760,000
2003
RE/MAX
333
2
2
1114
784,000
2003
WREC
203/204
2
2
940
549,000
2002
WREC
217
1
1
742
325,000
2001
RE/MAX
321/322
2.5
2
1212
673,000
2001
RE/MAX
218
2
2
948
475,000
2001
RE/MAX
101/102
2
2
935
505,000
2001
WREC
108/109
2
2
950
420,000
2000
RE/MAX
201/202
2
2
950
385,000
2000
RE/MAX
106
1
1
736
239,000
1999
WREC
316/7
2.5
2
1279
420,000
1999
WREC
320
2.5
2
1143
300,000
1998
RE/MAX
318/9
1.5
2
967
262,500
1998
RE/MAX
203/204
2
2
940
261,000
1998
RE/MAX
223/4
2
2
991
290,000
1998
WREC
321/322
2.5
2
1212
350,000
1998
WREC
Comparable Sales
To view the comparable Sales of Ski-in/Ski-out Condos (Sales: Condos) page on this site. Comparable properties are deemed to be those condos that buyers would consider when deciding to purchase. Otherwise known as a competitive set.
Revenue
The Greystone Lodge, the Woodrun, and the Aspens condos are ideal for generating revenue year-round simply because of: the year-round swimming pool; the year-round hot tubs; the ski-in ski-out location (see ski-in ski-out access below); and the easy walk to the Village, in all four seasons. The three buildings compete with each other for rentals.
The on-site rental management company, Acer Vacation Rentals (AVR) has been serving the owners of the Greystone Lodge for a long time. That speaks volumes about the services they offer, as the rental management business is competitive. Owners are not obligated to retain the services of AVR, but they should always be considered as the primary option, as they manage the front desk.
Strata
Built in 1989, there are 51 strata lots (condos). The Greystone Lodge has the following condo floor plans:
1 bedroom
2 bedrooms
2 bedrooms and a loft
Site Plan
The site plan of the Greystone Lodge breaks it down by floor. This information was taken from the developer's plans.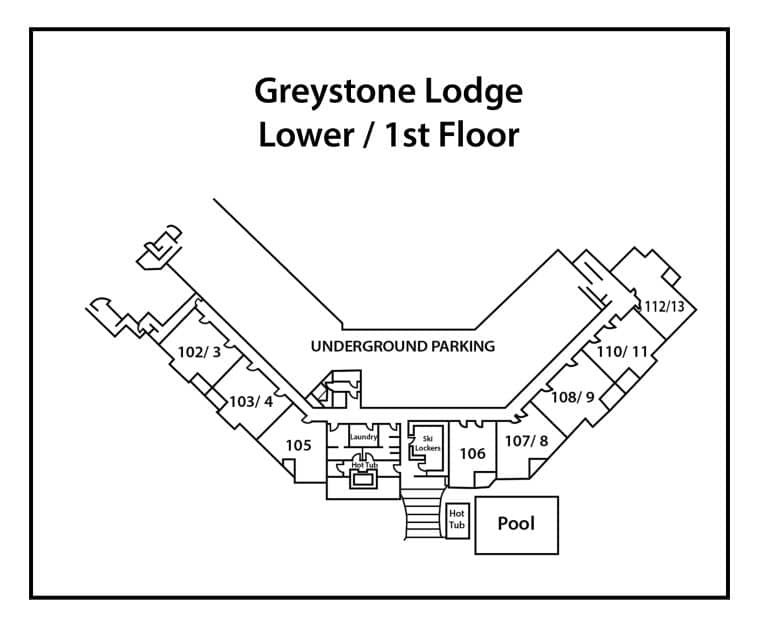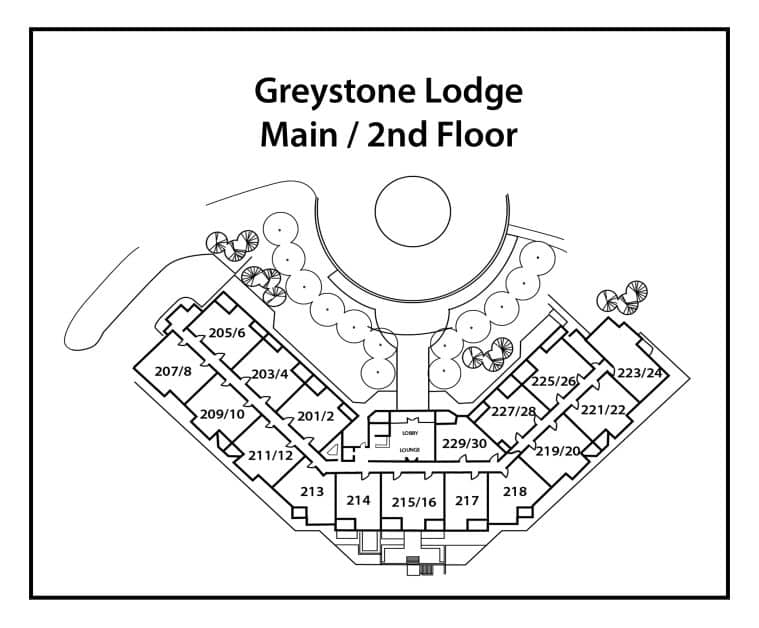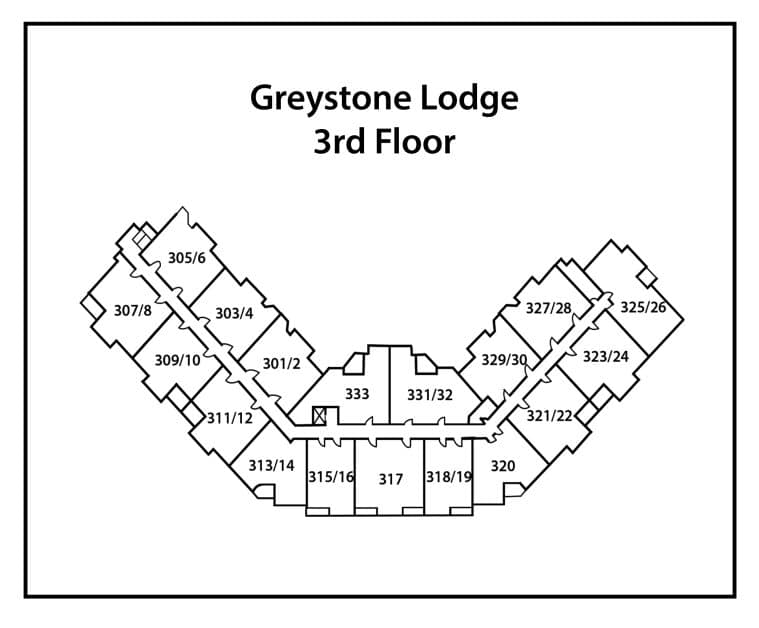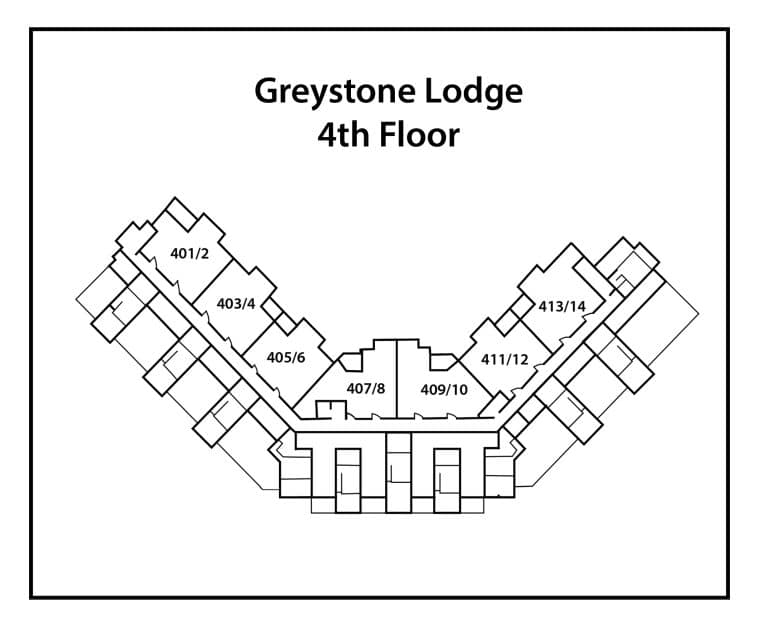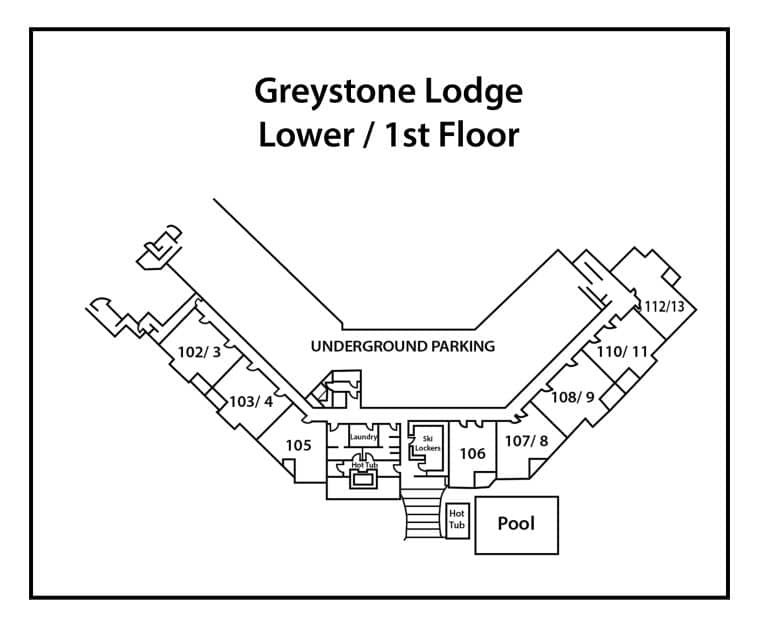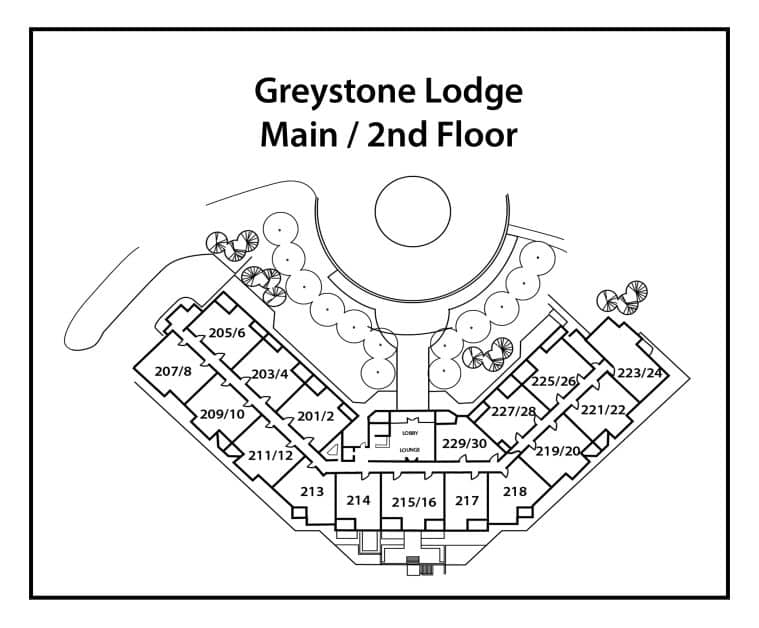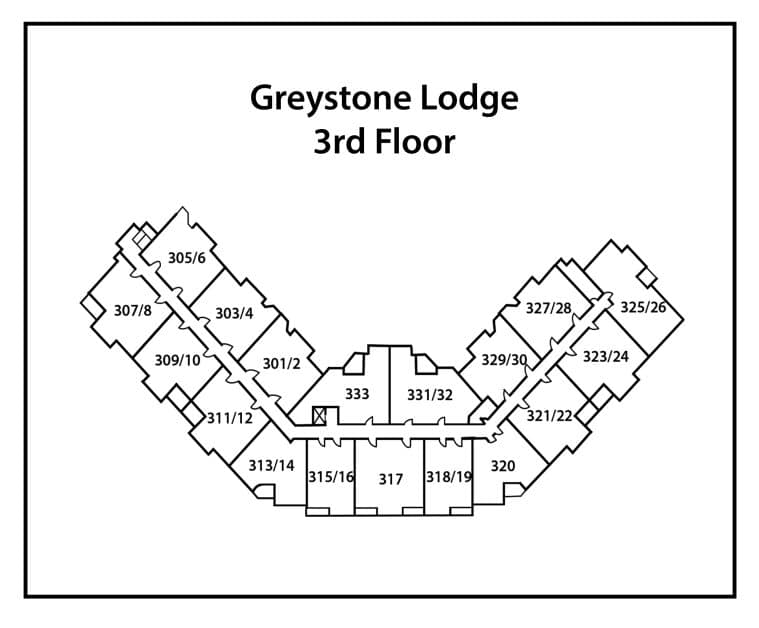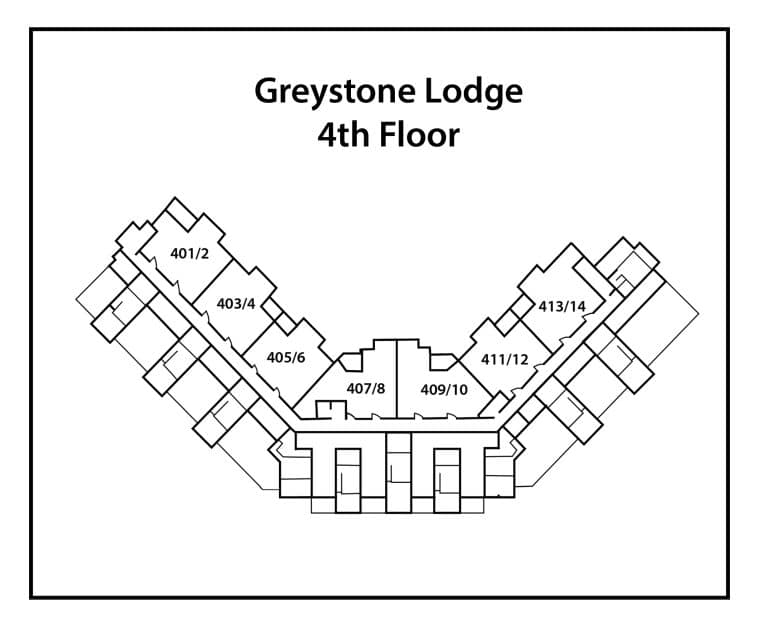 Directory of Building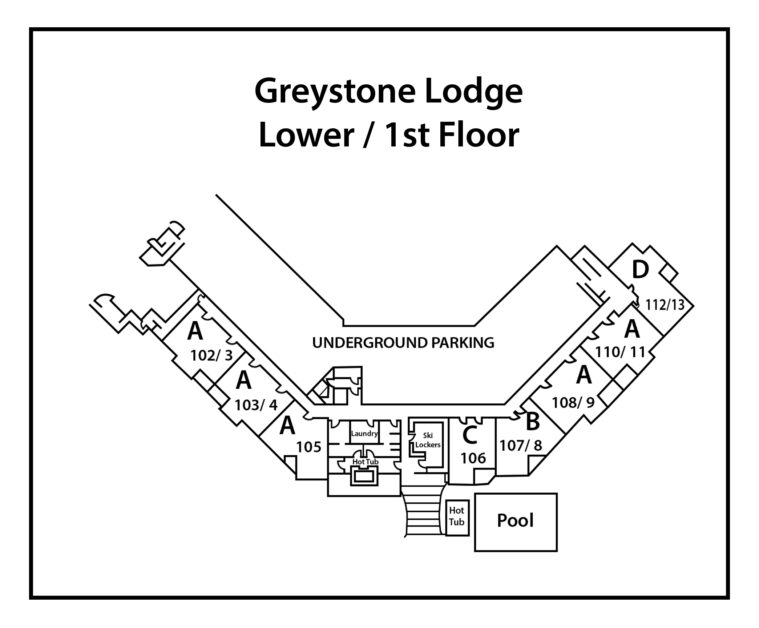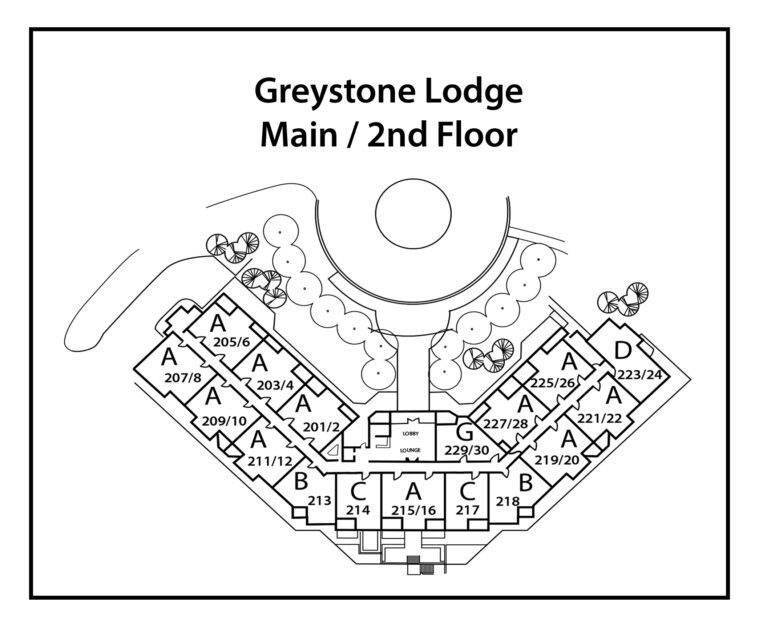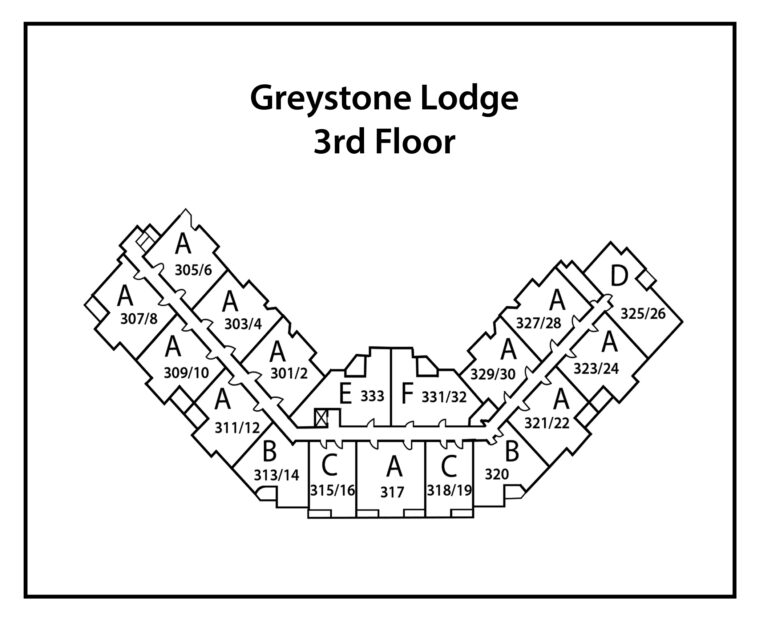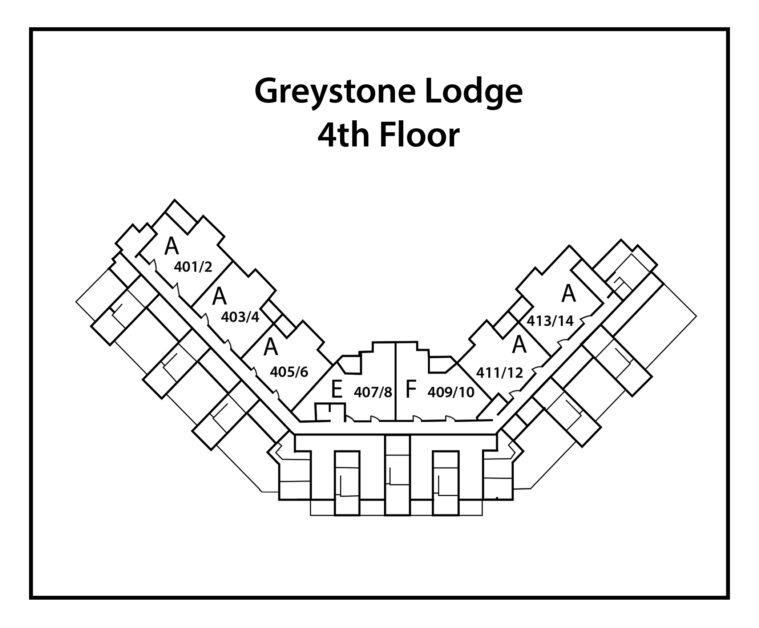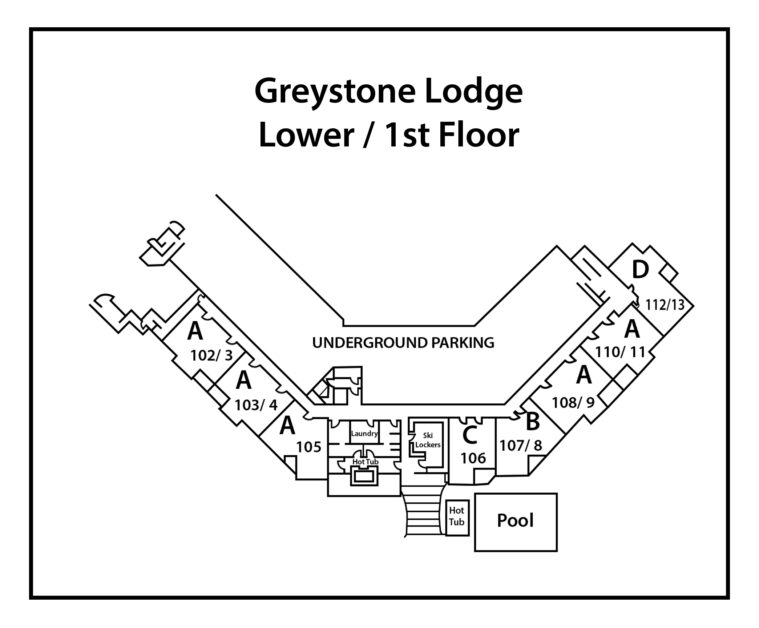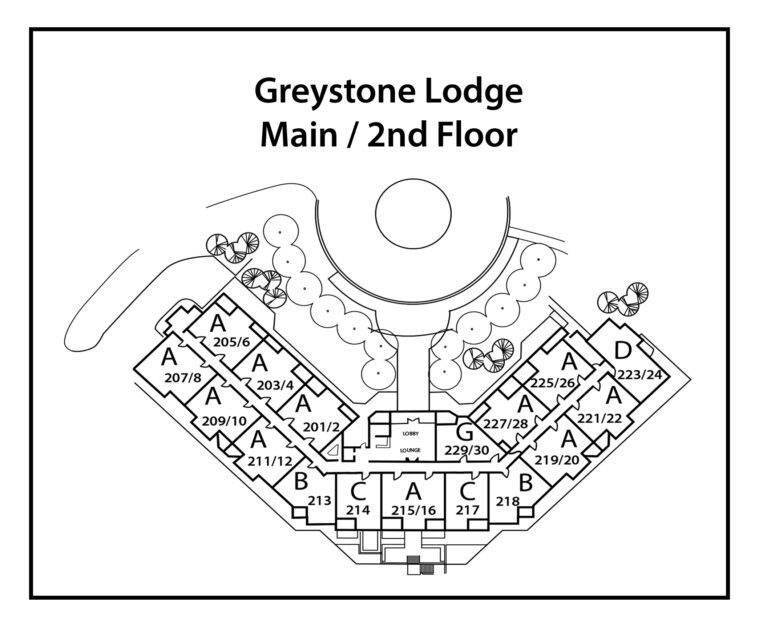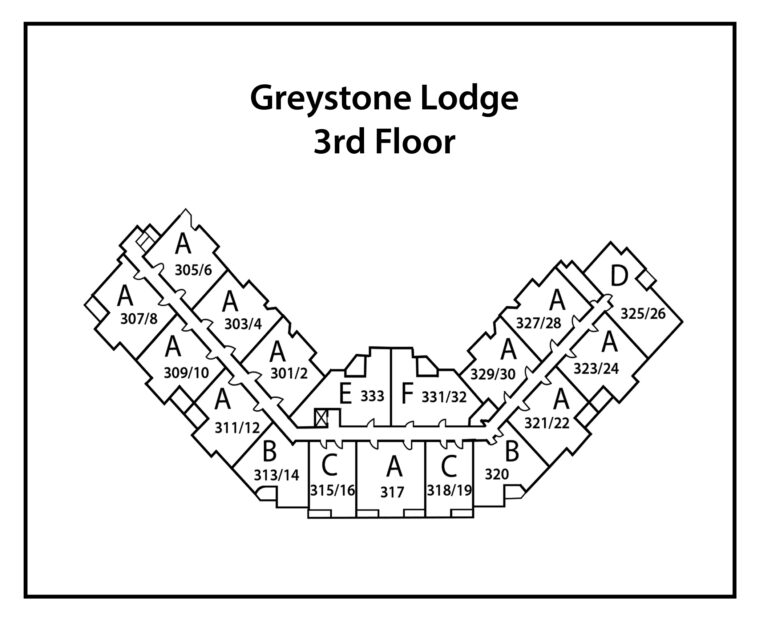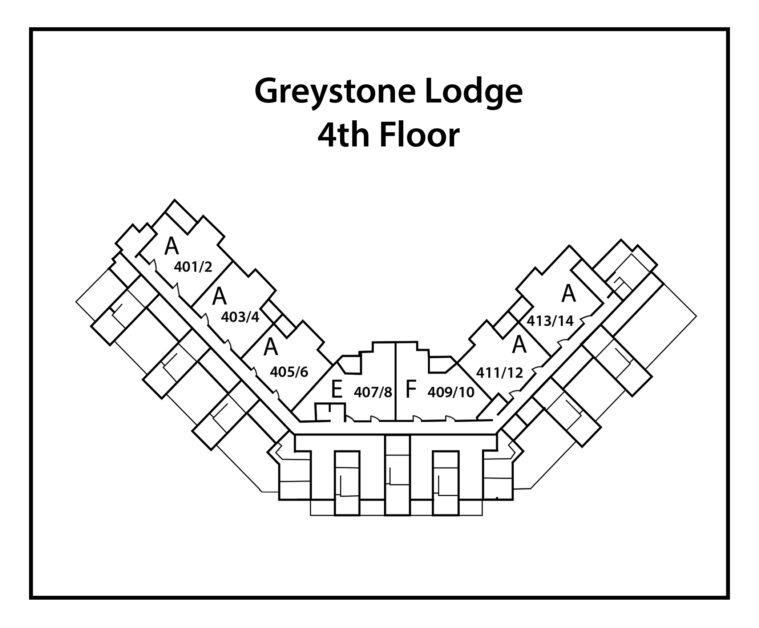 Floor Plans
The developer's floor plans should be cross-referenced with the site plans above. for your convenience link to the Greystone Lodge site and floor plan pdf for a version to print.
Lock-off
Several of the units have a "lock-off" which means that for the 2 bedroom and 2 bedroom and loft units, there are two doors to the hallway. The configuration of the lock-off unit has a door to the one-bedroom suite which incorporates the living room, kitchen, and bathroom. There is an adjoining door in the middle of the adjoining wall which leads through to the lock-off. The lock-off portion is a large bedroom and bathroom. The lock-off is like one large hotel room, and it also has a door to the hallway. The developer had the idea that the owner could enjoy one part of the suite while renting out the lock-off to generate revenue. In theory, this sounded like a great design.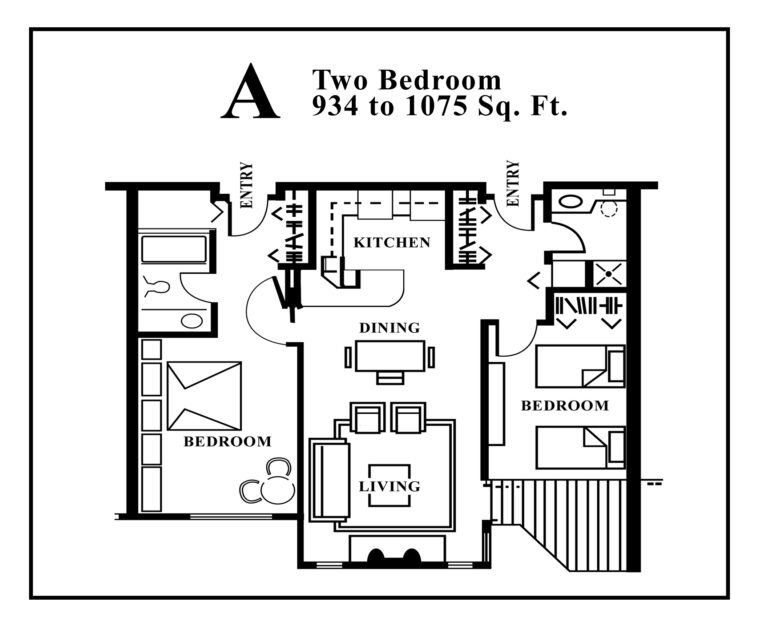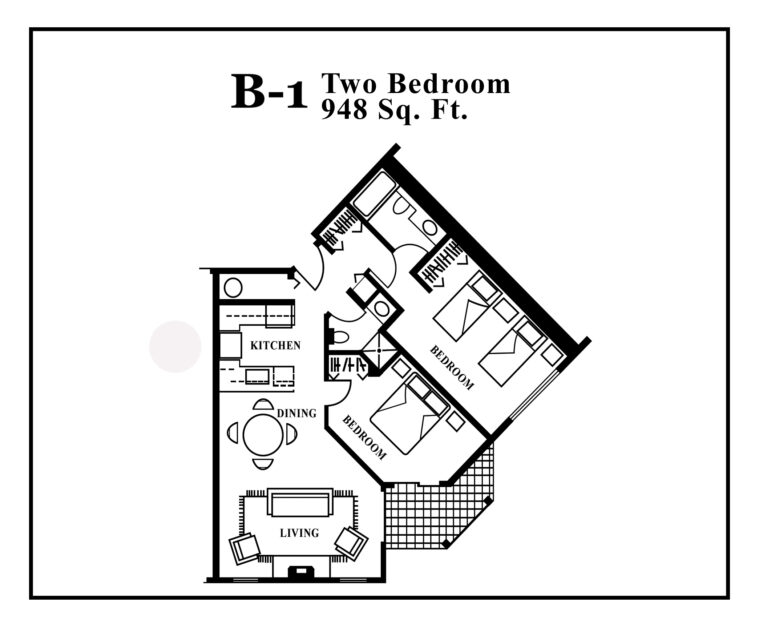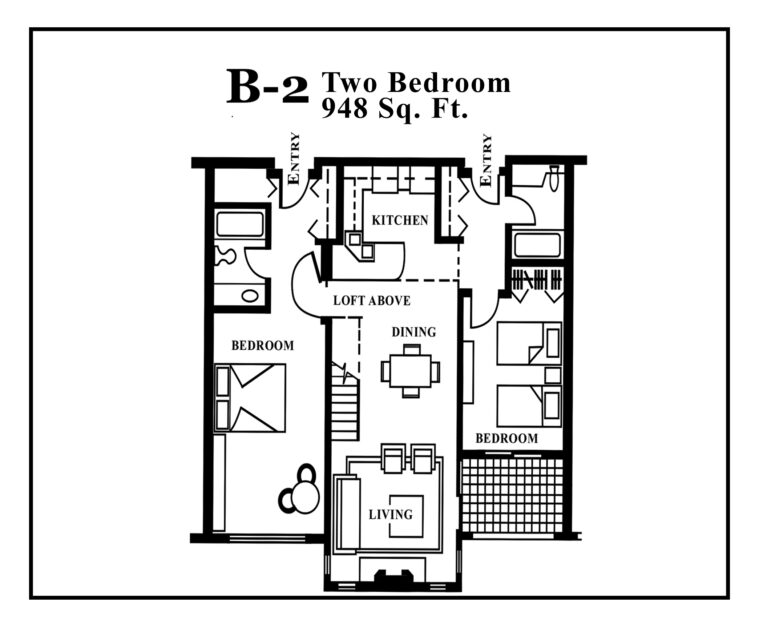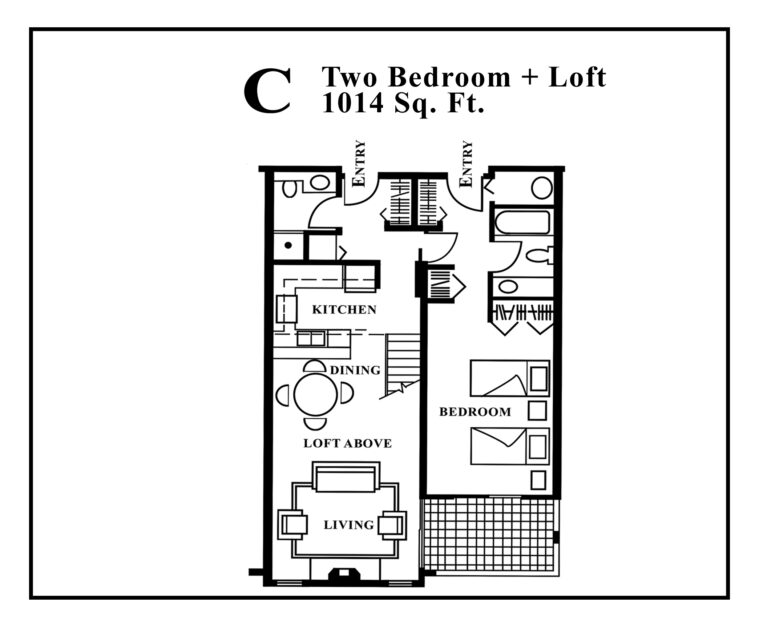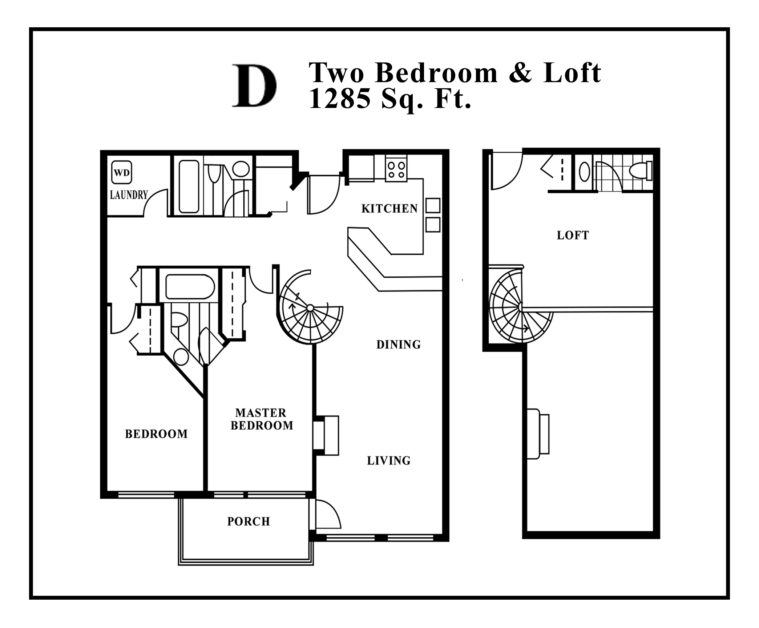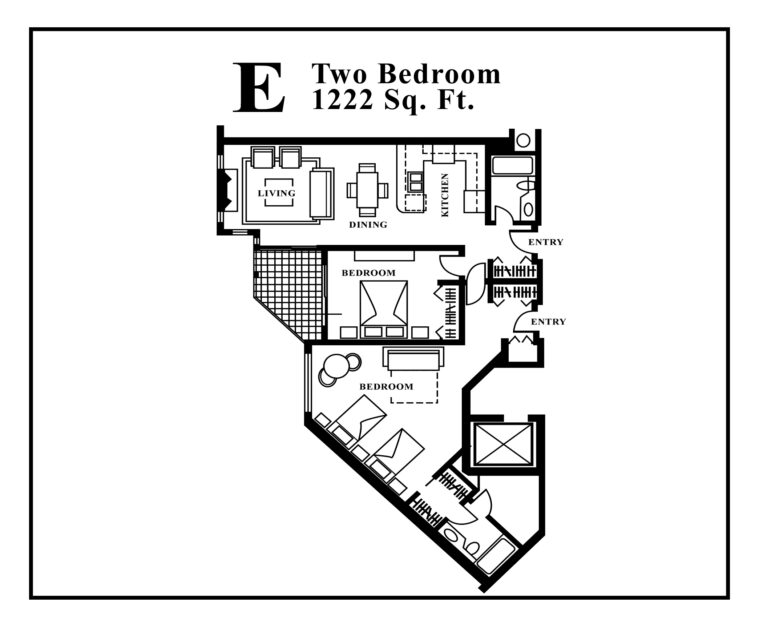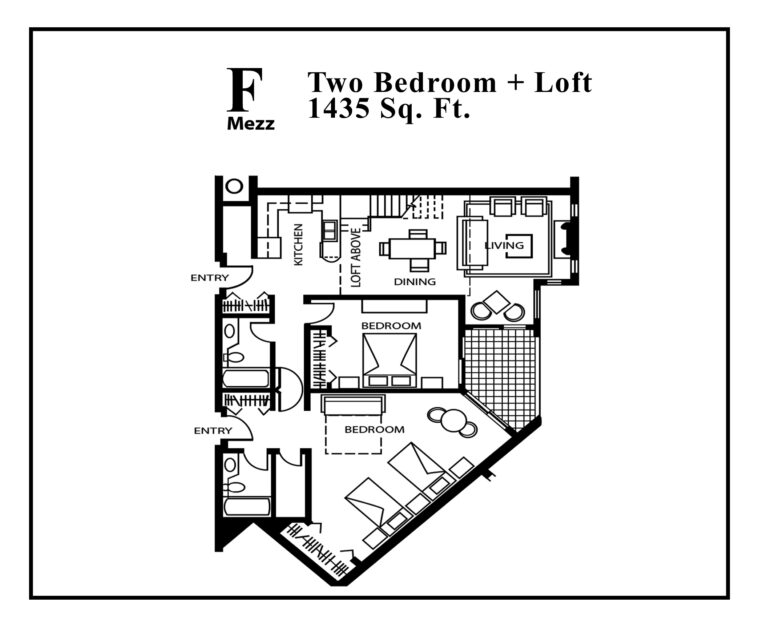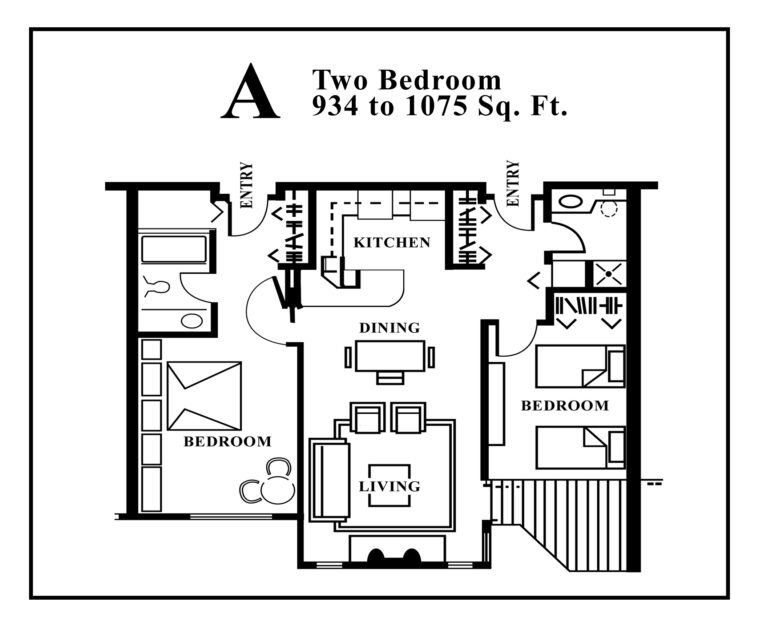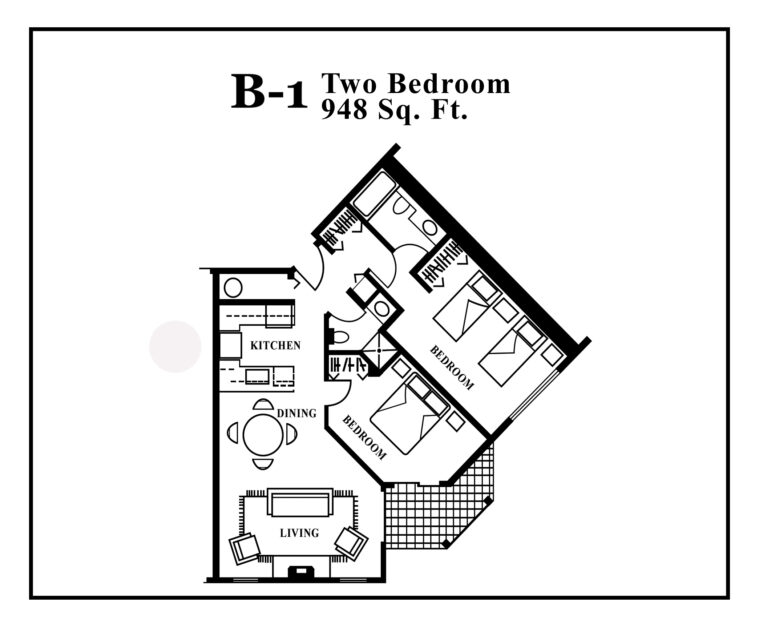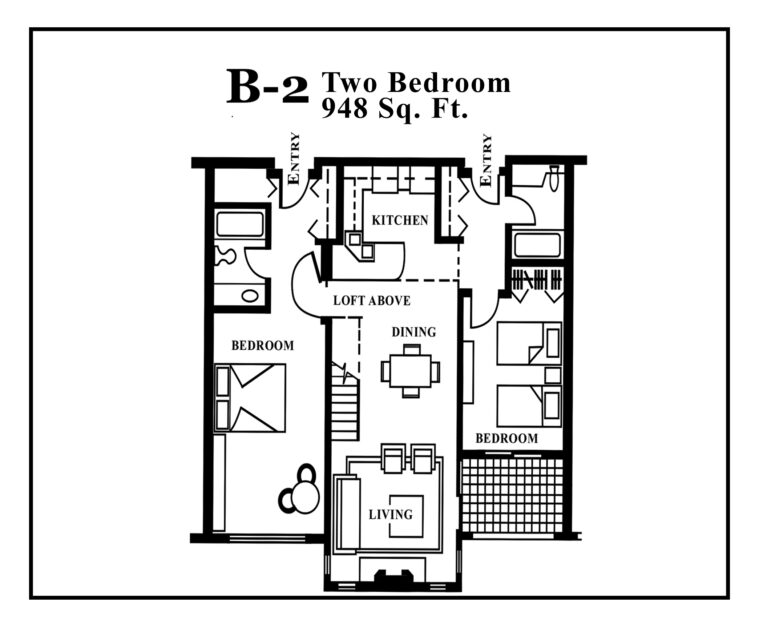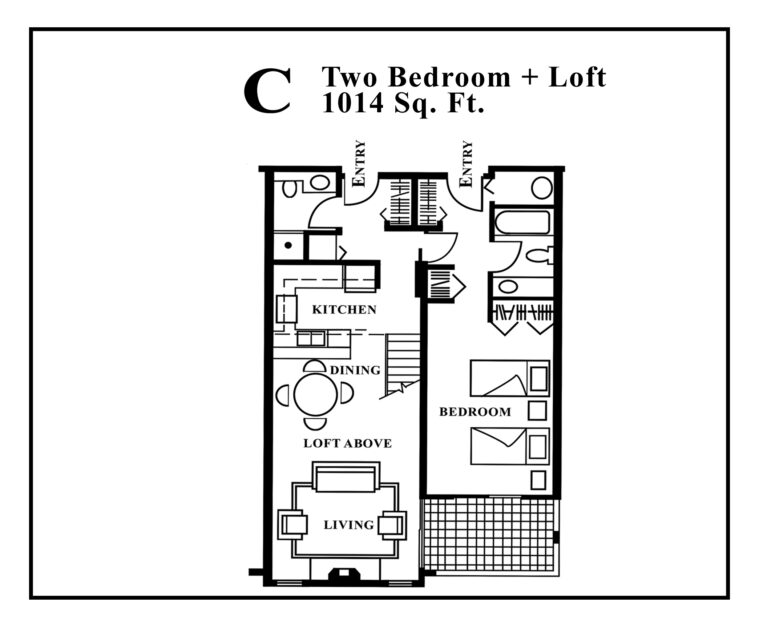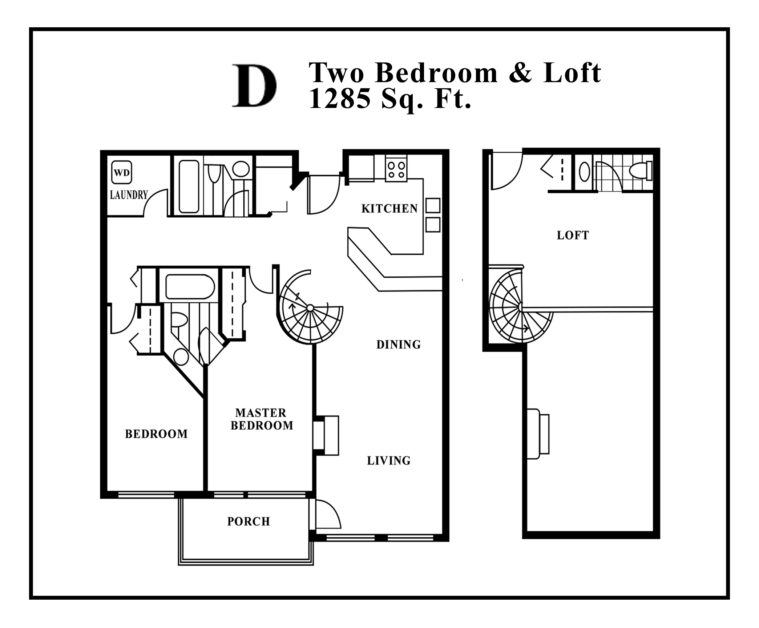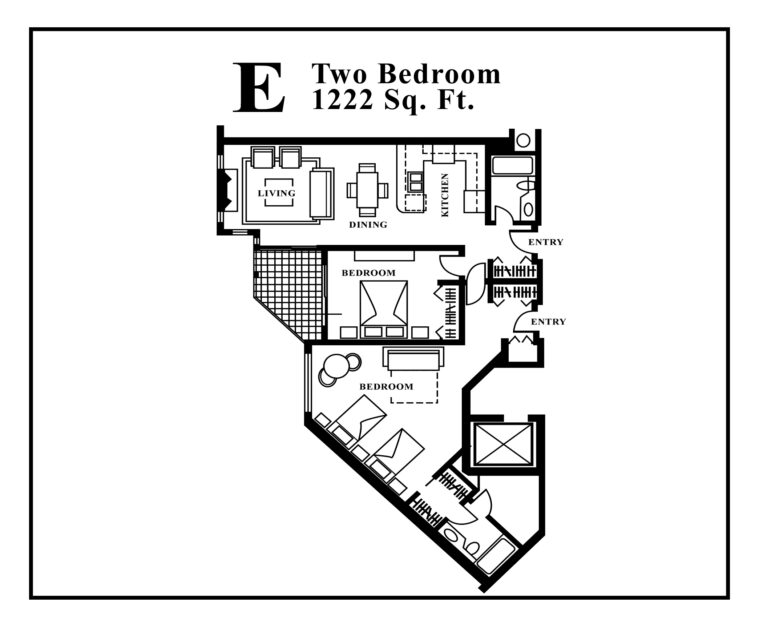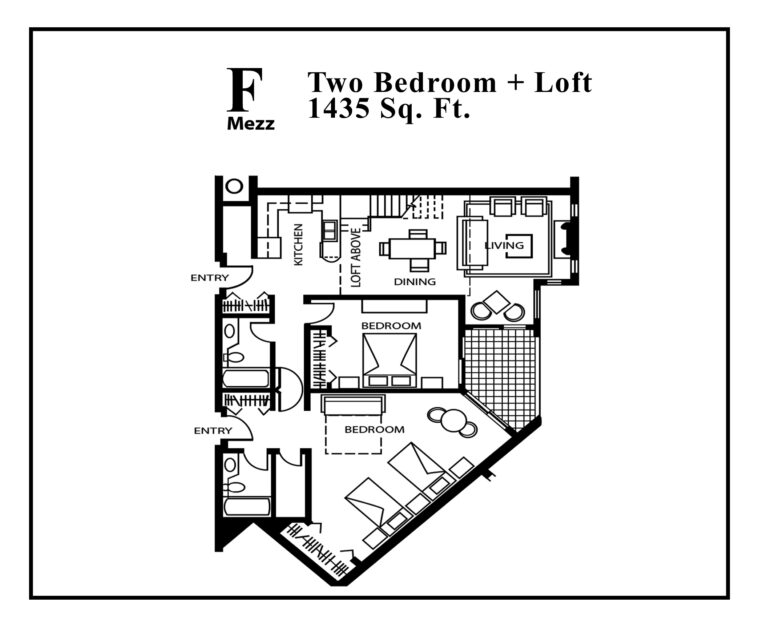 Strata Plan
Registered Strata Plan VR 2451 for the Greystone Lodge. The Registered strata plan shows you the strata lot (condo) you are considering. In addition, the plan will identify the common property of which, as a strata lot owner you will also own a portion of the common and limited common property.
Amenities
communal Laundry
some condos have a washer/dryer
strata council must be notified of any long-term rentals
depreciation report completed in July 2014
front desk contract
outdoor pool
two hot tubs
underground parking
Front Desk
One dog or one cat is allowed for owners. This can change so always check the strata bylaws before writing an offer.
Fees
The costs which are covered by the monthly strata fees are outlined in strata financials. They include, but are not limited to:
hydro
natural gas
cable
internet
water
recycle and garbage removal
landscaping
snow removal
hot tub maintenance
swimming pool maintenance
elevator maintenance
common property utilities
common property insurance
contribution to the Contingency Reserve Fund (CRF)
Pets
The front desk at the Greystone Lodge is operated by Acer Vacation Rentals. This is a great service if you retain Acer to rent out your property. Should you use another rental management company, the front desk will be of little use to your guests if your guest has any service issues.
Parking
There is gated, underground parking at the Greystone Lodge, the entrance is at the corner of Spearhead Drive and Spearhead Place. Typically there is one parking stall per one-bedroom and two-bedroom condos. The parking is unassigned. Parking information is provided on the Form B which is ordered by the listing agent.
Storage: skis, boards and bikes
In-suite lockers
Each condo has an in-suite storage locker, which is really a small closet that has a lock installed, and the owner would keep the key. The kitchen is typically a decent size so if the owner wanted to take a kitchen cupboard and add a lock to it, it would serve as another storage space within the condo. These lockers help to store your belongings when the property is being rented out, and you don't want the renters borrowing your Ray Bans!
Ski/board storage
Greystone Lodge has a room on the 1st floor that contains a locker for each condo and provides easy access to the path that leads along to the slopes. This is principally for the use of guests, or for owners who do not rent out their condo. When the owners are renting out their condo, they would move their equipment to the owners' lockers in their condo.
Owner storage
The strata created a secured area in the building and built a storage locker for each condo. Each locker is roughly 4 ft. wide x 7 ft. deep and 7 ft. high. Certainly large enough to hold an expensive bike.
Bike storage
There is a secured room that has been designated for bike storage. All owners have access to this bike room. However, the bike room seemed a lot more secure than the typical cage in the parking lot, which is only as secure as the lock. Typically the strata request that the owner's bikes are removed at the start of the ski season. Bikes are not encouraged to be stored in the condos because of the potential damage to the hallways.
Zoning
The building has been zoned to allow nightly rentals.
Questions
FAQ
Is the Greystone Lodge ski-in ski-out?
Yes. The ski-in trail is the same trail as the ski-out trail. Ski-in to the lodge. It is a short walk at the start of your day carrying skis or board to the slopes.
Is the ski-in ski-out trail to Greystone Lodge for beginners?
Yes. It is a slow schuss, basically a flat ski-in to the Lodge. Carrying their own skis or board to the slopes is feasible.
Is the Greystone Lodge ski-in ski-out trail groomed?
No. However, it is a well-traveled, straight, flat path through the trees so it doesn't melt and reform, it remains hard-packed.
Can I live full-time in a Greystone Lodge condo?
Yes. You can also rent it out when you are not staying there. Your usage is flexible and completely your choice.
Does the Greystone Lodge have a mandatory rental management company?
Owners at the Greystone can retain the services of the experienced rental manager, or manage their own rentals.
Do all Greystone Lodge units have a washer/dryer?
No. There is a communal laundry facility. However, there are a few units with a washer/dryer, but it is not a standard feature.
Are owners allowed pets in the Greystone Lodge?
Yes. Currently, one dog or one cat is permitted. Always check the bylaws for changes.
Buying Process
There is no ban on foreign investment in Whistler. Therefore, the process is basically the same for residents and non-residents of Canada. If you are starting out and want to understand what the process is for buying a property in Whistler, have a look at the Buying Process page on this site.
Representation
Explaining Representation to a Buyer or Seller at the first introduction is a mandatory requirement. Since there is no dual agency in BC the Disclosure of Representation in Trading Services Form (DORTS) is essential for the Buyer or Seller to understand what their designated agent's obligation is to them. DORTS binds the agent to the client but does not bind the client to the agent. In addition, Home Buyer Recission Period (HBRP) would be discussed at that time.
If you think I would be a good fit to work with you and your family, and you are not already working with a Whistler realtor, please contact me.
It's a Good Life in Whistler!
Marion
Marion Anderson Personal Real Estate Corporation
manderson@sutton.com (604) 938-3885