Private Enclave of Three Luxury Houses, Blackcomb Mountain, Whistler. BC
There is no other location in Whistler like the "Woodlands". This is a private enclave of three large, luxury detached houses with their own ski-in trail. That means as an owner you can ski or board home to your front door. When you start your day on the slopes getting to Blackcomb Mountain is quicker by the free bus service tending to the tourists.
The Woodlands is aptly named as it backs onto Crown Land for which there are no plans to develop. In addition, walking your dog off-leash up the ski-in trail is something of a luxury in Whistler, where all dogs must be on the leash.
With two out of the three houses available for sale, this location has the potential to be a little compound for the right group of families. Who knows when these two homes may again be listed at the same time? If you are considering a large house that you can use year-round for all that Whistler has to offer, the Woodlands must be on your list.
Table of Contents
Active Listings
With only three houses in this enclave and each house being a unique build, this is an opportunity to get in on a private area for your family.
6 bedrooms/5.5 bathrooms
House 5,200 sq. ft.
Built 2002
Land 24,940 sq. ft.
$14,888,000 CAD
MLS R2728230
Listed by Engel & Völkers
***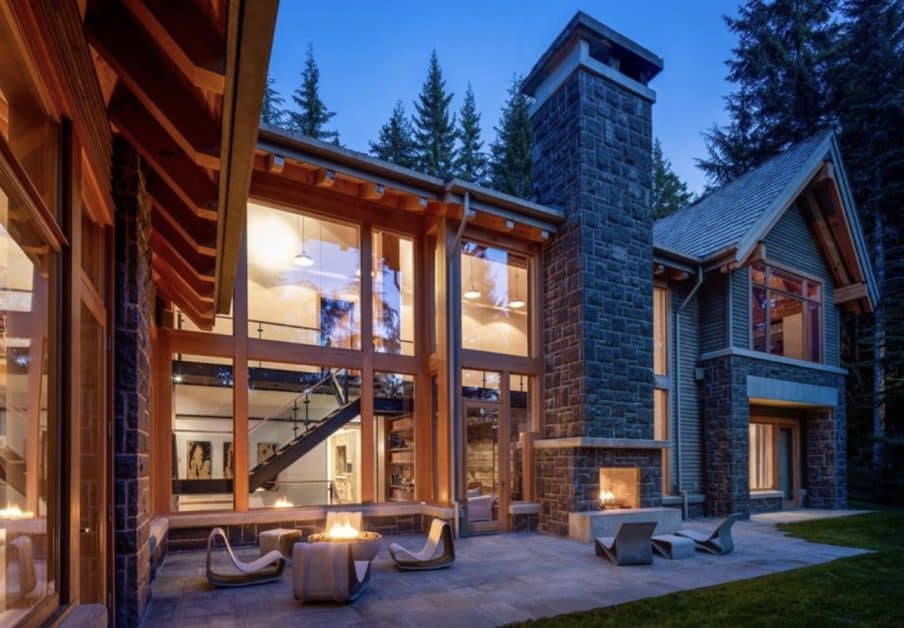 5 bedrooms/6 bathrooms
House 4,349 sq. ft.
Built 1999
Land: Strata
$17,950,000 CAD
MLS R2743493
Listed by Engel & Völkers
***
Market Update
When starting your initial search for Whistler real estate, it is important to understand the current market conditions. I understand that you may not be ready to contact me. In the meantime, I encourage you to study the sales and listing statistics on the Market Update page on this site. The statistics are compiled by the Real Estate Board of Greater Vancouver (REBGV) In addition, the monthly Whistler Real Estate Market Update video is a great way to stay informed in less than 99 seconds.
Location
For each of the three unique houses, there are three unique addresses:
4673 Blackcomb Way, strata lot 1
4671 Blackcomb Way, strata lot 2
4669 Blackcomb Way, strata lot 3
This location is also a walk to Whistler Village, but the free bus service is frequent enough that you would probably just catch the bus.
This location attracts buyers who intend to use their house outside of the winter season. With the valley trail so close and Lost Lake trails close, this area offers everything that Horstman Estates offers.
Lost Lake
The road to Lost Lake is 100 feet from the bus stop that I feature on the "Taking the Bus to the Slopes" video further down. Lost Lake is ideal for summer fun and swimming as the lake is the warmest in the area. The walking trails will appeal to all ages, and for some, the bike trails which are also for runners and hikers add another dimension to this calming area. In winter the Lost Lake trails become cross-country ski trails that are groomed and well-lit for evening skiing. This is a lovely area.
The Chateau Whistler Golf Course is beside Lost Lake. In late fall when the Chateau Whistler Golf Course closes, you can still walk around the course if you stick to the path. This is a beautiful experience as the topography climbs to the point of getting beautiful views.
Distance From Village
Experience the drive from Whistler Village to Woodlands. There are some points of interest marked on the video, in particular the location of the bus stop where an owner in the Woodlands would walk to catch the bus to the slopes.
Google Map
Civic Address Map
The civic map below was provided by the Resort Municipality of Whistler (RMOW).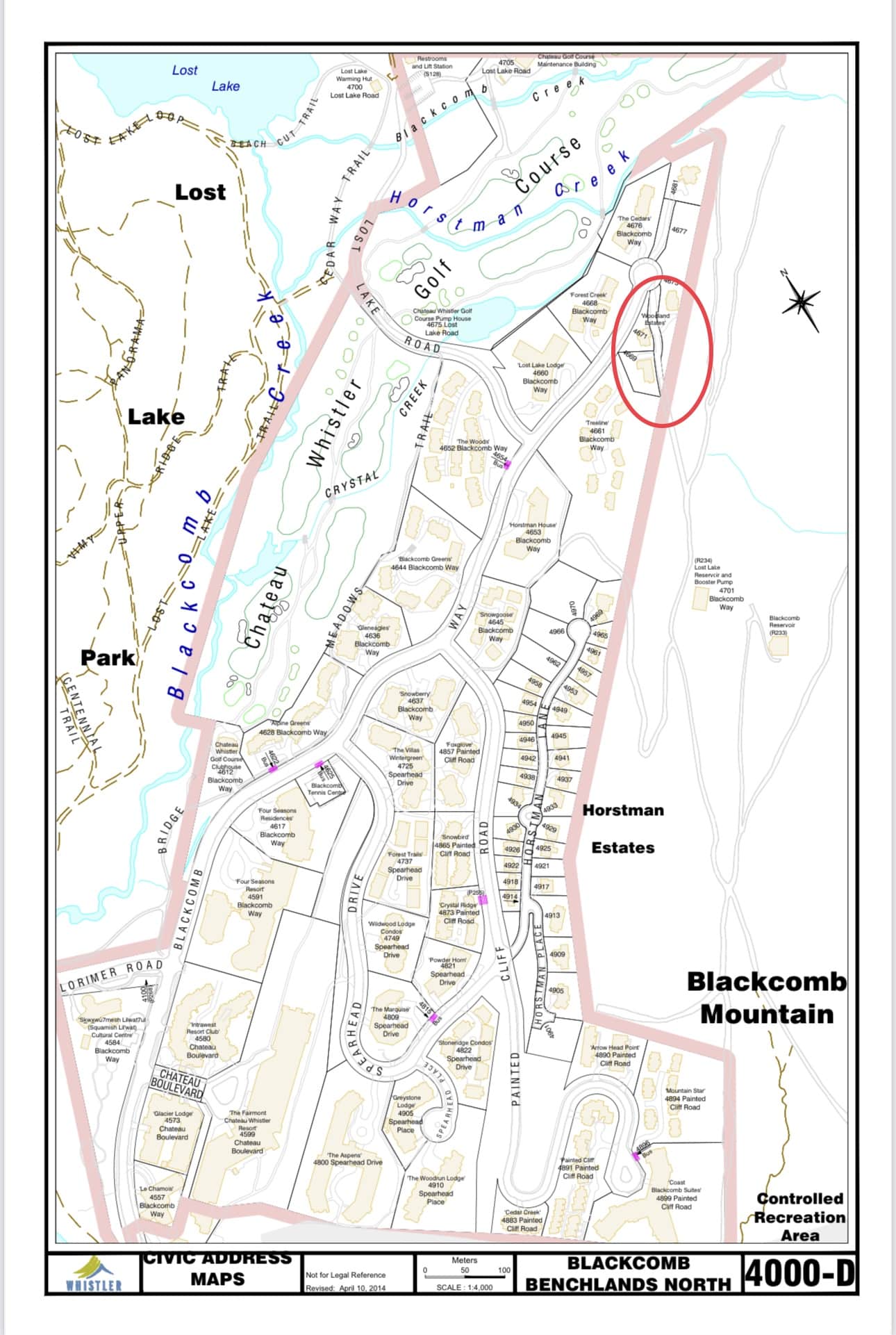 Transit
The free bus service is for anyone who wants to go from the Benchlands to the slopes or the village. This route leaves the village and comes along Blackcomb Way, where it turns around, just outside the Woodlands. From there the bus runs back along Blackcomb Way and turns left onto Painted Cliff Road. Up to the top of Painted Cliff Road where there is a ski-out trail leading onto Lower Merlin's Run.
The bus continues on from there and ends up at the bus terminal at Whistler Village
The bus service in winter is scheduled for 15-minute intervals. It travels around the Benchlands to collect those who are heading to the slopes, and the best part is that you don't need a ticket or money because it is a free service. This makes it easy for members of the family to choose when they are starting their day.
Walk to Whistler Village
You most certainly can walk to and from the Village. You can either walk along Blackcomb Way, or you can cut down the road to Lost Lake and take the Valley Trail. If you were biking, I would recommend the trail that runs parallel to the Whistler Golf Course as a traffic-free experience. In addition, this is a scenic route.
Ski-in Trail
The video below offers you the experience of schussing along the ski-in trail off Cruiser Run on Blackcomb Mountain right into the Woodlands. This is a lovely trail with a gradient suitable for all levels of skiing and boarding ability.
Bus to the Slopes
The obstacle for most to taking the bus to the slopes is more mindset than anything. This bus collects the tourists from the Benchlands and drives them to and from the slopes…very different to the experience of taking a bus in your nearest city. Before you dismiss the idea of the bus for the Woodlands, I encourage you to watch the video and see if you would be willing to take it when you are here viewing the property. I think you will be pleasantly surprised.
Sales
Scroll horizontally to view and sort the data: To sort by year sold, click on that heading for a chronological setting. To view the sold price, swipe to the left.
Sales of luxury detached houses in the Woodlands, Whistler. Data was imported from the Whistler Listing System. Days on Market (DOM) has been recorded since 2010.
Number
Street
Bedrooms
Bathrooms
House
sq. ft.
Land
sq. ft.
Sold
Price
Sold
DOM
Listing
Broker
4671
Blackcomb Way
6
6.5
4,200
16,145
3,600,000
2013
314
Thorn
4669
Blackcomb Way
5
6.5
5,000
21,958
6,700,000
2008
Thorn
4671
Blackcomb Way
6
6
4,500
16,145
5,500,000
2006
S to S
4669
Blackcomb Way
5
6.5
6000
21,958
950,000
1999
WREC
4671
Blackcomb Way
5
5
4800
16,145
1,800,000
1999
WREC
Comparable Sales
To view the sales of luxury homes in the other ski-in/ski-out locations in Whistler, click through to the Luxury House Sales (Sales: Houses). Please note, there are only five locations in Whistler that offer a detached house with ski-in/ski-out access to either Whistler or Blackcomb Mountain. All five locations are featured on this site.
Strata
4673 Blackcomb Way, strata lot 1
4671 Blackcomb Way, strata lot 2
4669 Blackcomb Way, strata lot 3
This simple bare-land strata is self-managed which means that there is no strata manager involved which means that there is no expense for this. The strata lot owners have agreed that one of the strata lot owners will take the lead role as the strata president. This is typical of strata with so few members.
Strata Plan
View the Registered strata plan LMS2529 to understand the bare land strata lots and to identify the common property.
Fees
Bare land strata typically have the lowest strata fees as those strata fees cover common property which includes:
snow removal
landscaping
road maintenance
ski-in trail grooming and maintenance
common area hydro
common area insurance
Parking
Each house has what seems to be sufficient parking as each property has a large lot so parking should have been thought through at the time of development.
Zoning
The Woodlands is zoned as RS1 Residential. Therefore, no nightly rentals. If the owner wanted to rent out their home it would need to be on a month-to-month rental.
Questions
FAQ
Is the Woodlands ski-in and ski-out?
No. The Woodlands is ski-in only. At the start of your day on the slopes you can take the free bus to the slopes or drive yourself.
Is the Woodlands location private?
Yes. There are only 3 houses in the Woodlands and they are nicely separated from each other. Each house has been built so that it feels as though there are no neighbors.
Is the Woodlands zoned for nightly rentals?
No. The Woodlands is zoned residential. You can rent out your house for a minimum of one month. This is termed month-to-month rentals.
Buying Process
There is no ban on foreign investment in Whistler. Therefore, the process is basically the same for residents and non-residents of Canada. If you are starting out and want to understand what the process is for buying a property in Whistler, have a look at the Buying Process page on this site.
What is Representation?
Explaining Representation to a Buyer or Seller at the first introduction is a mandatory requirement. Since there is no dual agency in BC the Disclosure of Representation in Trading Services Form (DORTS) is essential for the Buyer or Seller to understand what their designated agent's obligation is to them. DORTS binds the agent to the client but does not bind the client to the agent. In addition, Home Buyer Recission Period (HBRP) would be discussed at that time.
If you think I would be a good fit to work with you and your family, and you are not already working with a Whistler realtor, please contact me.
It's a Good Life in Whistler!
Marion
Marion Anderson Personal Real Estate Corporation
manderson@sutton.com (604) 938-3885